Moving house is a huge task, and it can often be stressful. It's not easy to move all your belongings from one place to another, especially if you have a lot of stuff. You must pack everything up, make sure it's all insured, find a way to get it all to the new house, the list goes on. Mitchells Moving Company can take care of everything for you. We're experts in removals in Chislehurst, so we know how to handle every kind of situation. We'll take care of packing your things up, transporting them safely to the new house, and even unloading them for you. Plus, we offer individual quotes so that you know exactly what you're paying for.
If you're looking for the best removals company to help you on moving day in Chislehurst, call us on 0800 023 4610.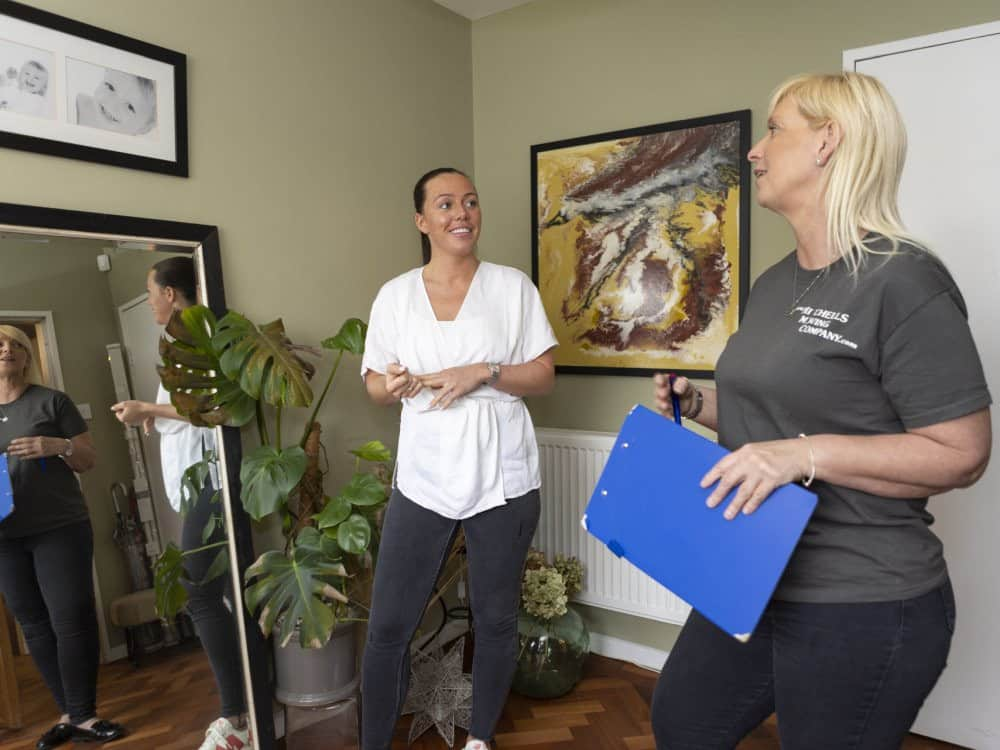 Why choose Chislehurst?
With an idyllic village centre and leafy suburban streets Chislehurst gives you the aesthetic of a charming small town while still providing all of the connections and amenities you'd expect in Greater London. Home to fewer than 15,000 people and with a charming parade of shops and restaurants Chislehurst is the perfect quaint village. However, it is still well connected to neighbouring Eltham, Sidcup, Orpington, and Bromley by road. Train connections from local stations at Chislehurst and Elmstead Woods will see you into London in just 31 minutes. There are multiple primary and secondary schools in the local area as well as plenty of green space making it a wonderful environment for children. With its clean and pleasant environment, tasteful high street, and excellent transport links Chislehurst is a perfect place for you and your family.
How can we help with
removals in Chislehurst?
Moving is a huge task, and it can be difficult to know where to start. Not only is moving a huge task, but it can also be incredibly expensive. Between hiring a removal company and buying all the packing materials, the cost of moving can quickly add up. Mitchells Moving Company offers removals services in Chislehurst that will take care of every aspect of your move. From packing your belongings to clearing out your old home, we provide everything you need to make the process as smooth and stress-free as possible. Our experienced team will handle every detail, so you can relax and focus on your new home.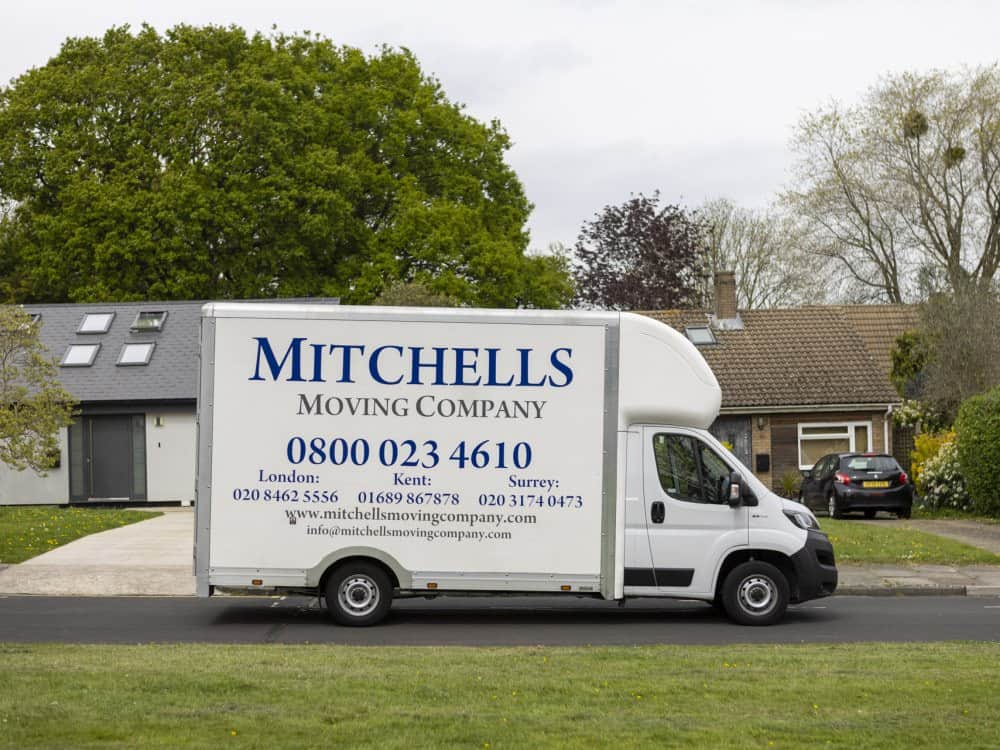 Why choose Mitchells Moving Company
for removals in Chislehurst?
Mitchells Moving Company can take care of everything for you so that you can relax and focus on your other priorities. We're a professional removals company with years of experience in the industry. We know how to get the job done quickly and efficiently so that you can start unpacking as soon as possible.

Industry experience dating back to 1980
Moving is stressful enough without having to worry about the safety of your belongings. Our family business has some team member that have been in the removals industry since 1980, so we know how to keep your belongings safe and get them where they need to go. We're reliable and trustworthy, so you can relax and focus on the other aspects of your move.

Personal communication with customers
We provide a personal communication service that will take care of everything for you. We'll provide reassurance and security within your removal process so that you can feel confident that everything is taken care of.

Start-to-finish services
Start-to-finish services from our company can take care of everything for you. We'll clean your old place, dispose of any unwanted items, and make sure your new home is ready for you when you move in. Let us take the stress out of moving for you!

Modern, detail-oriented processes
Moving house is one of the most stressful things you can do. Our modern and efficient removals process will take the stress out of moving house. We use specialist vans and equipment to make sure your move goes as smoothly as possible, and our experienced team will pack everything carefully so there's no damage enroute.
Professional packing
for removals in Chislehurst
Moving is stressful. Packing up all your belongings and then trying to do it yourself can add even more stress to an already difficult process. You don't want to spend weeks packing your home and living out of suitcases. That's why you need our professional packing service. Mitchells Moving Company offers a professional packing service in Chislehurst that will take the stress off your hands. Our packers come to your home the day before the move and pack everything quickly and efficiently. This will allow you to live your daily life right up until the move without any added stress.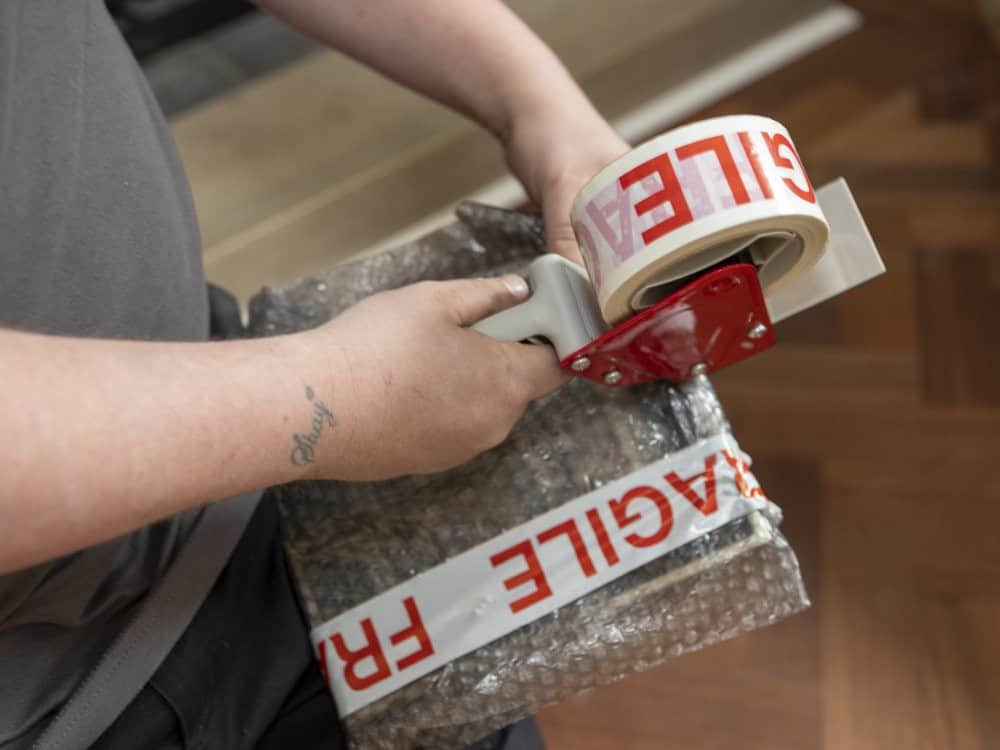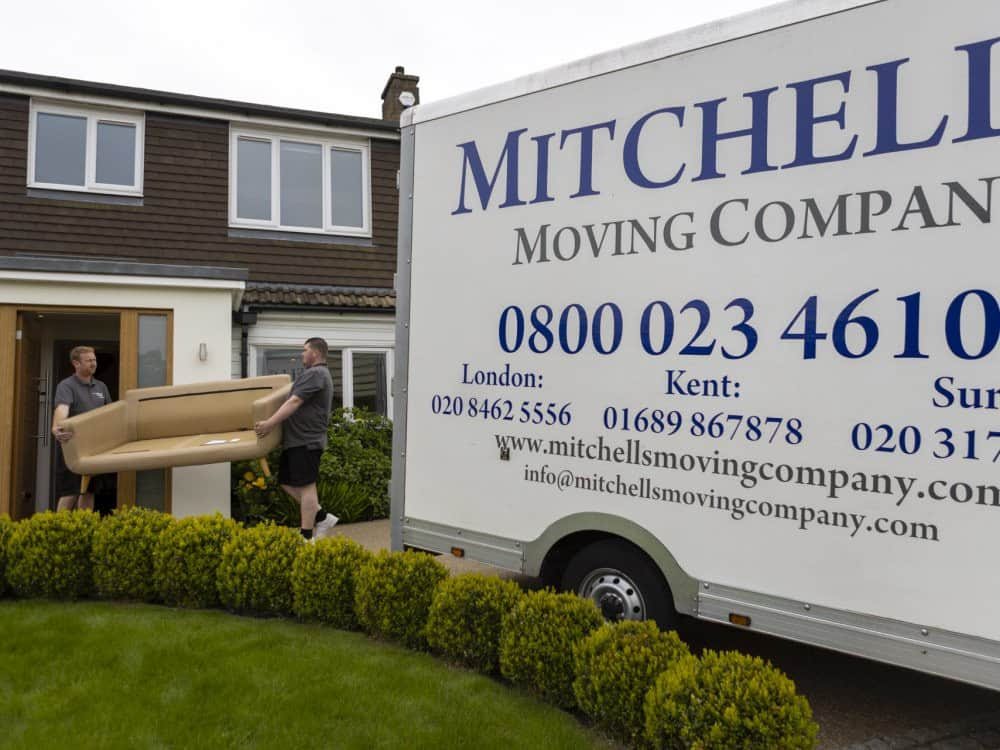 Removal storage
in Chislehurst
You've just moved into a new place, but you can't move your furniture in until the renovations are done. It's frustrating when you must wait to move into your new home because of renovations. Not only is it an inconvenience, but it also means that you must find somewhere else to store all your belongings in the meantime. Mitchells Moving Company offers removal storage in Chislehurst so that you can store your items securely and conveniently until you're ready to move them into your new home. With CCTV, alarm systems, and codes, you can trust that your belongings will be always safe.
Primary schools
in Chislehurst
Are your little ones starting school soon? There are a range of primary schools within the Chislehurst area that could be the ideal fit for their needs.
Farringtons School
Bromley High School
Tutor Doctor Bexley Borough
Mottingham Primary School
Forward Teaching
Busy Bees Pre School
Manor Oak Primary School
I L S Languages
Progressions Tutoring Services
JG Educate Ltd
Education Plus
Barbara Njau English Tuition
Real Estate Beyond 2050
Genius Tuition
First Class Learning – Beckenham Learning Centre
RR Tutoring Services Ltd
Shamma Education & Training Services Ltd
Arise & Shine Childcare Services
SquireClub
Piano Teacher for Beginners
Tiger Tuition Ltd
Tutor Doctor Bexley Borough
Tiger Tuition Ltd
Tutors Near Me
Kumon Welling Centre
Cribs Charitable Trust Within St Columbas School
myprimetutor.com
Paivalearning
Blackheath Preparatory School
First Class Learning, Tooting
Bens Home Tutoring
MD Tutors
Study Buddies Tuition Centre
Kamran Ahmed One to One Tuition
Top Marks Tuition Centre
First Class Learning Finchley
EIM Tutors
Mr 'K's Tuition
Dyslexic Tutor
Harris Academy Purley
Rush Resources Tuition Centre
Steps Institution
The Skill Academy
Box Music Academy
Box Music Academy
Abiann Lewis Online Academy
Immersive Experiences
Promise Tuition Centre
First Class Learning
Talent Pool Academy
Quality Tutors
Ark Tuition
Centre for Literacy in Primary Education
ACEdemics Ltd
Falcon Education
Three R's Teacher Recruitment
East London Community Support
First Class Learning Sevenoaks
MakeBelieve Arts
Shining Star Extra Tuition
Top Mark Tuition Centre
Assignment Bliss
Enthuse Education Ltd
Private Russian Tuition & Translation
Meet Your Tutor
The Enlighten Academy
Alfa Tuition Ltd
Bestgrade Education – Tuition Centre
Selsdon Primary & Nursery School
Innervate Ltd
Online 1-1 Tuition
Private Tuition Services UK
LMagic Sports Tuition Project
Frankphil Child Care Ltd
Tutoriage
Libanati-Cox Maths Tutoring
Gascoigne Primary School
Top Class Tuition
Steph's Tutoring
Tutoring With A Khan
Warlingham Park School
Forest Gate Tuition Centre
Scholars Tuition
David Livingstone Academy
Ideal Centre for Tuition
Greg Cooper Primary Tutoring
Leaders Are Readers Education
Momentum Dance
Plagiarisma Ltd
Great Maths Tuition
Nick Pearce Music
Top Grade Tuition
London Prime Tuition
Learn Quran Reading
East London Tutors Ltd
Boost Education Charged up Ltd
International Student Guardianship & Education Services Ltd
Child First Education
Richer Education
Essay Yard
TutorCare Services
Valiant Technology Ltd
AL-Rushd
Redbridge Tuition Centre
Rodbud Tutoring Ltd
Creative Education Academies Trust
Bertrum House Nursery
Elevate Tutors
My Education Matter
Rosemary Works School
Acorn Appointments
Sacred Heart Catholic School
Sea Shepherd UK
Casestudyhelp
Blessed Ltd
Thomas J O'Regan
Dora Copeland Educational Services
Online Quran Academy UK
First Rate Tutors
The Education Hub
Mayfair Consultants
Albion Dance School
Explore Learning
MichaelTutors247
EducateNest Ltd
Imperial Student Tutors
Piota
St Francis Catholic Primary School
Fareacres Pre-School & Day Nursery
First Class Learning
Edgebury Primary School
St Nicholas Church of England Primary
Mead Road Infant School
Red Hill Primary School
Secondary schools
in Chislehurst
Chislehurst has a range of secondary schools that will provide your children with all the support they need. Explore the local education opportunities within the area.
Coopers School
Chislehurst School for Girls
Bullers Wood School
Transport links
in Chislehurst
It's easy to travel to and from Chislehurst. Discover the transport connections you can take advantage of when living in the area.
Rail
Chislehurst Rail Station
Bus stops
Ashfield Lane
Susan Wood
Beaverwood Road
Beaverwood School
Camden Park Road Chislehurst
St Pauls Cray Road Church Ln
Royal Parade (BR7)
Chislehurst Gordon Arms
Chislehurst Common
Chislehurst Sainsbury's
Centre Common Road War Memorial
Bromley La Chislehurst War Memorial
Leas Green
Manor Park Road
Chislehurst Ashfield Lane
Chislehurst War Memorial
Chislehurst Rail Station
Things to do
in Chislehurst
There's lots to love about Chislehurst. Here are the top attractions within the area that you can explore – you better start planning!
Chislehurst Caves
St Nicholas Church
The Church of The Annunciation
Christ Church Chislehurst
The Beaverwood
Sidcup Family Golf
The Gordon Arms
The Ramblers Rest
Dragons Keep Roleplay Club
The Bickley
The Lounge
The Sydney Arms
Camden Place Chislehurst Golf Club
Creative Escape
Restaurants in Chislehurst
Local restaurants are a huge draw for people living in Chislehurst. Get a taste for the best places to eat within the area.
Quattordici
Due Amici
Chef & Brewer – Tigers Head
The Thyme Restaurant
Gusto Restaurant & Bar
Giggling Squid – Chislehurst
Mirage 2 Diner
Oriel
Kingfisher
Cote Chislehurst
Gurkha Square
Richoux
Villagio Restorante
Thaidine
Istanbul Kebab House
Zizi
Prezzo Chislehurst
Gurkha Restaurant
Thyme Chislehurst Ltd
Fresh Fry
Chislehurst Curry & Grill
Nene Cafe Bistro
Chislehurst Fish Bar
Parks
in Chislehurst
Chislehurst has plenty of parks and open spaces to enjoy. Here are your options if you're looking for some fresh air.
Scadbury Park
Chislehurst Recreation Ground
Places of worship
in Chislehurst
There are a range of places to worship in Chislehurst, allowing you to maintain your faith when living in the area.
Chislehurst Methodist Church
St Mary's Catholic Church
St. Patricks Catholic Church
Christ Church Chistlehurst
Chislehurst Y F C Ltd
Giggs Hill Church
St Barnabas C Of E Church
St John The Evangelist Church Hall
Elmstead Baptist Church
St. Johns Sidcup
St Edward The Confessor C Of E Church
Christ Church Sidcup
Sidcup Baptist Church
Sidcup St Lawrence's Roman Catholic Church
St. Mary's Church of England Parish Church
Churches & Other Places of Worship
Emmanuel Church Sidcup (Methodist & United Reformed)
Saxville Methodist Church
Christ Church United Reformed
New Community Church
Christ Lutheran Church
Poverest Rd Baptist Church
The Oak Community Church
St James The Great R C Church
Petts Wood Methodist Church
Court Farm Evangelical Church
Redeemed Christian Church of God HRMH Ltd
Holy Trinity C Of E Church
St Augustine With St Luke's Church
Our Lady Help Of Christians R C Church
Jubilee International Church
Holmcroft Church
Fullness of Christ Ministries
Coppice Christians
St. Andrew's (C of E) Church
St. Joseph's R.C Church
St Andrew's Parish Church
Mottingham Methodist Church
Days Lane Baptist Church
Holy Redeemer C of E Church
Brook Lane Community Church
Sweet Savour Assembly
Ichthus Christian Fellowship
Cornerstone Christian Centre
Bromley Common Methodist Church
Trinity Bromley United Reformed Church
Temple United Reformed Church
Rev B Abayomi-Cole
St. Joseph's R.C Church
St John's Church
Crossroads Baptist Church
The Salvation Army Church
St. Augustine's Church
Bromley Baptist Church
St. Andrew's Church
St Johns United Reformed Church
The Salvation Army Employment Service
St. Mark's Church
Holy Trinity Church
The Salvation Army Church
Bromley Town Church
Our Lady Of The Rosary R C Church
The Salvation Army Church
Bromley United Reformed Church
Riverway Seventh-Day Adventist Church
All Saints C of E Church
Bromley Methodist Church
RCCG Great Power Tabernacle
St Marys
Christchurch Centre
Sisters of Mercy
B C C The Church
Bromley Christian Centre
St. Michael & All Angels
Global Minsters Association
Orpington Baptist Church
St James The Great Blendon Church
St. James Church
Orpington Methodist Church
Eltham Park Baptist Church
Christ Embassy Catford
The Good Shepherd R C Church
Bromley & District Reform Synagogue
Christ Church Bromley
Bishop Ridley Church
Inter Church Revival
Ambassadors of Grace Ministries
Hayes Free Church
The Salvation Army Church & Community Centre
St Nicholas Church
R C C G Christ Chapel For All Nations
Churchdown Christian Centre
Europe for Christ Mission
Holy Innocents R C Church
Eltham Green Community Church
Bishop Jonathan Blake
St. Mary the Virgin C of E Church
Living Waters Apostolic Church
St John The Evangelist Church
Trinity Methodist Church & Centre
Welling United Reformed Church
Christ Church Orpington
Christ Church Orpington
Our Lady Of The Rosary R C Church
Catford Synagogue
St Marys Church
St John Fisher R C Church
Bexley Christian Life Centre
Shalom Care Home
Redeemed Christian Church of God, Winners Pavilion
NICC
St Giles The Abbot
The Believers Misson Church of God
Grace Baptist Church Bexleyheath
Wellspring Pentecostal Church
Christ Apostolic Church Dove House
St Stephens R C Church
St John Fisher & St Thomas More R C Church
Lee Green United Reformed Church
Geddes Place United Reformed Church
St John Vianney R C Church
Welling Evangelical Free Church
St. Barnabas C of E Church
Trinity Baptist Church
St Peter's
The Plumstead Community SDA Church
St. James Church (C of E) Kidbrooke
St. Mary the Virgin Parish Church of Swanley
Redeemed Christian Church Of God – Winners Sanctuary
International Christ Community Centre
Full Gospel Entime Ministries
Baldwyns Park Baptist Church
Chelsfield Methodist Church
The Annunciation & St Augustine Catholic Church
Lee Bible Study Centre
The Christ Rock Ministries
Crockenhill Baptist Church
London Sivan Kovil
St Mary Of Nazareth Church
The Salvation Army Church
Our Lady Of Grace Church
Kings Church
Green Street Green Baptist Church
St Barnabas Church
Catford Assemblies of God Pentecostal Church
We regularly work in these areas of Kent