Convenient commercial removals from an attentive team.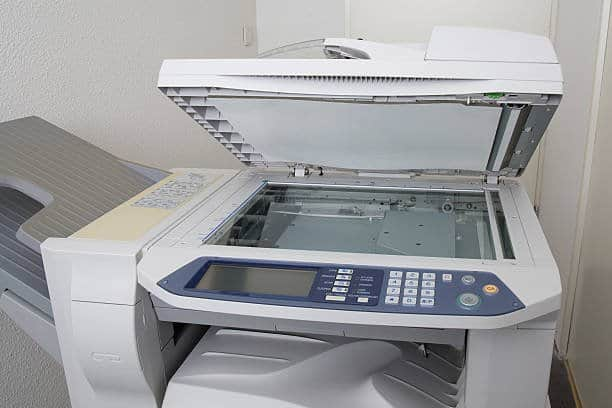 Commercial removals
Have you begun to outgrow your office space? Maybe you're craving a change of space, or your employees are becoming too cramped for comfort. An office move can seem daunting. With Mitchells Moving Company, your business's relocation will be handled with care, ensuring that electronics, sensitive materials, and your employees' belongings are transported safely. We work with your company to make sure the process is as seamless as possible – leave one office on Friday and introduce your colleagues to their new workplace on Monday! For expert commercial removal services, call us on 0800 023 4610.
Why work with professional
commercial removal companies?
Working with a professional removal company will allow you to leave the potential stress of your office move in our hands. It is essential that your employees aren't disturbed during the moving process, which is why we operate around your working hours, allowing them to work undisrupted. Our removals team will transport everything you need into your new workplace, including office furniture and equipment that may be too difficult to move by yourself. Our processes guarantee the safety of your items, and our experience allows us to carry out moves quickly and efficiently.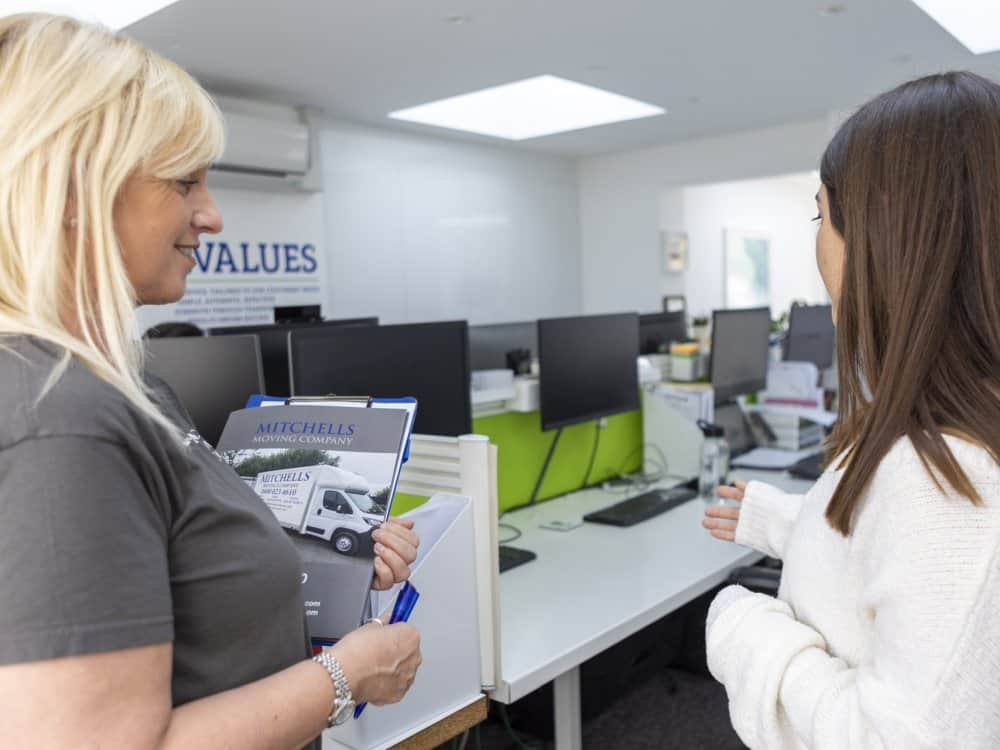 What to expect from your
office removals process
Your commercial removals will be seamless when working with us. Our service is tailored to you, moving your business into the new premises as quickly as possible. You can expect this from your office move…
1
We will conduct a survey of your office, either in-person or over a video survey. This will allow us to make informed decisions about the size of van needed, along with any equipment.
2
Our team will carry out a risk assessment in your office to identify risks that could occur during the move. This way, we will be able to tailor your removal service to your workplace, ensuring everyone's safety.
3
The team will arrive at the agreed time and will load the contents of your office into our removal vans. If you elect to use our packing service, they will also pack the items with maximum efficiency.
4
Providing materials for your staff to move their items, our team will drive any distance to your new office. This will usually be done on a weekend to create a minimal amount of disruption to your working days.
5
When we arrive at your destination, we will unload your belongings, placing your items where you need them for your employees to start work uninterrupted on Monday morning.
Expert packing for your
office removal
There may be too many items within your office to face packing by yourself. That's where our packing service comes in – we offer you a full or partial packing service to take the burden off your hands. Our packing processes are methodical. We keep the organisation of your files and belongings intact, creating an inventory so that we are always aware of where each item is within the removal van.
Our reliable
fleet of vehicles
To transport your office items from the old workplace to your new commercial premises, we use a fleet of vehicles specifically designed for removals. We have a wide variety of vehicles to move every item your business has safely. Our vans are modern and reliable – even your large and heavy items will be secure.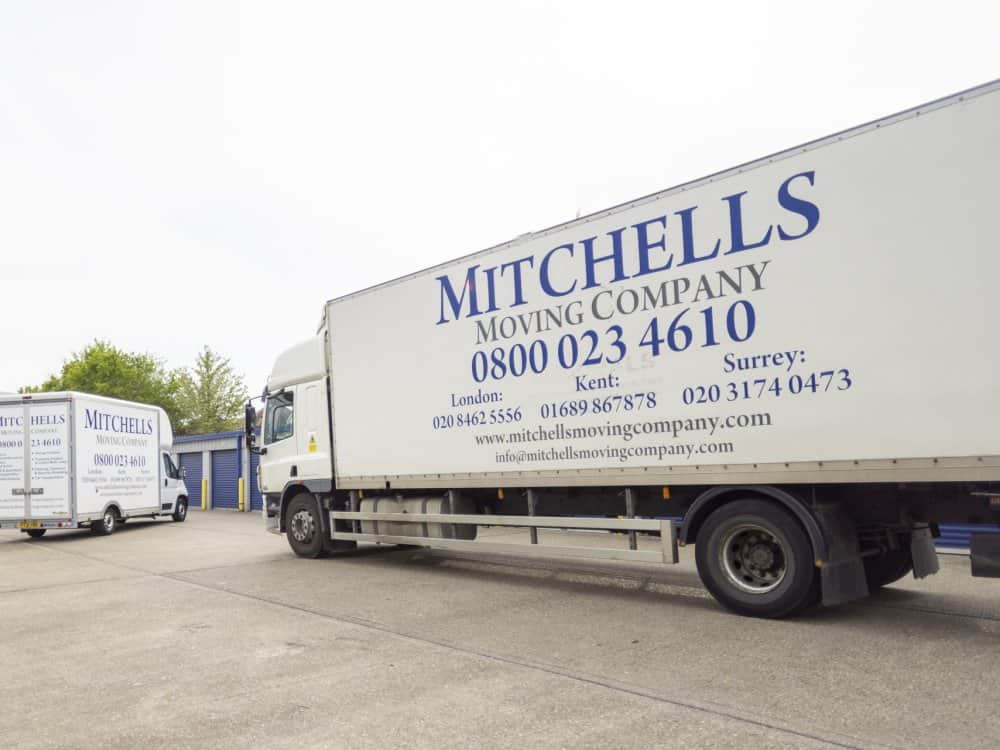 Our insurance:
Giving you reassurance
Working within your office building, your removal company needs to be trustworthy. Mitchells Moving Company is fully insured and qualified to work within your office, and we're more than willing to obtain additional accreditations to guarantee a smooth process. We will be completely compliant, allowing your company to make a fresh start.
Our additional
removal services
We offer a start-to-finish service. We will handle your office removal from beginning to end, so come to us. We provide office clearances to ensure you aren't bringing unwanted clutter into your new workplace, creating a productive environment for your employees. To transition your staff into the new office seamlessly, we provide a staff move service. We can also handle sensitive materials, shredding documents if needed. Plus, if you or one of your employees find yourselves moving house, then our domestic removal service will be a life saver. We can handle anything you need.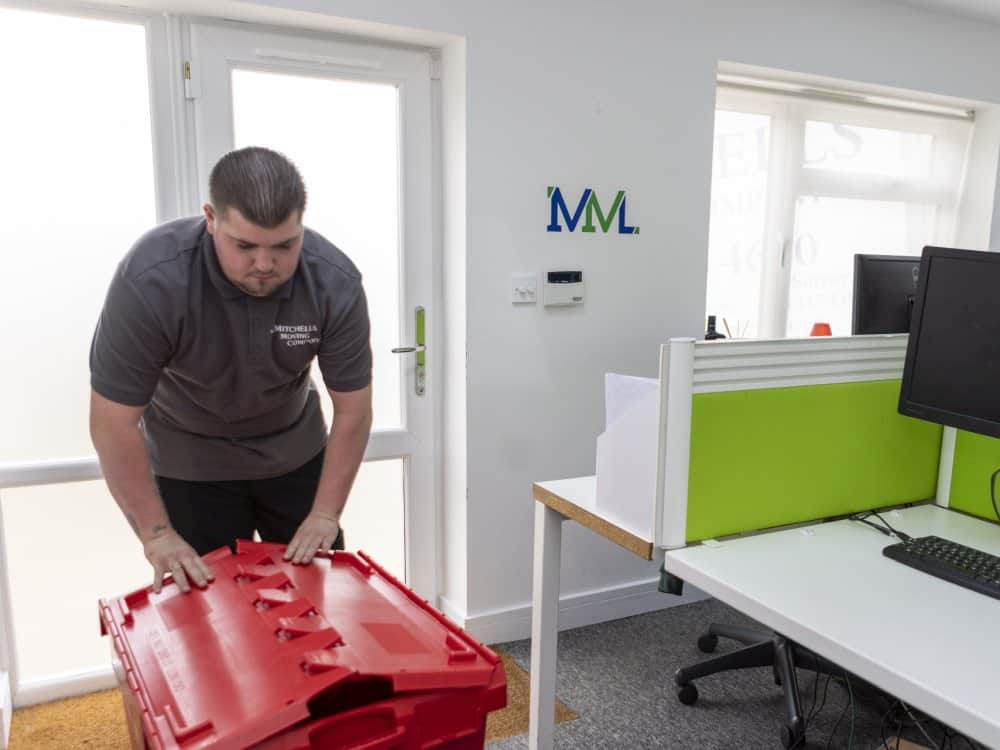 Protective packaging
products for your items
To ensure the safety of your items during your business removals, our packaging is a must-have. We provide top-quality packaging – our double skinned, corrugated cardboard boxes are sturdy so that your items will be transported without damage. We also provide crate hire. This allows your employees to move belongings from one office to another without confusion, creating efficient processes.
Safe storage for your
products commercial business
If your company is in the position where you will need storage, Mitchells Moving Company can provide the facilities. Our storage units are extremely secure, with CCTV, security gates, padlocks, alarm systems, and codes. Your items will be safe until you need them again, for any amount of time.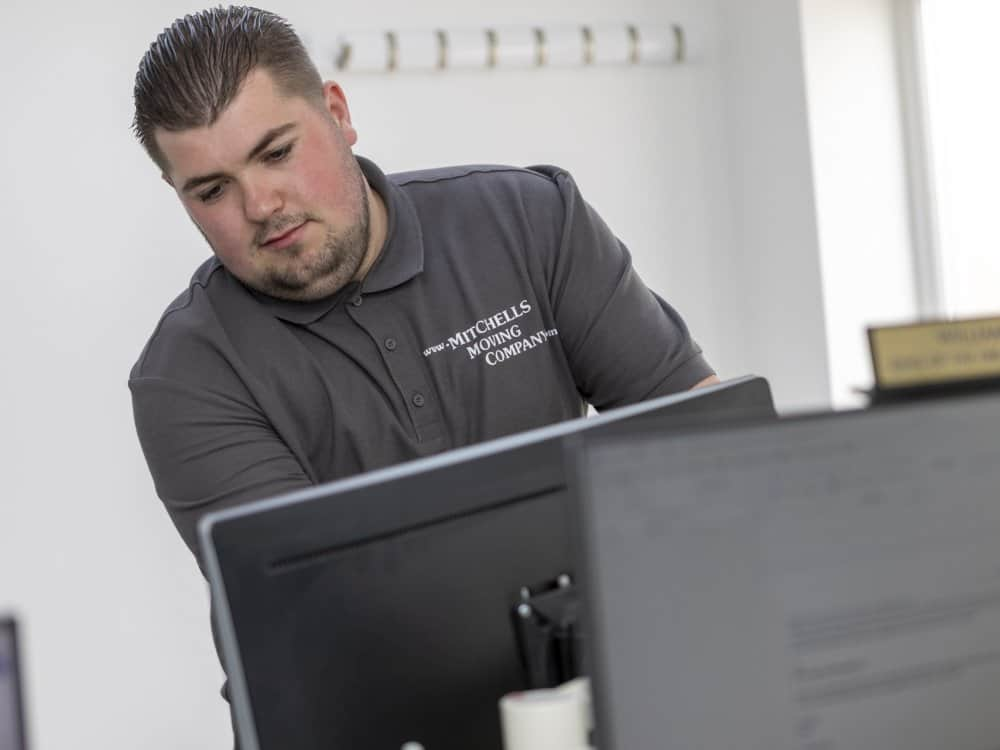 Choose us as your
expert commercial removal company
Moving your company from one office to another can seem like a stressful process. This is why finding a trustworthy company is so important! Let us be that company for you with our high standard of work.

40 years of removals experience
Many of our team members have more than 40 years in the industry. From this, we have built up a bank of knowledge on how to carry out your commercial removals safely and effectively.

Prioritising a personal service
We prioritise providing a personal service for our customers. Moving offices can be hectic, which is why we're available to offer the support you need. You will have the same point of contact to ensure smooth communication.

Comprehensive commercial services
We offer a full service, providing everything you need for your office relocation, from packing your items to clearing your office; we can even store things. Don't worry about having to find various companies for your requirements.

Efficient, detailed working processes
We make it a priority to have detailed, methodical services. We pack securely and logically, and our modern vehicles are specifically designed for removals. We work in teams – all our movers know how to work together effectively.