Get stress-free rubbish removal for your property in Catford
Send your queries
Get in touch!
Rubbish removal in Catford
Is getting rid of household rubbish on your mind? Not sure if there's professional help available in the neighbourhood? You've come to the right place; Mitchells' expert team would love to help you out with your domestic rubbish removal in Catford!
We are a licenced waste carrier with four decades of working experience in South East London. We have served hundreds of households in the Catford area over the years, and we boast the expertise to understand your unique clearance requirements.
Our rubbish removal services in Catford are personalised for each customer. This means experts from our team will do a survey, analyse your needs, and then offer a customised quote tailored to your household. There's absolutely nothing you need to worry about; our team will meticulously handle your waste and dispose of it at a trusted recycling centre.
Want to speak to an expert? Call us right away on 0800 023 4610.
Why choose us for rubbish removal in Catford?
Choosing the right rubbish clearance company in Catford means being able to rely on it for carrying out the job carefully and handling your household waste responsibly. You wouldn't want to risk violating local rules and environmental guidelines for discarding waste in Catford.
Mitchells Moving Company is a licenced waste carrier in Catford. And we've been in the clearance industry since 1980. These aren't mere facts, but they enable us to serve you in the most efficient way possible. Our team is well-trained, and we have access to some of the most advanced tools and vehicles in the market.
No matter the scale of the job, whether it's a big mattress or a few bags of household waste, we can handle it easily and carefully. So, if you are looking for reliable and quality rubbish removal services in Catford, Mitchells should be your best choice.
Get a free, no-obligation quote tailored to your requirements today!
What types of rubbish can we remove from your property?
Anything that you consider rubbish! Here are some common examples.
Small rubbish items
Do you have bags of domestic waste piling up in a corner of your property? Are there old wires and pipes lying unattended in the garden or in the loft? Reach out to us, we'll help get rid of them.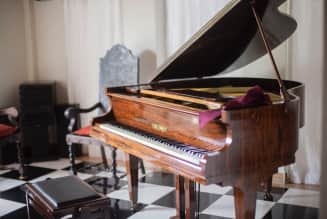 Heavy household items
Heavy items that you don't need anymore, such as old furniture, a piano, or a hot tub, etc. can be a headache. Don't rack your brain anymore, we're here to help! Our experts will lift them, take them out, and responsibly discard them at a reuse or recycling centre.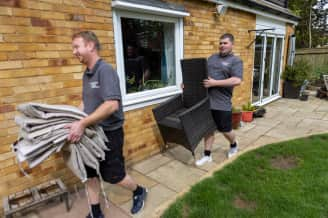 Garden waste
Don't let unsightly garden waste ruin the quality of your life in Catford. We're just a call away. Our professionals know how to handle these waste materials, be they hazardous or non-hazardous.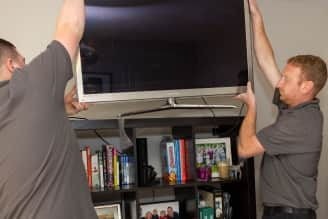 Domestic appliances
Are you thinking of upgrading your entire range of household appliances? Or maybe a couple of them? No worries, we'll take away the old ones and dispose of them carefully.
Is there a weight limit for
heavy items?
No, there's no limit. Expert waste clearers at Mitchells are equipped to handle heavy waste and other bulky items with the utmost effectiveness.
What to expect from our
rubbish removal in Catford
Our rubbish removal in Catford is completely personalised for every household. Because we know how unique each waste removal requirement is and how carefully it must be handled. That said, we do have a general process in place to help you understand how we work.
1
Separate your household rubbish
Keep your junk items separate for our team.
2
Our team surveys your items
Our rubbish removal experts will arrive at your place or connect on a video call to survey the waste.
3
Get a free quote for rubbish clearance
Get a free, no-obligation quote tailored to your requirements.
4
Rubbish clearance begins
On the day of rubbish removal, make sure our team has access to areas where your waste items are. You can relax now, knowing your household waste is in expert hands!
How much do our Catford waste removal services cost?
Our years of experience in house clearance have helped us learn how unique each household is. And how unique its waste removal requirements can be. Therefore, we customise our rubbish removal cost in Catford for every customer. Our team surveys your space and gives you a free quote that fits your budget and household needs. To get yours, contact us right away on 0800 023 4610 or email info@mitchellsmovingcompany.com.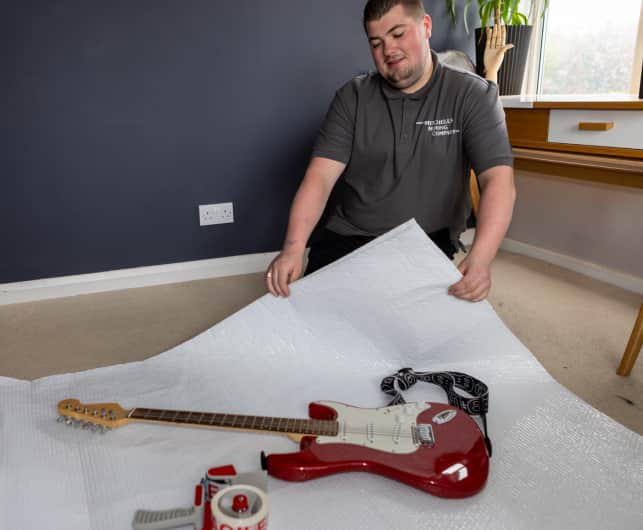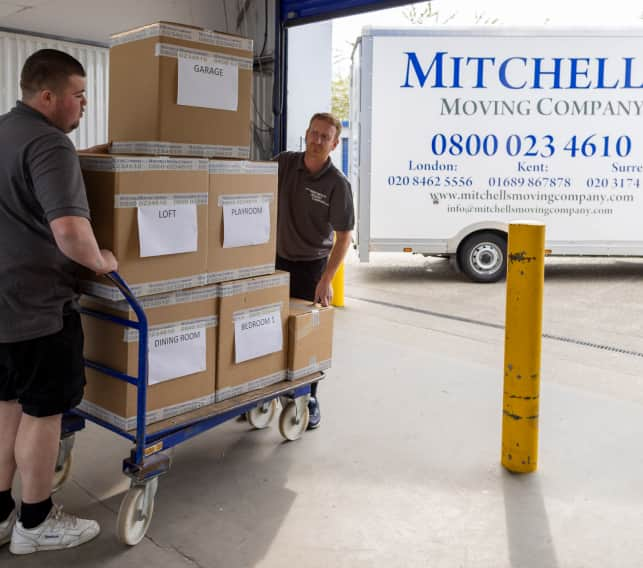 Work with a licenced rubbish removal service provider in Catford
Mitchells Moving Company is a licenced waste carrier in Catford. This demonstrates our responsibility and experience in the rubbish removal industry. Plus, we are well abreast of local rules and waste-handling guidelines. This ensures that your domestic waste is in the safe hands of a trusted service provider. No worries, we are there every step of the way to make rubbish removal in Catford simple and hassle-free for you!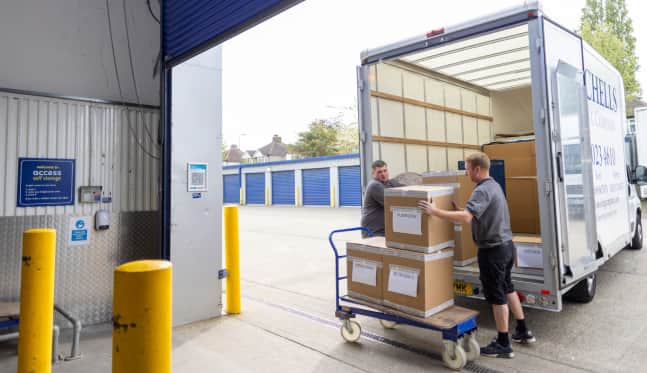 Book your domestic
rubbish removal in
Catford today!
Don't let scattered waste litter your beautiful home in Catford. Whatever you want to be removed, whether a massive piece of furniture or a few bags of waste, give Mitchells Moving Company a ring. We'll take your domestic waste away and dispose of it in the most responsible manner. Get a free quote today by booking our reliable rubbish removal in Catford!
Frequently asked questions about rubbish removal in Catford
How do I prepare for my domestic rubbish removal?
We have a few tips to help enhance your rubbish removal experience with us:
Keep your household waste separate for a quick survey and collection.
Ask your local authority to arrange for a parking suspension if you lack parking space.
Keep small waste items bagged for a quick collection.
Give us as much notice as possible so we can serve you better.
Do you recycle the items you remove?
Yes, all your waste items are taken away to a nearby and trusted recycling centre that responsibly discards them, following local rules and environmental guidelines.
Can I arrange for the same day rubbish clearance?
We prefer that you give us advanced notice. But we also understand that sometimes urgent rubbish removal needs may arise. In that case, you can give us a call without hesitation. We'll check internally for the feasibility of the job and proceed accordingly.
Why use rubbish removal instead of hiring a skip?
There are a few reasons why skips aren't the best choice for your household rubbish clearance:
They may require expensive permits.
If not handled properly, skips can damage your driveway.
Skips are more appropriate for construction debris, not household waste.
A local and reliable waste removal service provider like Mitchells Moving Company will offer affordable and more appropriate services.
Do I need to be at home when my waste is collected?
Yes, we require you to be at home while our team carries out rubbish removal on your property in Catford. This helps you ensure that all domestic waste is removed effectively.
What do I need to do on rubbish collection day?
Our experts will take care of everything on the rubbish clearance day. But yes, you should ensure they have access to the areas where your waste items are situated. That is all, there's nothing else you need to do!