Professional garden clearance for your property in Orpington
Send your queries
Get in touch!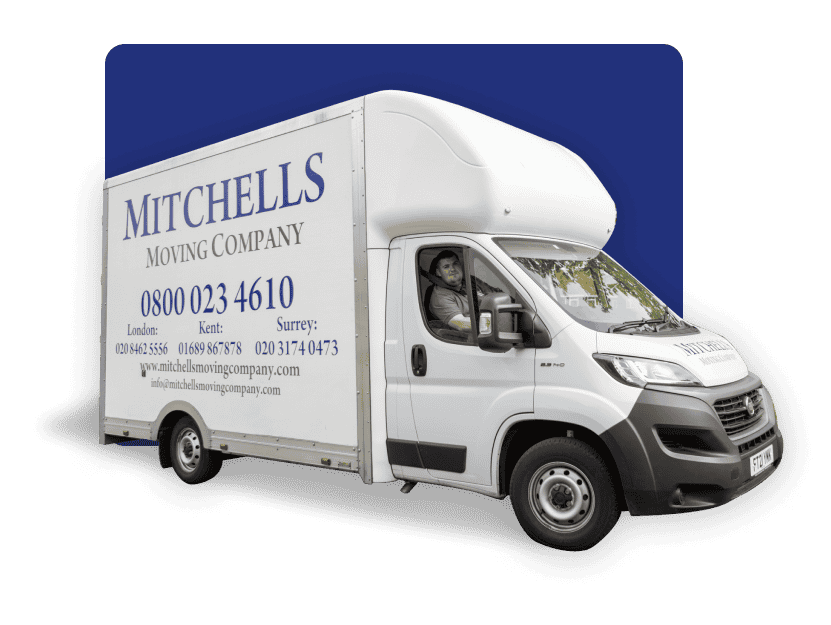 Garden clearance in Orpington
Garden waste isn't what you think of removing that often. But items such as bags of cut grass and vegetation, paint cans, and other debris can soon pile up in the corner to make your garden look messy. Fret not, we are here to make garden clearance in Orpington absolutely hassle-free for you!
Mitchells Moving Company has been around since 1980. Moreover, we're a trusted and licenced waste carrier in South East London. This means we have the ability and knowledge to handle your garden waste most responsibly and effectively.
Give us a ring on 0800 023 4610 for reliable garden waste removal in Orpington.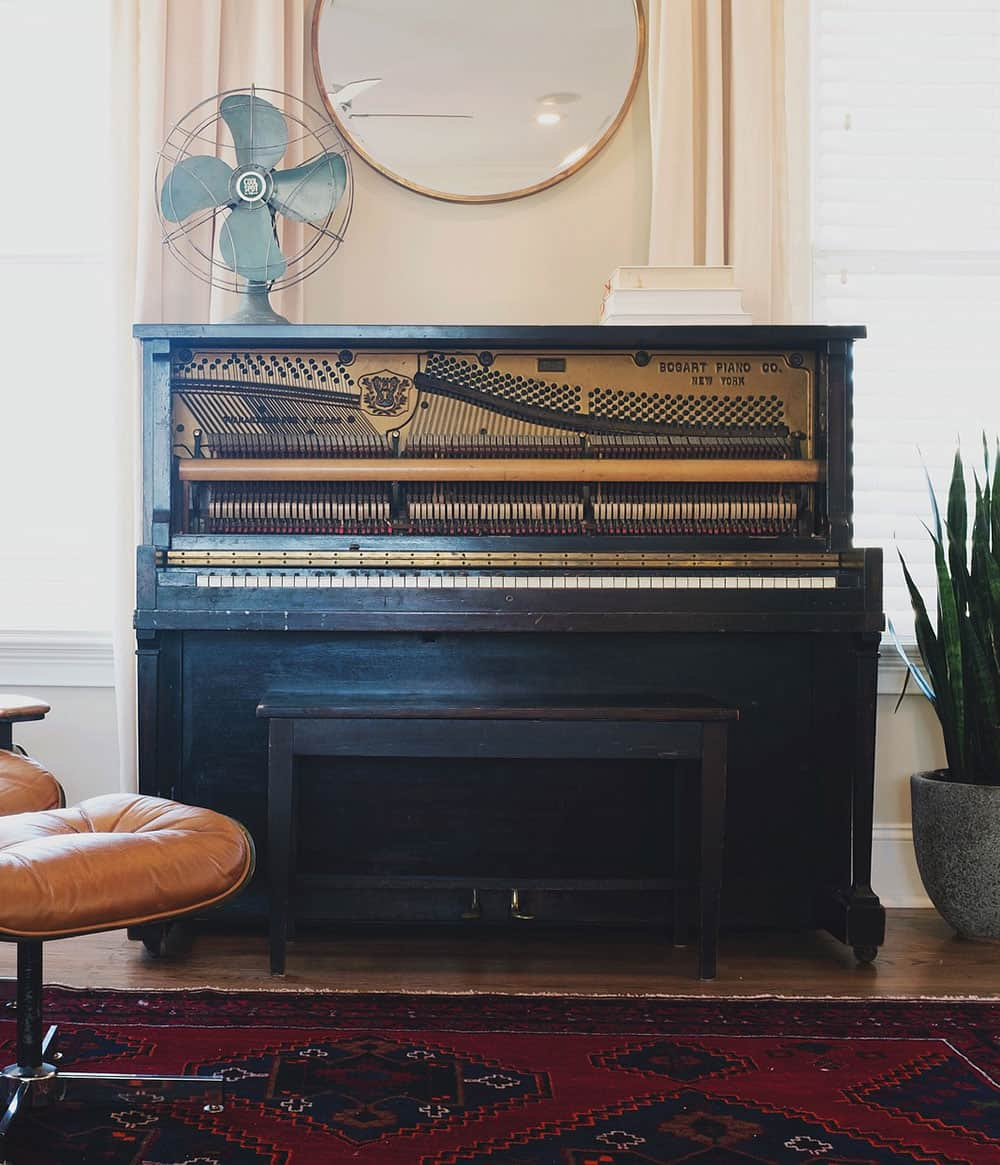 Why choose our garden clearance service in Orpington?
Garden waste can be of many types, from shrubs and weeds to unwanted furniture to hazardous chemicals, and more. You need to handle them with utmost care and responsibility. So when you trust a professional and experienced garden clearance company in Orpington, you make sure you're doing the right thing with your garden waste.
Expert garden clearers at Mitchells Moving Company are well-practised and trained to meticulously remove all types of garden waste. We can lift and carry bigger garden furniture as well as easily remove smaller bagged waste you may have in your garden.
Additionally, our customer service is excellent, and our processes are modern. We're also a licenced waste carrier in Orpington. All this helps ensure that your garden clearance experience with us will be reliable, outstanding, and smooth. Want to talk to an expert? Contact us right away!
What items can we remove from your garden
We can remove all types of garden waste and furniture from your property. Here are some examples.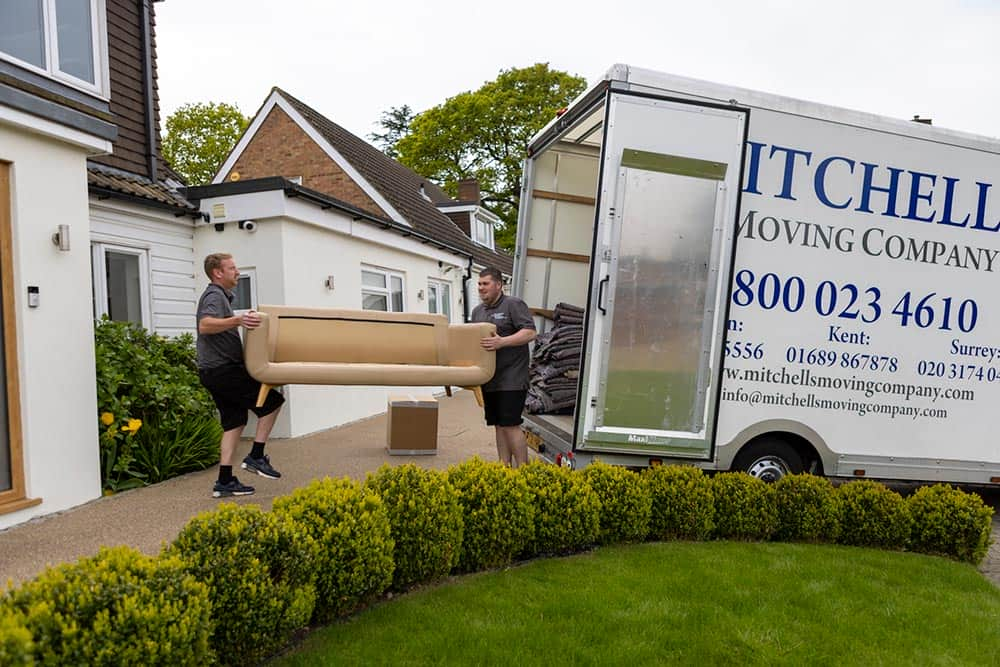 Garden waste
From cut grass and vegetation to bagged waste to paint cans to scattered pieces of junk, we can help you get rid of all kinds of garden waste. Just give us a call.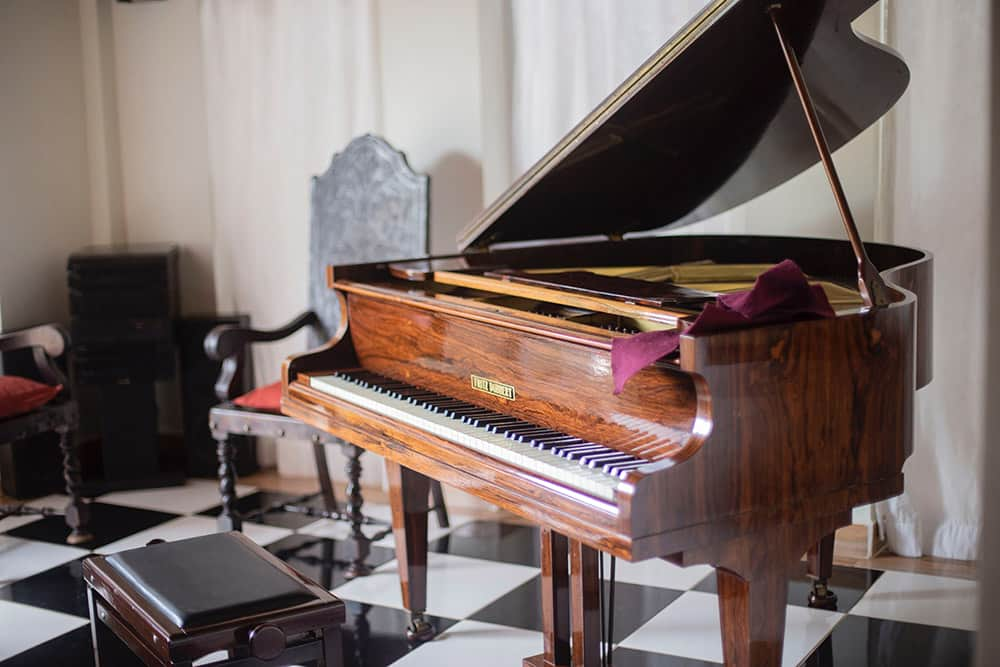 Fences and sheds
Old and broken fences, discarded sheds, wood pieces, etc. are heavy items that need expert handling and proper disposal. Mitchells' professionals can take them away from your property and recycle them at a trusted recycling centre in Orpington.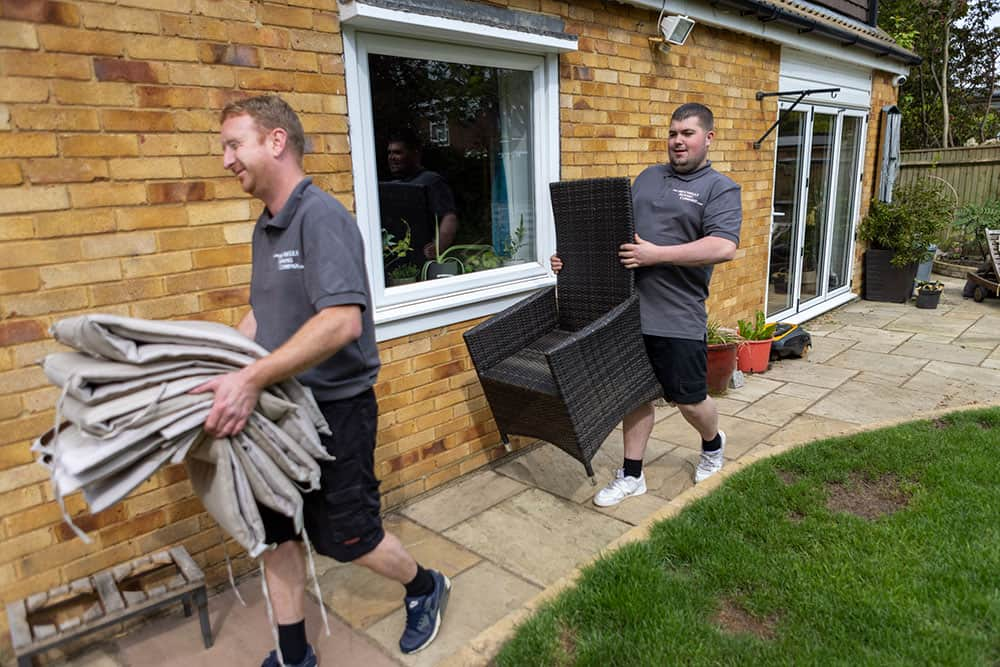 Garden furniture
Any garden furniture, whether an old-fashioned table-chair set or a bench you don't like anymore, can be effectively and carefully removed from your property with our expert garden clearance services.
What to expect from our garden
clearance in Orpington
Garden rubbish clearance by Mitchells is customised for every customer. However, the general removal process includes three simple steps as follows.
1
Get a free quote
Book our services by calling us on 0800 023 4610. We'll arrive at your property to survey the garden area and give you a free, no-obligation quote. This can also be done via a video survey.
2
We clear out your garden rubbish
Mitchells' expert professionals will arrive at your property in Orpington to carry out the garden clearance. We'll have the necessary equipment and modern vehicles to remove all types of garden waste from your household.
3
You have a clean garden
With your rubbish cleared, you now have a spick and span garden. Rest easy, knowing our team is taking your waste items away for responsible recycling.
How much does our garden
clearance cost in Orpington?
Garden clearance requirements vary from one household to another. That is why we speak with every customer to understand their requirements, survey their garden area, and then provide them with a customised quote that fits their budget and needs.
To get yours, contact us on 0800 023 4610 or email info@mitchellsmovingcompany.com.
Work with a fully licenced garden clearance services provider in Orpington
Correctly discarding your garden waste is a responsible job. You need to ensure that your waste items are handled in an environmentally friendly way; which is why you should trust Mitchells Moving Company's licenced waste carrier team in Orpington. We will take your garden waste to a reliable reuse or recycling centre that disposes of it following necessary rules and protocols. In addition to that, our experience and expertise in the field ensure an unparalleled garden clearance experience in Orpington.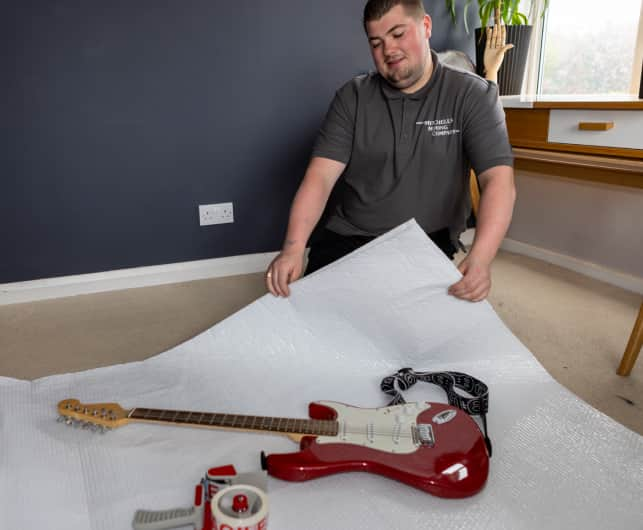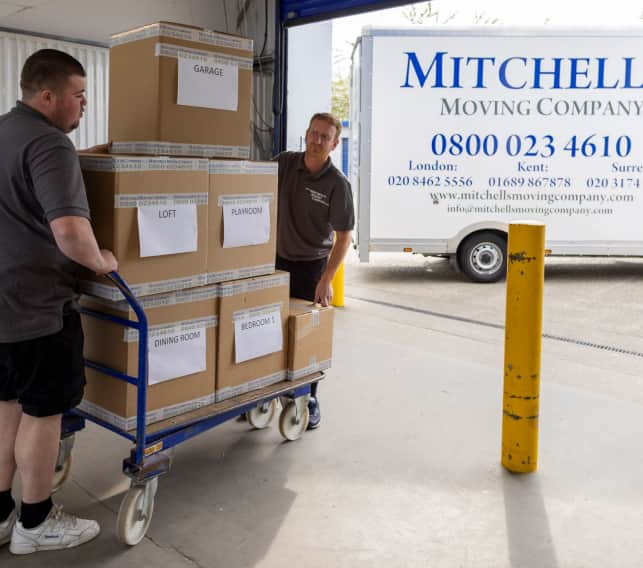 Frequently asked questions about garden clearance in Orpington
How do I prepare for my garden clearance in Orpington?
Give our experts access to your garden, that's all! Here are a few tips to help make your garden clearance experience even better with us:
Bag your smaller waste items if you'd like faster rubbish removal.
Give us as much notice as possible so we can serve you better.
During the survey, tell our experts everything you need cleared from your garden. This will help us give you the best quote tailored to your needs.
Do you recycle the garden items you clear?
Yes, we take your garden waste to a nearby and trusted recycling centre that disposes of it with all environmental regulations in mind. No worries, your garden clearance in Orpington with Mitchells will be absolutely stress-free.
How long does a garden clearance take?
It depends on the size of the job and whether the garden waste is ready to be collected. We'll be able to give you a rough estimate of the time once we do a survey of your space.
Do I need to be at home during my garden clearance?
Yes, we require you to be at home while our garden clearers work in your garden. This helps you ensure that your space is effectively cleared up as per your requirements.
What do I need to do on the day of my garden clearance?
You can trust our experts to take care of everything. However, if you'd like faster waste collection, you can bag your smaller rubbish items for our team.