Reliable and unrivalled garden clearance services for your property in Bromley
Send your queries
Get in touch!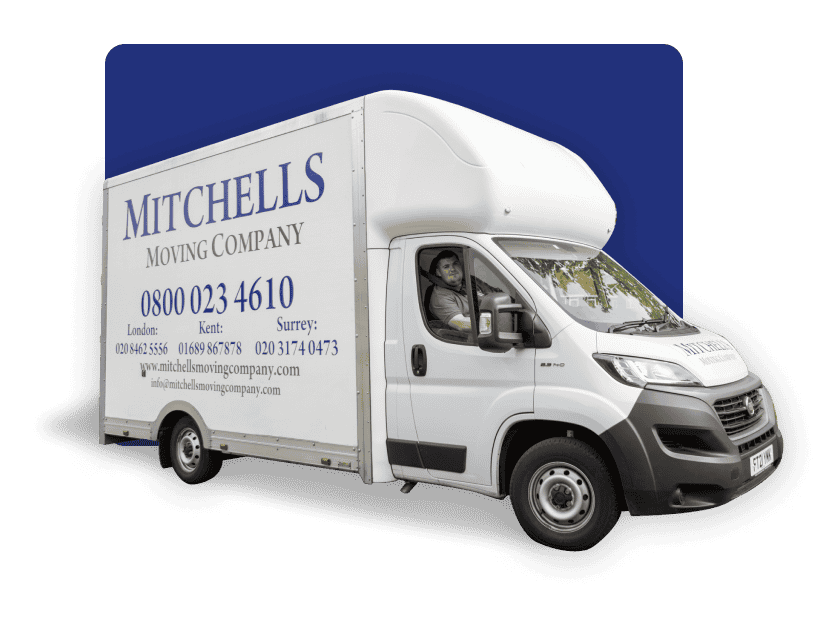 Garden clearance Bromley
When you're moving, your garden may not be the first thing on your mind. But would you want to leave behind an overgrown garden full of waste bags for the new occupant? Try Mitchells Moving Company's expert and professional garden clearance services in Bromley!
With four decades of experience in serving happy customers across south-east London and the surrounding areas, we know exactly what you need as you move properties. Our adept gardeners will survey your garden area and remove unwanted vegetation and debris from there.
Give us a ring on 0800 023 4610 for meticulous garden waste removal for your property in Bromley.
Why choose Mitchells Moving Company's garden clearance service in Bromley?
Clearing out rubbish from the garden, especially when you're preparing to move out, can be a headache. You won't have the time to carry out a comprehensive clearance all by yourself. But when you take our affordable and expert garden clearance services, you can rest easy – we will take care of your garden and leave it in excellent condition!
The team at Mitchells is well-equipped with necessary tools and vehicles to cut back overgrown vegetation, remove large sheds and bases, and dispose of all garden waste responsibly.
In addition to that, our quality customer service and modern (and quick) processes will ensure that all garden clearances are done with the utmost efficiency – no matter the scale of the job!
What items can we remove from your garden?
When you trust us with your garden clearance, it's our responsibility to remove every piece of junk and leave your property in the best condition possible. Here's what we cover: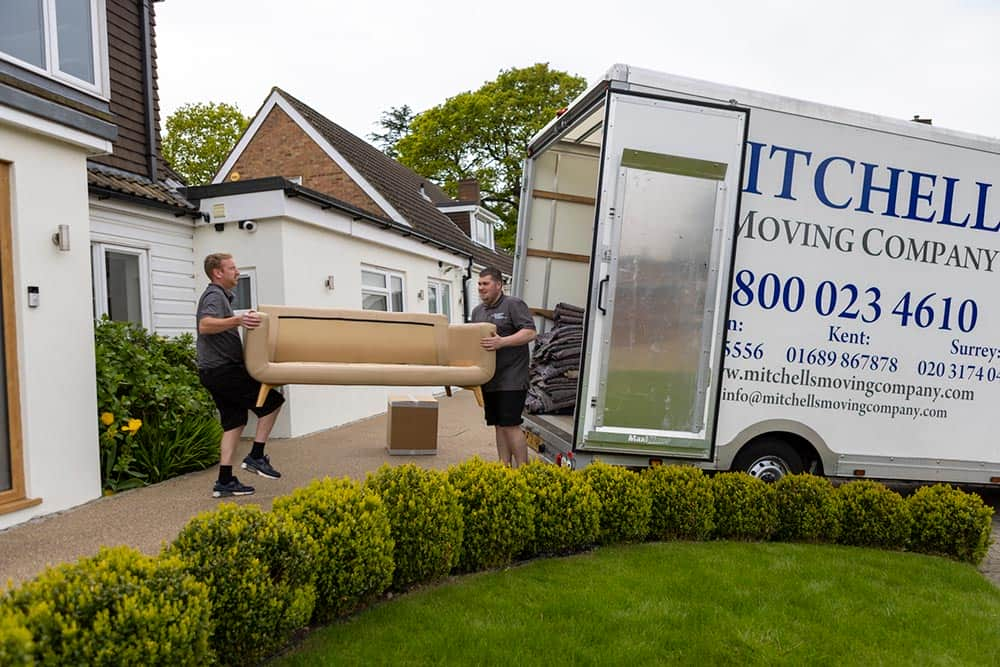 Garden waste
We remove all waste items from your garden. From cleaning out overgrown shrubs and weeds to cutting grass to removing bags of small, discarded items – we cover everything!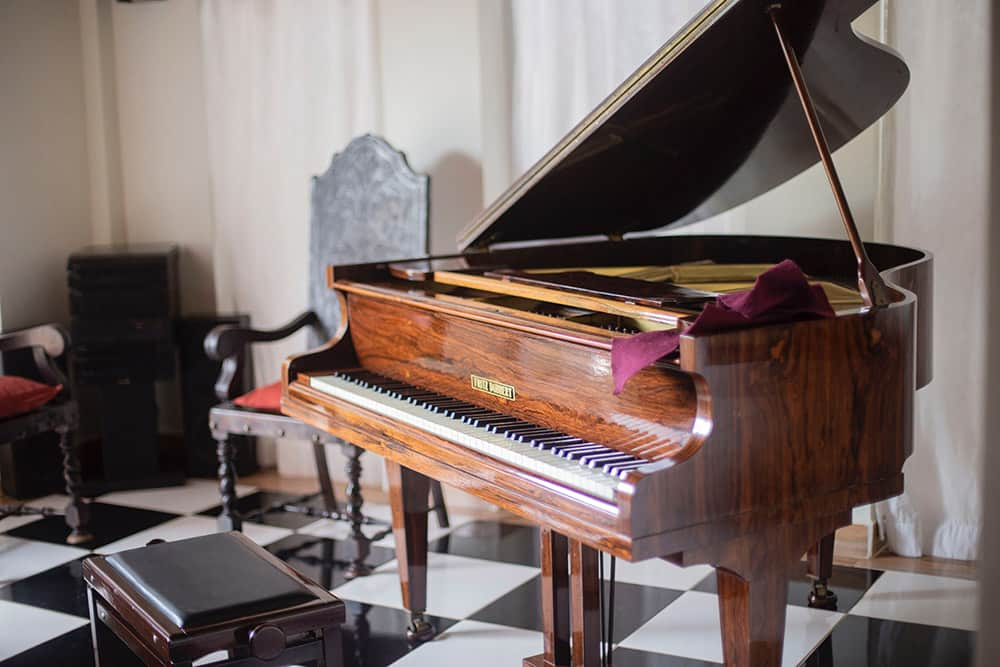 Fences and sheds
Removing old fences and sheds can be a hassle – but not with our expert team! We'll take these items along with any walls, wood pieces, old patios, etc. out of your property and recycle them at a trustworthy recycling centre in Bromley.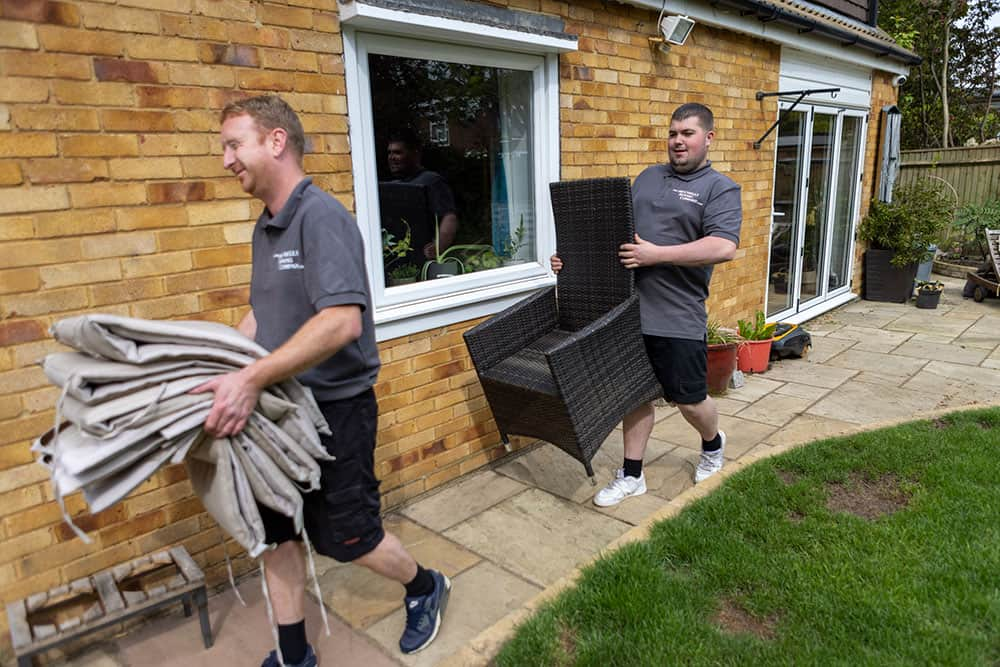 Garden furniture
Do you have a garden table and chair set that you don't want to take with you? No worries – our garden clearers will take them away and carefully dispose of them, thus leaving your space spick and span!
What to expect from our garden
clearance in Bromley
Garden rubbish clearance by Mitchells is always tailored to our customer's needs. However, the general removal process includes three simple steps as follows:
1
Get a free quote
Book our services by calling us on 0800 023 4610. We'll pay a visit to your house to survey the garden area and give you a free quote. This can also be done via a video survey.
2
We clear out your garden rubbish
Our trained and experienced professionals will arrive at your property in Bromley to carry out the waste clearance. We'll have the necessary equipment and resources for careful and effective implementation of the job.
3
Continue with your move
With your rubbish cleared, you now have a neat and tidy garden. Continue with your move knowing we'll dispose of your waste in the best manner possible.
How much does our garden
clearance cost in Bromley
The reason we don't have a fixed cost for every property is because we understand each and every removal requirement is unique. We personally speak with our customers and conduct a thorough survey before we provide them with a free, no-obligation quote.
To get yours, contact us on 0800 023 4610 or email info@mitchellsmovingcompany.com.
Rest assured – our cost for garden clearance Bromley is absolutely reasonable and will fit your budget needs!
Work with a fully licenced garden clearance services provider in Bromley
Mitchells Moving Company is a licenced waste carrier that guarantees safe and environmentally friendly waste removal in Bromley. We'll dispose of every rubbish item – from hazardous chemicals to non-hazardous waste – at a trusted reuse or recycling centre in Bromley. Our years of working in the area along with exceptional waste removal services make us an unrivalled choice for your garden clearance.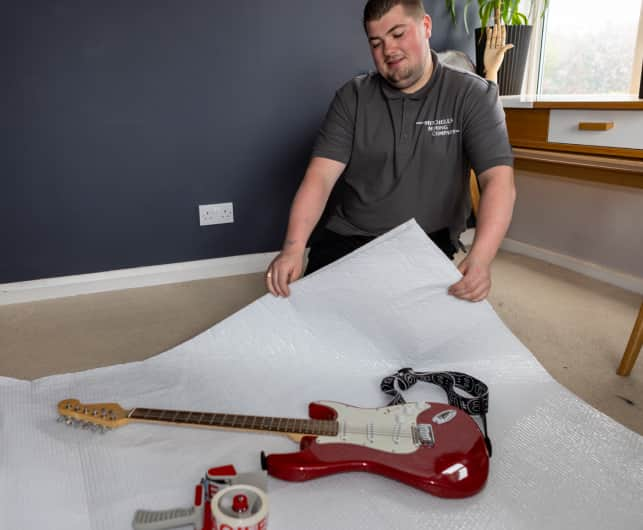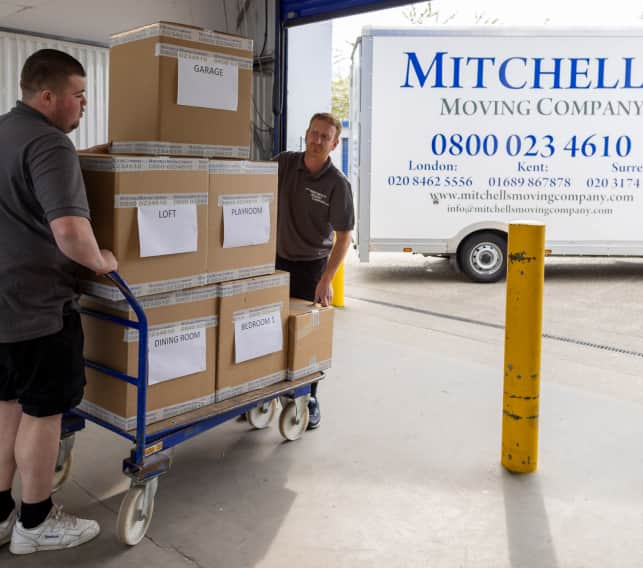 Book your garden waste clearance in Bromley today!
Garden clearance is an often forgotten but essential part of moving properties. And our expert clearers at Mitchells will make it absolutely stress-free for you! Give us a ring right away to clean up your overgrown garden in Bromley!
Frequently asked questions on Garden Clearance Bromley
How do I prepare for my garden clearance in Bromley?
All we require from your end is access to your garden! However, you can follow a few tips to make your garden clearance experience even better with us:
You can bag your smaller waste items if you'd like faster rubbish removal.
Try to give us notice of two weeks, which will help us serve you better.
During the survey, don't hesitate to tell our experts everything you need cleared; this will help us give you the best quote tailored to your needs.
Do you recycle garden items you clear?
We believe in disposing of waste items responsibly – and with the environment in mind! This involves taking your garden rubbish to a registered and trustworthy reuse or recycling centre to discard it.
How long does a garden clearance take?
It depends on the size of the job. A minimum clearance job will take an expert from 4 to 6 hours. We'll be able to give you a rough estimate of the time once we do a survey of your space.
Do I need to be at home during my garden clearance?
Yes, we require you to be home as our professionals work in your garden. This will assure you that your space is effectively cleared up as per your requirements.
What do I need to do on the day of my garden clearance?
You can trust our experts to take care of everything. Meanwhile, you can make sure that all your unwanted items are removed from your garden.