When the time comes for an office relocation, you are likely to be left with plenty of items that you no longer have a use for. When you choose Mitchells Moving Company for your office clearance in London, you can rest assured that we'll get rid of these items in an efficient manner. We have perfected our processes during the decades we have spent clearing offices – your unwanted items will be taken away in no time! Our team can remove any quantity of items that you need disposed of, with our fleet of vehicles having the capacity needed for any situation. The service we provide is tailored to your requirements. To make an enquiry, call us on 0800 023 4610.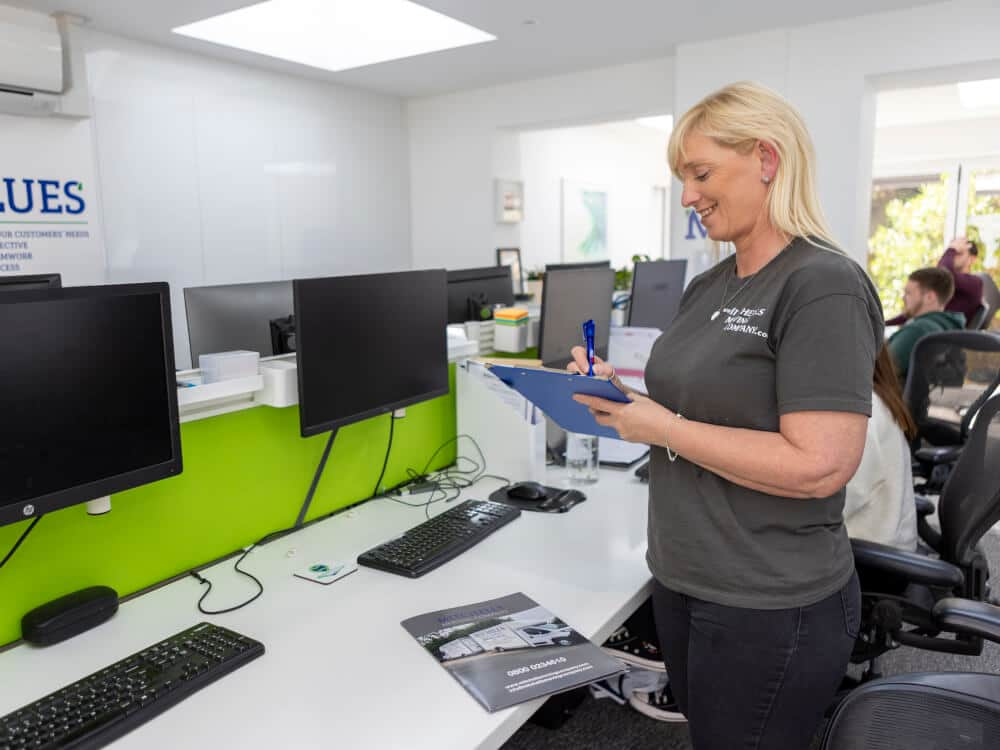 Why work with an office clearance company in London?
Having to worry about taking away unwanted items adds unnecessary hassle to the already stressful process of clearing an office. Here at Mitchells Moving Company, we offer a service that will make your life easier. From broken desks to outdated shelves, we can clear anything that is no longer required in your London office. Why leave yourself with the burden of this task when you can leave it to the professionals? We will take care of all your waste for you, leaving you with more time to focus on the next stage of the process and maintain momentum. Our team is full of experience, so you can count on us to complete the job exactly how you need it to be done.
What to expect from
your office clearance in London
We have worked hard to refine our process for carrying out office clearances in London. To familiarise yourself with what we have to offer, take a look at our approach:
Our team will arrange a convenient time to speak with you, either in-person or via a video call. During this discussion, we will survey how many items you need to be removed so we can determine the most appropriate approach for your clearance.
We will send a moving team to your office, where they will collect your unwanted items. It will be beneficial for you to ensure that any items you wish to keep are stored separately.
Your items will be taken away and disposed of responsibly.
You can commence with work in your office, free of the waste. Our team can also help with packaging and transporting anything if you are moving to a new premises.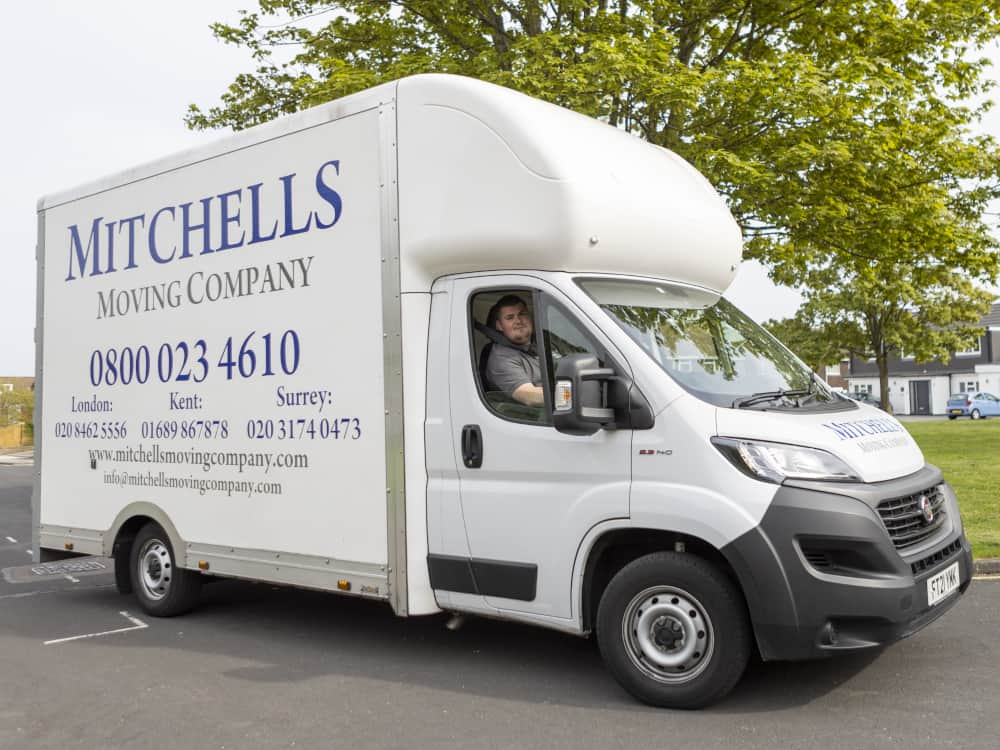 Clearing your large, heavy items:
Our process
We can clear any large items that you are unable to move by yourself. Our experienced team and practiced processes mean that we can get the job done in an efficient fashion. Your items will be completely secure whilst being transported, and you can rely on our team to do all the heavy lifting. With access to the equipment necessary to move your heavy belongings, we can do anything that you need us to as part of your office clearance in London. We will provide the comprehensive service you require of us, from the removal to the disposal.
A modern fleet of removal vans
in London
Our extensive fleet of vans is capable of removing all the unwanted items from your office in London. We have a range of modern vans that we can use, with 7.5, 12, and 18 tonne vehicles available, as well as a maxi mover. We can take anything away from your office, from fridges to business photocopiers. Get in touch with us if you need large or heavy items transported from your office.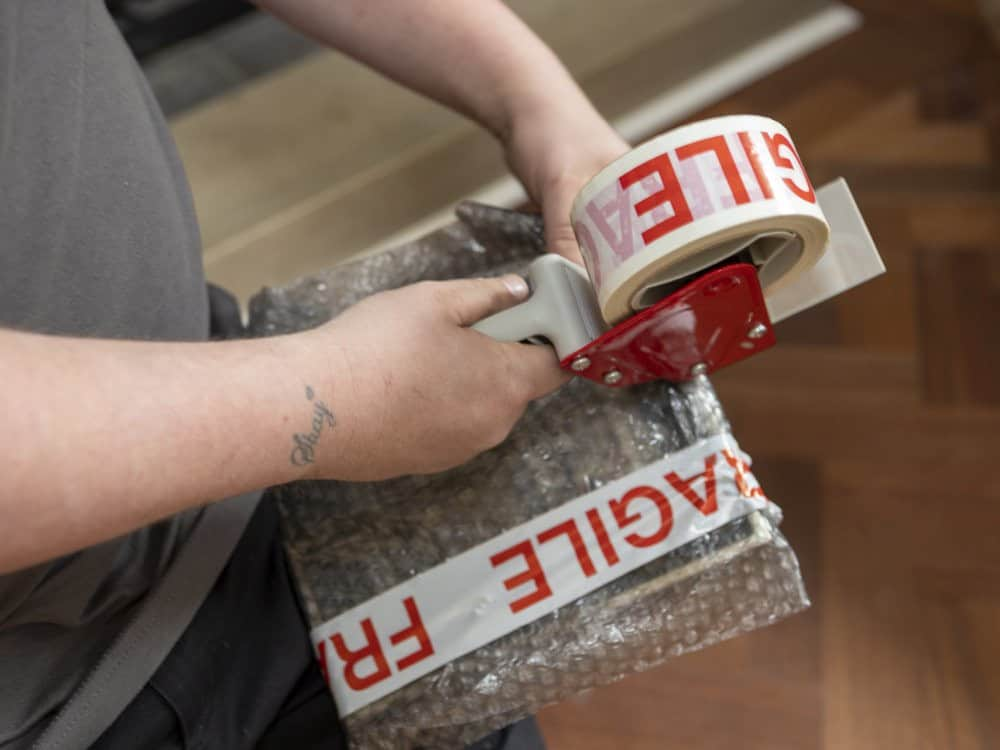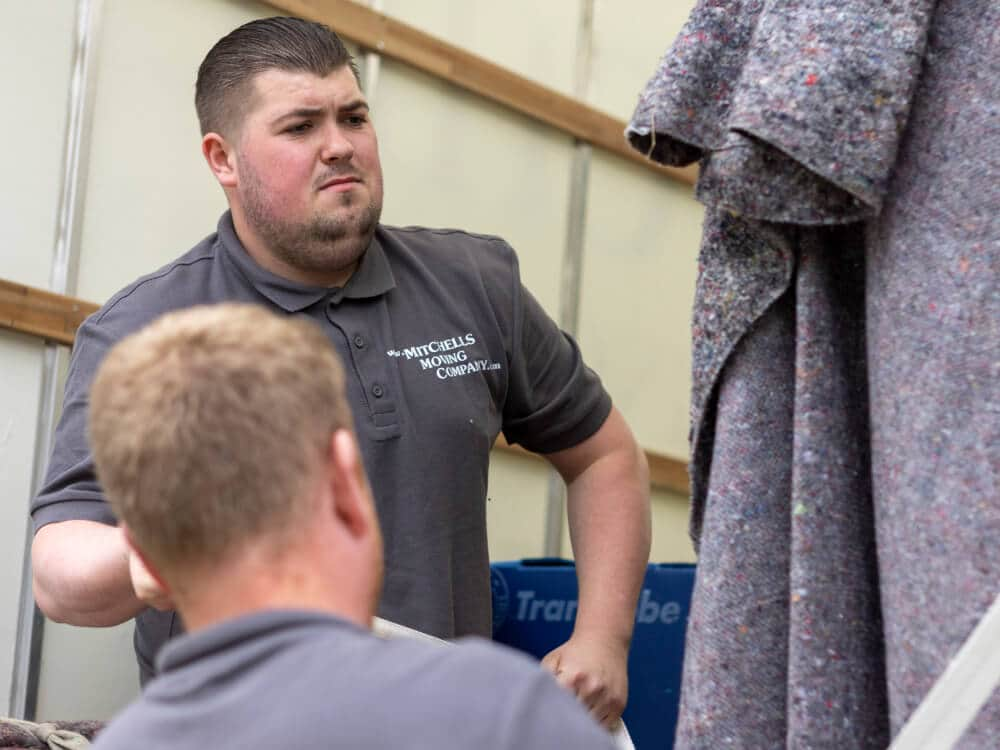 Insurance: Keeping your
London business safe
When you choose Mitchells Moving Company to complete your office clearance in London, you can rest assured that we are fully insured. The experience and insurance that we possess mean we always deliver an ideal service, ridding your office of surplus items. With our insured team, your office clearance is in safe hands.
Additional services to benefit your office in London
We can complete your full office relocation as well as an office clearance. Our services will make the process of transitioning from one workplace to another far less stressful. All your office belongings will be efficiently transported to your new office without any hassle for you. Our staff move service can take control of your employees' belongings, meaning there is no risk of colleagues getting confused about which items belong to who.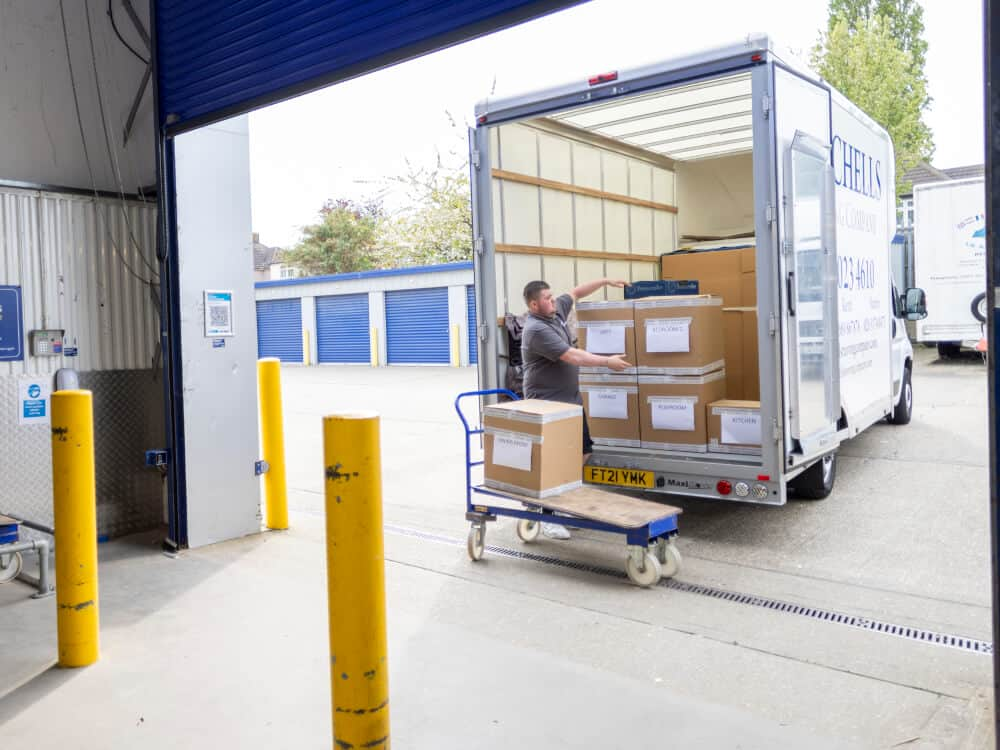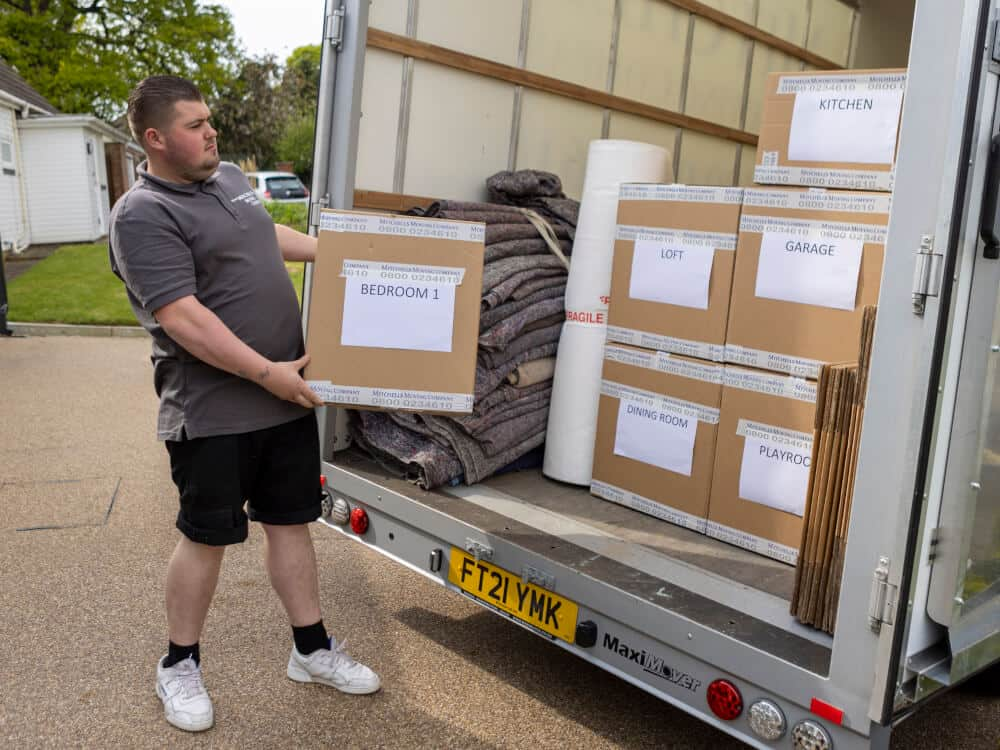 Top-quality packing
services
Our team will carefully pack your belongings to make sure that they are safe during your office clearance. We use wrapping materials and removal blankets to keep your items secure, while our sturdy, double skinned corrugated cardboard boxes mean there is no risk of any damage being sustained. Your items will be stored securely in our modern vans before being cleared away from your office premises.
Convenient storage
solutions
Our storage services are ideal for anyone who needs some more office space but may need to reuse their excess items in future. That's why we are so careful when we take things away from offices – you never know when they might come in handy again. Your items will be extremely secure, with padlocks, security gates, codes, CCTV, and alarm systems protecting them. Keep your items in our storage units for as long as you need to.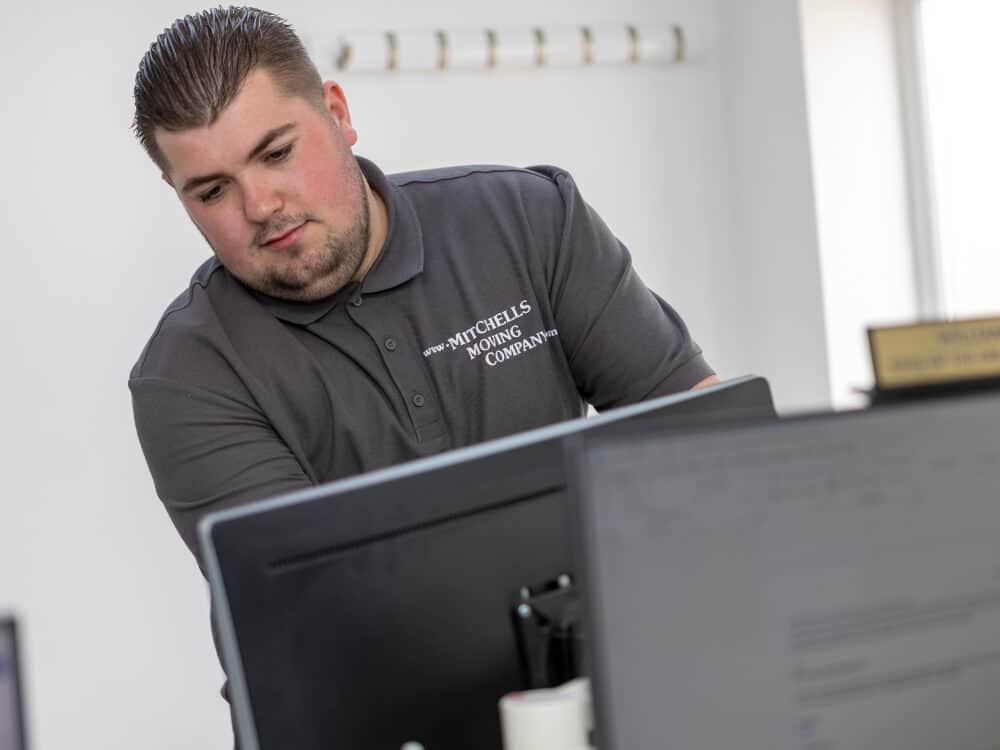 Why choose us
for your office clearance in London?
Establishing close, trusting relationships with our customers is important to us. Our impressive knowledge and experience enable us to complete your office clearance in London as efficiently as possible. Here are a few reasons why you should choose us:

Decades of experience
With more than 40 years in the removal industry, your office could benefit from the experience of our moving experts. Our highly efficient working processes will ensure that your London office clearance runs smoothly.

Personability with customers
Our personable approach to customer relationships allows us to build dependable bonds. This means we can understand our customers' requirements and meet them all in full. With effective communication, we keep everyone in the loop for the duration of the service.

Fully comprehensive services
You can count on Mitchells Moving Company for your office clearance in London. We will take care of the clearance, as well as your office relocation if necessary. Plus, you can benefit from our crate hire and storage units.

Efficient working processes
Our team regularly work in crews, making good communication key to an efficient working process. Everyone knows what they need to do for our process to run smoothly. We wear branded uniforms and work together seamlessly, clearing offices efficiently every time.