Moving house is a stressful process – there's no getting around that. Not only do you have to worry about packing up all your belongings and getting them to your new home, but you also must deal with the hassle of finding a removal company that can be trusted. And then you must hope that they will be able to meet your specific needs! Mitchells Moving Company takes the stress out of removals in Mitcham. We are a professional removal firm with decades of industry experience, so we know exactly what needs to be done for your move to go as smoothly as possible. Every service we offer is tailored specifically to our customers, and we always take care when packing and transporting your belongings.
If you're looking for the best removals company to help you on moving day in Mitcham, call us on 0800 023 4610.
How can we help with
removals in Mitcham?
Moving is always a stressful experience, but it can be especially difficult if you must do all the packing and cleaning yourself. It's hard enough moving all your belongings from one place to another without having to worry about packing everything up properly and ensuring that your home is clean and clutter-free when you're done. Mitchells Moving Company offers a full range of removals services that will take care of everything for you. We'll pack your belongings safely and securely, transport them to your new home, and unpack them for you so that you can relax and enjoy your move. Plus, we offer a clearance service to help you get rid of any unwanted items before you move in.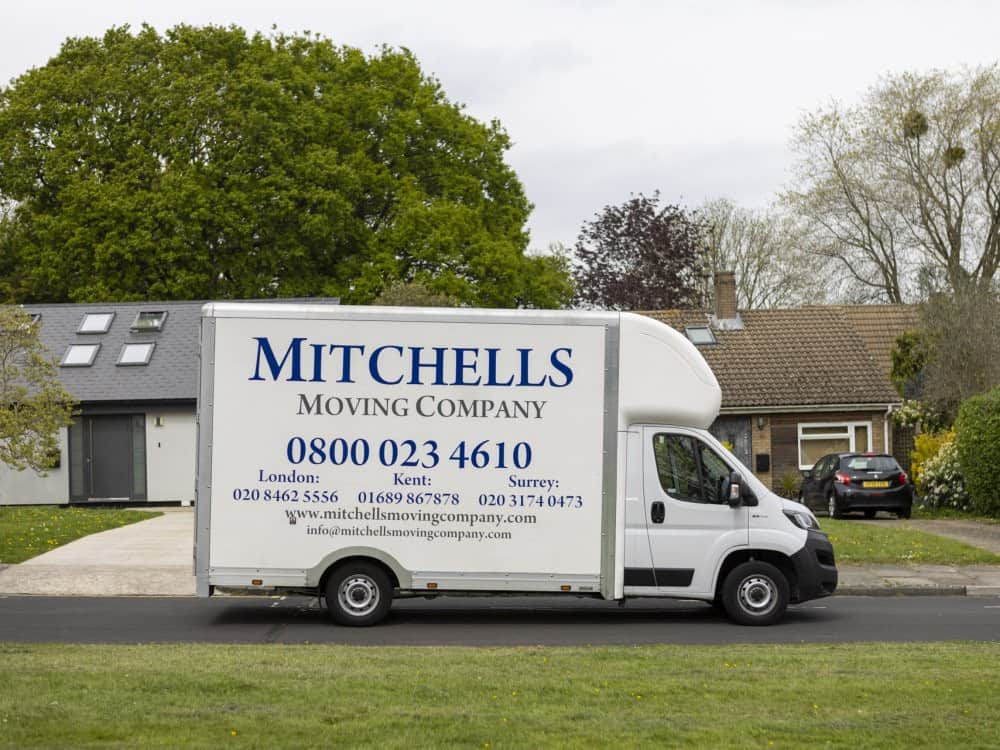 Why choose Mitchells Moving Company
for removals in Mitcham?
Mitchells Moving Company is here to help. We're a family-owned and operated business with years of experience in the industry. We're proud to offer our customers an affordable, comprehensive service that takes the stress out of your moving day in Mitcham.

Industry experience dating back to 1980
You're probably wondering how you're going to get all your belongings from point A to point B without any issues. Leave it to the professionals! Our family business has staff that have been in the removals industry for more than 40 years, so we know what we're doing. We'll transport your belongings safely and reliably, so you can focus on settling into your new home.

Personal communication with customers
You're busy enough as it is and don't need the extra stress of trying to communicate with your mover. We take care of communication for you so that you can relax and focus on your move. With our service, you'll have a direct line of communication with your mover and will be updated on every step of the process. We want to make sure that your move is as stress-free as possible.

Start-to-finish services
Not only is it time consuming, but it can be difficult to find reputable removals companies who offer start-to-finish services. We offer a wide range of services from end of tenancy cleaning and removals to waste disposal and garden clearance. We're a reliable company with years of experience in the industry, so you can rest assured that your move will go smoothly from start to finish.

Modern, detail-oriented processes
We take the hassle out of moving. Our modern vans are designed for house removals, and we have a team of experts who will pack your belongings carefully so that they're easy to unpack at the new destination. Plus, we offer support vehicles and large item transportation without any extra fees.
Professional packing
for removals in Mitcham
Moving is a stressful process and can take up a lot of your time. Packing your belongings by yourself can be incredibly time consuming and frustrating. You could be packing for weeks on end and living out of suitcases in the meantime. Hiring a professional packing service will take the stress off your hands. Mitchells Moving Company's team of experienced packers will come to your home one day before the move and pack everything quickly and efficiently. This will allow you to live your daily life right up until the move without any added stress.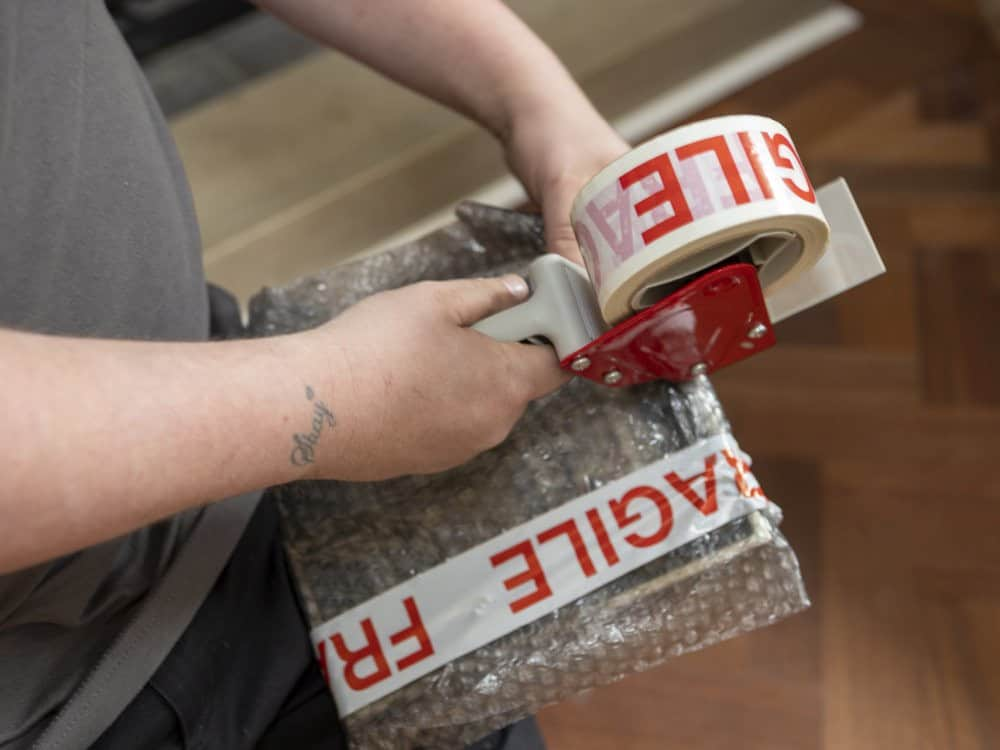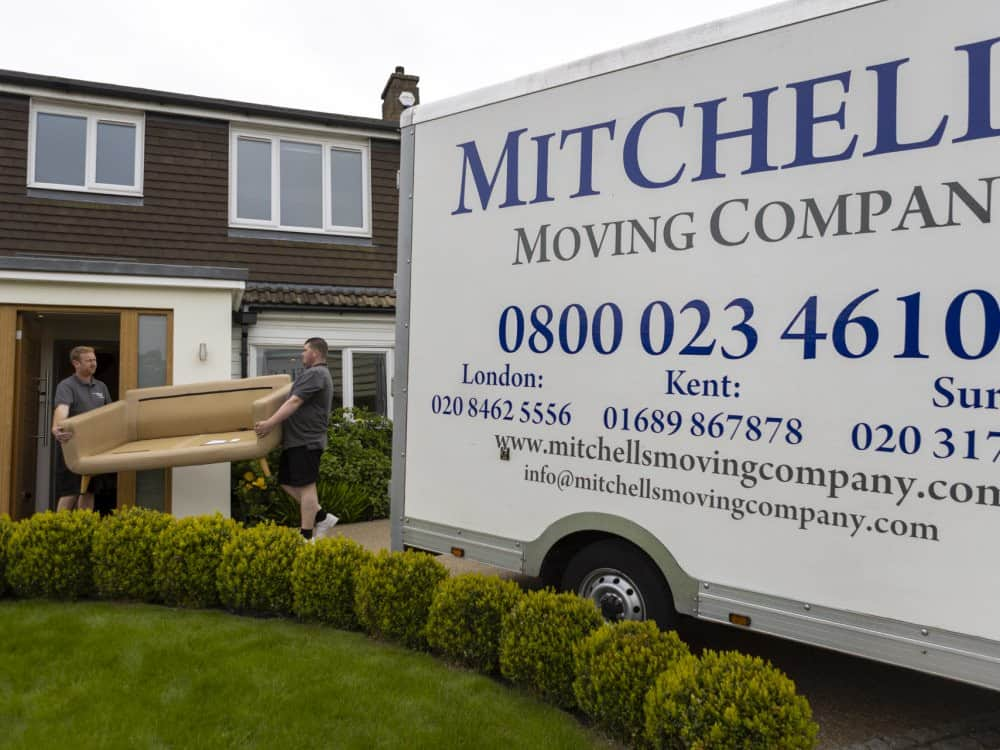 Removal storage
in Mitcham
You've just moved into a new home, but you can't move your furniture in until the renovations are finished. It's frustrating when you must wait to move into your new home because of unfinished renovations. Mitchells Moving Company offers removal and storage services that will keep your belongings safe and secure until you're ready to move them into your new home. We have a variety of storage sizes available so that you can find the perfect fit for your needs. Plus, our alarm systems and CCTV ensure that your items are always protected.
Primary schools
in Mitcham
Are your little ones starting school soon? There are a range of primary schools within the Mitcham area that could be the ideal fit for their needs.
St Peter & Paul Catholic Primary School
St Mark's Primary School
Rising Starseducation
Bond Primary School
Cranmer Primary School
Gorringe Park Primary School
Haslemere Primary School
Lonesome Primary School
Beecholme Primary School
Morden Primary School
Green Wrythe Primary School
Myassignmenthelp
Merton Abbey Primary School
All Saints' C Of E Primary School
Granton Primary School
Hackbridge Primary School
Abbotsbury Primary School
Links Primary School
William Morris Primary School
Culvers House Primary School
Poplar Primary School
Furzedown Primary School
Tweeddale Primary School
Explore Learning Merton
First Class Learning, Tooting
Garfield Primary School
Woodmansterne Primary School & Children's Centre
Merton Park Primary School
St Boniface R C Primary School
Penwortham Primary School
Perform Within Pelham Primary School
Goldfinch Primary School
Franciscan Primary School
St Mary's Catholic Primary School
Holy Trinity C Of E Primary School
Gatton V A Primary School
TutorCare Services
Priory C Of E Primary School
Muschamp Primary School & Language Opportunity Base
Hillcross Primary School
Immanuel & St Andrew Church Of England Primary School
Smallwood Primary School & Language Unit
Broadwater Primary School
Abbey Primary School
French for All
Blessed Ltd
Hillbrook Primary School
Dundonald Primary School
Wimbledon Chase Primary School
Bandon Hill Primary School
Bond Primary School
Lonesome Primary School
Haslemere Primary School
St Mark's Primary School
The Sherwood School
Cranmer Primary School
Gorringe Park Primary School
Liberty Primary
William Morris Primary School
St Peter and Paul Catholic Primary School
Culvers House Primary School
St Thomas of Canterbury Catholic Primary School
Harris Primary Academy Merton
Beecholme Primary School
Benedict Academy
Secondary schools
in Mitcham
Mitcham has a range of secondary schools that will provide your children with all the support they need. Explore the local education opportunities within the area.
Harris Academy Merton
St Mark's Church of England Academy
Transport links
in Mitcham
It's easy to travel to and from Mitcham. Discover the transport connections you can take advantage of when living in the area.
Rail
Mitcham Eastfields Rail Station
Mitcham Junction Rail Station
Bus stops
Ashbourne Road (CR4)
Beddington Lane
Mitcham Garden Village Willow Lane
Cedars Avenue
Pollards Hill Library
Conway Gardens
Downe Road Mitcham Library
Gedge Court
Glebe Court
Hall Place
Carisbrooke Road Hertford Way
Ivy Gardens
Lewis Road (CR4)
London Road Figge's Marsh
Longthornton Road
Madeira Road
Manship Road
Miles Road
Mitcham Cricket Green
Mitcham Lower Green
Upper Green East
Mitcham Fair Green
Mitcham Police Station
Northborough Road
Recreation Way
Robinhood Lane
Love Lane Mitcham
Sadler Close
Cedars Avenue Mitcham
St James Road Mitcham
Tamworth Park
Goat Road
Sherwood Park Road (CR4)
The Ravensbury
Eveline Road
Locks Lane
Three Kings Pond
Madeira Road
Vectis Road
Bishopsford Road Mitcham
Wandle Road
Watneys Road
Pollards Hill Westmorland Way
The Wilson Hospital
Yorkshire Road
Pollards Hill
Warminster Way
Clay Avenue
St Mark's C Of E Academy Playing Fields
Eastfields Rd Mitcham Eastfields Stn
Eastfields Road
Lock's Lane
South Lodge Avenue Yorkshire Road
Clay Avenue
Leicester Avenue
Acacia Road Mitcham
Tamworth Park Mitcham
Lindsey Close
Huntingdon Close
Caernarvon Close
Taylor Road
St Mark's Road
Love Lane Mitcham
Northumberland Gardens
Conway Gardens (CR4)
Downe Road (CR4)
Mitcham Eastfields
Langdale Avenue
Mitcham Cricketers
Mitcham Fair Green
Raleigh Gardens
Cedars Avenue Pentlands Close
Mitcham Common Windmill Road
Windmill Road Playing Field
Lower Green West
Tram stops
Mitcham Tram Stop
Mitcham Junction Tram Stop
Things to do
in Mitcham
There's lots to love about Mitcham. Here are the top attractions within the area that you can explore – you better start planning!
Wandle Industrial Museum
TeamSport Indoor Go Karting South London Mitcham
South London Airport Cars
Fitspace Gym
She Beauty
Restaurants in Mitcham
Local restaurants are a huge draw for people living in Mitcham. Get a taste for the best places to eat within the area.
Bamboo Chinese Restaurant
Skipper's Fish & Chips
Ginos
The Kalabash Hut Ltd
Idman Cafe & Restaurant
Chick Point
Afia's Cuisine
Food Court
Miod Malina
Jollof N Jerk
Eberechi Nigerian Restaurant
Oriental Gourmet
Mitcham Colombo Restaurant
Casuarina Tree
Toby Carvery Park Place
Green Lanes Fish Bar
Chicken Village
Chinese Food
Chef Maria's Caribbean Kitchen
Mermaid Fish Bar
Peter & Bro's Fish Bar
P Paolucci
Frankie & Benny's
Wok Inc
Places of worship
in Mitcham
There are a range of places to worship in Mitcham, allowing you to maintain your faith when living in the area.
The Elim Pentecostal Church
Mitcham Baptist Church
Gloryland Pentecostal Ministries
Gospel Truth Ministries Ltd
Mitcham Parish Church
St Peter's & St Paul's R C Church
All Nations Revival Church
The Eagle City Church
St. Barnabas Church
Devotion Church
St Johns Church Of England (Continuing)
Oasis Church
T J B C
St. John the Divine
Love of God Ministries
Christ Church
Etherean Mission (UK)
St. Peter's Church
St. Joseph
Calvary Christians' Chapel (The Hammer of God Ministry)
Pollards Hill Baptist Church
Pistis International Church
Church Of Ascension
St Teresa R C Church
Tooting Junction Baptist Church
St Boniface R C Church
Morden Baptist Church
Our Lady Of The Assumption R C Church
The Salvation Army Church
Churches & Other Places of Worship
All Saints Church
St Michael R C Church
All Saints' Church
St. Helier Methodist Church
Farm Road Church
The Holy Redeemer Church
Shree Ghanapathy Temple
The Salvation Army Church
Ahmadiyya Muslim Association UK
Redeemed Christian Church of God
Elim Pentecostal Church Wimbledon
St James' West Streatham Church
Bethel Baptist Church
Next Generation Prophetic Ministry
Mitcham Lane Baptist Church
Faith Church of God
Gloria Gold Ministry
St. Winifreds Catholic Church
The Salvation Army Church
Holy Trinity & St Peter C Of E Church
St Albans C Of E Church
Redeemed Christian Church of God Carshalton
Shofar Christian Church Ltd
Tooting Methodist Church
The Rock of Ages Christian Assembly Trust
Everyday Church
Hyderi Islamic Centre
Apostolate of Our Lady of Fatima the Religious Organisation
Wimbledon Spiritualist Church
Summerstown Mission Evangelical Church
Christ Life Church
Al-Muzzammil Mosque & Community Centre of Tooting
Tooting Islamic Centre
Pneuma Christian Centre
Kingdom Hall of Jehovah's Witnesses
Norbury Baptist Church
Streatham Baptist Church
Wimbledon Congregational Church
Quakers Religious Society of Friends
Hillside Church
Christian Science Society
St Mark's C Of E Church
Muththumari Amman Temple
St Marys Church
Streatham United Reformed Church
St John Fisher Church
Carshalton Baptist Church
Sutton Islamic Centre
Refuge Temple
Mountain of Fire
Liberty Chapel (Church for All Nations)
Praise Baptist Church
Dundonald Church
Trinity United Reformed Church
St Anselm's Roman Catholic Church
St Anselm's Catholic Primary School
West Street Evangelical Church
Church Of The English Martyrs
St Leonard's C Of E Church
PCC All Saints Benhilton
Upper Tooting Methodist Church
Southfields Methodist Church
Morden Park Baptist Church
Holy Trinity Vicarage
North Cheam Baptist Church
Holy Family R C Church
St Mary's Church Wimbledon
Sutton Family Church
Emmanuel Church Wimbledon
Shiloh Worship Centre
St Oswalds Church Hall
Elim Pentecostal Church
Wimbledon Mosque
Redeemed Christian Church of God Glorious
St. Marks URC
New Covenant Church Streatham
Wood World Missions & Power Centre Church
Trinity Road Chapel
Victory City
House Of Judah
London Spanish Speaking Charismatic Baptist Church
St Judes Free Church Of England
Linh Son Buddist Association
West Norwood Spiritualist Church
Restoration World Revival Church
St Marys Church
St Andrews Church
Wallington Baptist Church
Wimbledon & District Synagogue
Friends Meeting House Quakers
Anointed Apostolic Church
Carshalton Methodist Church
Earlsfield Baptist Church
Church of Ascension
New Testament Church of God
Christ Church
Diamonds International Christian Ministries
Christchurch Balham
Shahjalal Mosque & Islamic Centre
The Parish Of Our Lady Of The Rosary
All Nations Church
Bonneville Christian Centre
Redemption Faith Worship Centre Ltd
The Salvation Army Charity Shop
St. Barnabas Church
St Pauls C Of E Church
Beulah Family Church
Balham Baptist Church
St Gregory's Catholic Church
Buddhapadipa Temple
St Matthias R C Church
St Paul's Church
New Malden Evangelical Free Church
Croydon Community Church
Southfields New Testament Assembly Church
All Saints Church
Brixton Hill Islamic Centre
Balham Mosque
We regularly work in these areas of Surrey