House cleaning services to ensure your fresh start.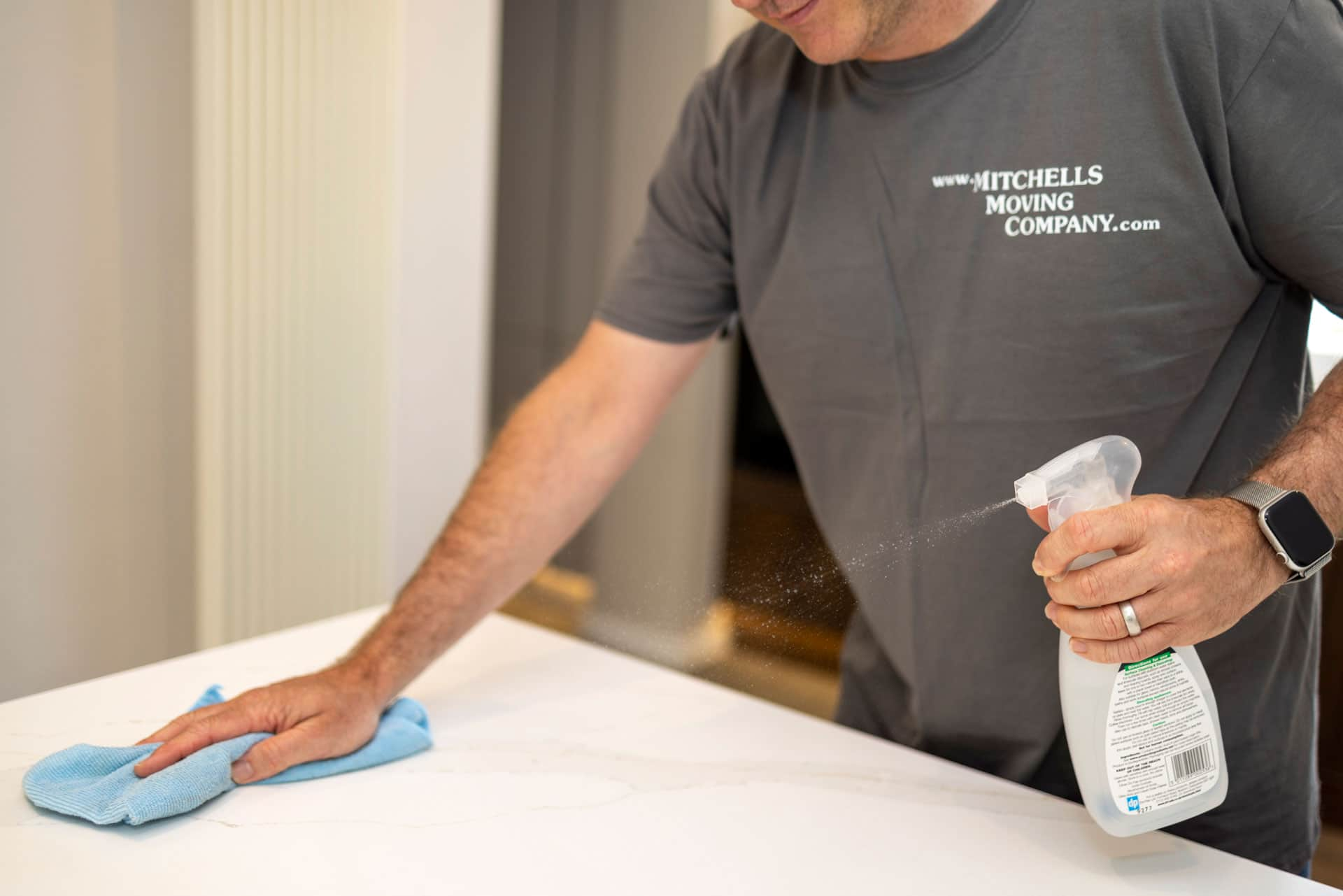 Moving house cleaners
At the end of your tenancy, leaving your property clean will be satisfying as well as courteous to the new owners! However, moving house can leave you with very little time, especially for something as time-consuming as a deep clean. That's where our home cleaning services can come in – we provide end of tenancy cleaning that takes this mundane task off your hands. Our cleaning team will work quickly and effectively, leaving your home spotless for the next residents. If you know you'd benefit from our domestic cleaning service, give us a call on 0800 023 4610.
The process of your
move in cleaning service
When you're moving into your new property, you may find it easier to have the clean slate you're looking for if you do an initial house clean. Mitchells Moving Company will come equipped with everything we need to make your new property as clean as it can be – here's what to expect:
1
Arriving at your new property, our cleaning team will methodically work through the home while it is empty, ensuring a clean space to move into.
2
Once you've had your new house cleaned, our movers will be able to unpack your belongings from our removal vehicle, and your life in your new home can begin.
3
The price of your move in cleaning service depends on the size of your property – our cleaning team will conduct an in-person consultation or a video survey to determine this.
The process of your
move out cleaning service
At the end of your tenancy, leaving your property clean will mean that the next owners can have a fresh start. After all your belongings have been packed into the van, you may find nooks and crannies of your home that haven't been cleaned in a long time – our team can be the ones to give everything a spruce up.
1
Our movers will arrive at your property on your removal day and pack your belongings into our specialist vehicles, leaving your home empty.
2
At this point, our cleaning team will enter your home and carry out the cleaning service, leaving behind a fresh space. House moving couldn't be easier with our services.
3
If you're wondering about the cost of your move out cleaning service, it depends on the size of your home. To decide on this, our team will either pay you an in-person visit or will recommend a video survey.
Our packing service:
Saving you time and effort
Alongside your house cleaning service, our team at Mitchells Moving Company can help you get your home ready for moving day. To save you from living out of a suitcase for weeks ahead of your move, our packing service can take place a few days beforehand. Our team will pack all your items methodically and carefully, making sure they are safe during the moving process.
Our modern
fleet of vehicles
When your boxes are packed and your property is cleaned, your belongings will be loaded into our specialist vehicles that are specifically designed for removals. They are all LEZ compliant and come in four sizes – our company has the capacity to move any number of items you have. We have sizes ranging through from 7.5, 12, and 18 tonne vans to a maxi mover vehicle.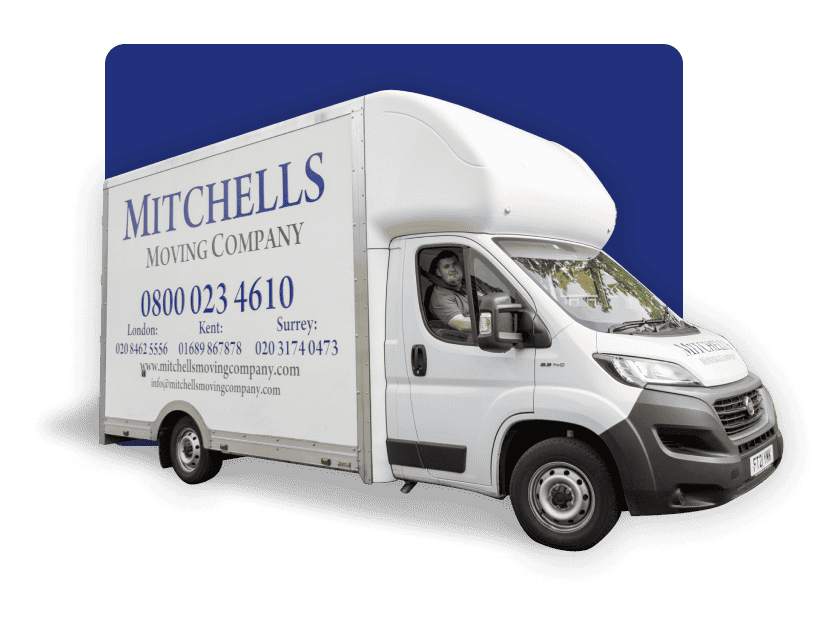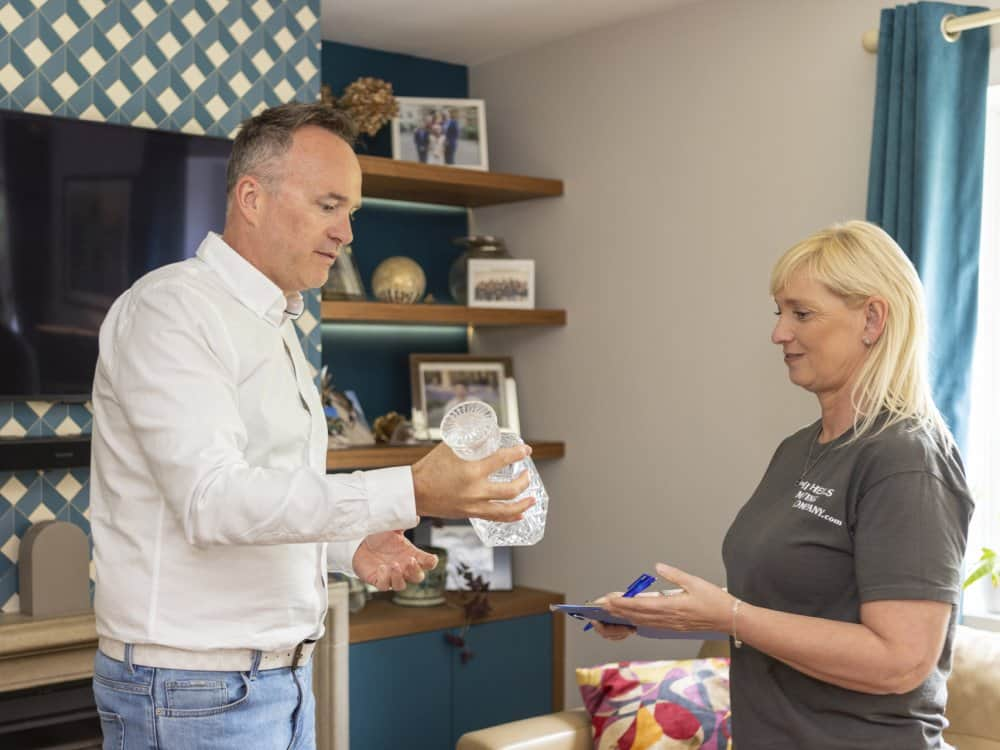 Insurance:
Giving you peace of mind
For your house removal, you may be wondering how your items will be insured. Mitchells Moving Company is fully insured in our services, allowing you the peace of mind you need to be comfortable throughout your house move. Our experience in the industry and our skillset means your belongings are in safe hands.
Our additional
house moving services
As well as our convenient house cleaning service, we offer a range of services that can come in useful for you and your house move. If you're culling items to take less clutter to your new home, our house clearance service can get these belongings out of your way so that moving day can be simple and easy. We also offer services for offices, meaning that, if you're thinking about a relocation, we're the company to come to for your removal. Trust us for anything you could need.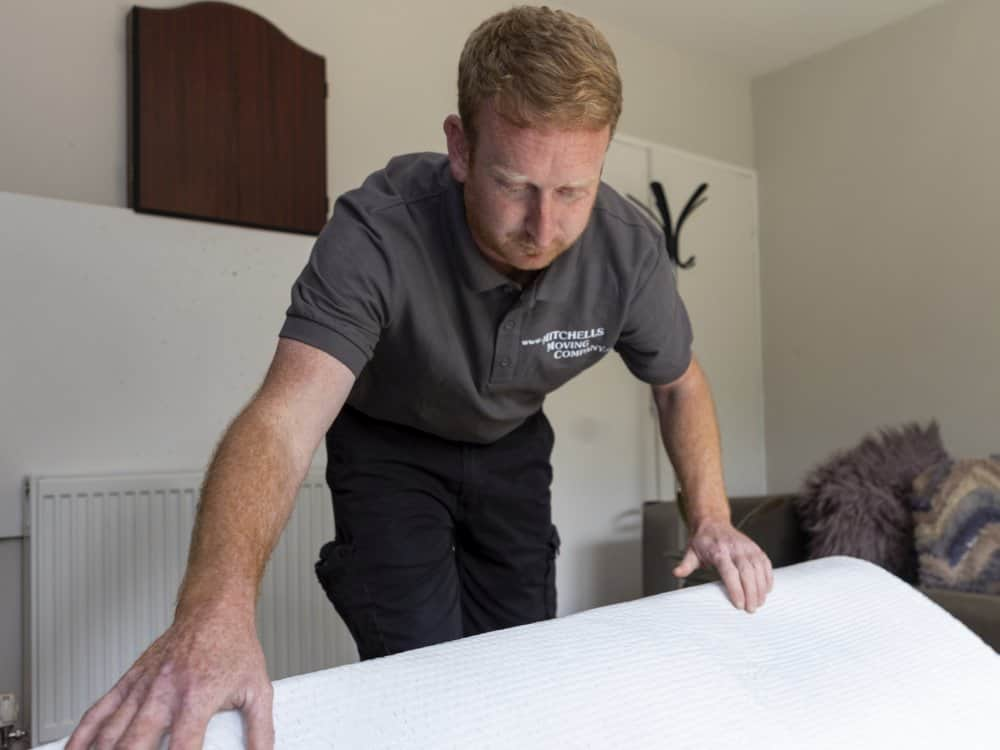 Sturdy,
top-quality packaging
If you choose to make the most of our packing service, the packaging we use will be reliable and durable. Using specifically designed materials, such as durable bubble wrap and double skinned corrugated boxes, your items will be as safe as can be. We make sure they are protected for the journey, packing them carefully and methodically.
Flexible storage
solutions for you
Are you looking for a storage solution to keep some of your items safe? If you find that you don't have enough space in your new home for some of your belongings, our storage facilities can help you keep hold of them without cluttering up your new property. With CCTV, codes, padlocks, security gates, and alarm systems in place, your items will be guarded until you need them again, and you can keep them in storage for as long as you need.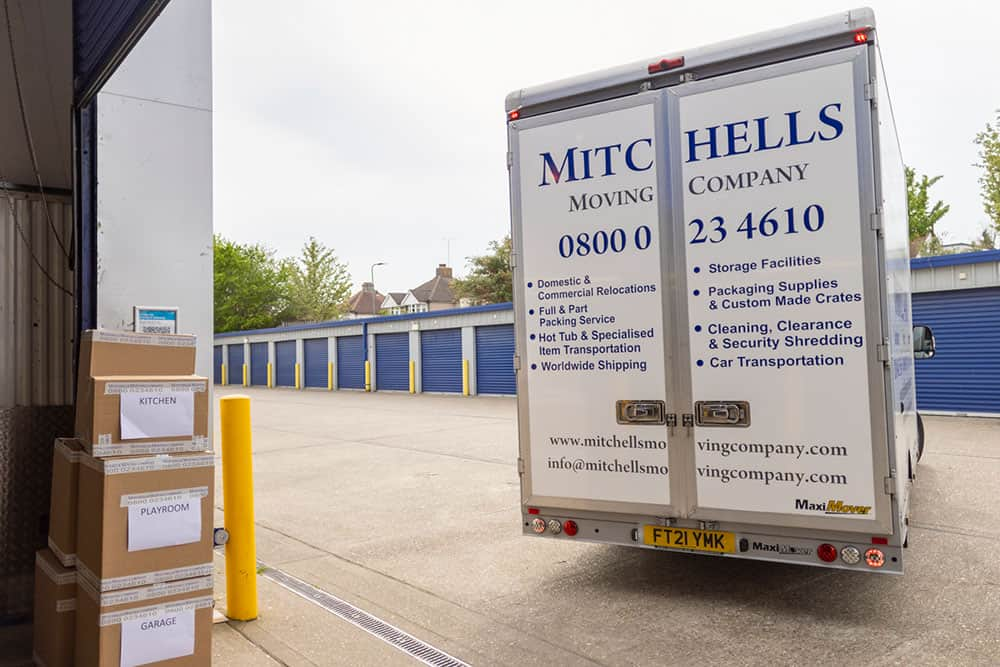 Choosing a removal company:
Why we're the one for you
When moving homes, it's important that you trust your removal company. Here are just a few reasons why you should come to Mitchells Moving Company for your house cleaning service and removal.

40 years of removal experience
Our experience is something we're most proud of. Many of our movers have more than 40 years in the industry, developing working processes that make your services seamless. Your house removal will go off without a hitch.

Personal customer interaction
We prioritise a personal service for you, meaning that a lot of the time you will have the same point of contact. This makes communication easier, and we build up a rapport with you that enables us to give you the support you need.

Comprehensive removal services
For anything you need during your removal process, we're the people to come to. We offer every service you could require, from packing and cleaning to your house clearance. Save time and money and stay with one company.

Efficient way of working
We prioritise efficiency. We are logical in our packing, making the process simple and quick, and we work in teams that have been established for years, working well together. Our vans are all LEZ compliant and reliable.