Is a house move on the horizon for you? With this process can sometimes come some stress. That's why you need an expert, professional removals company to take the worry off your shoulders. Mitchells Moving Company is the removal firm for you! Our decades of industry experience allow us to offer seamless removal services in Forest Hill, providing everything our customers could need. Every service is tailored to our customers – every quote is individual, and we treat your home with utmost care and respect.
If you're looking for the best removals company to help you on moving day in Forest Hill, call us on 0800 023 4610.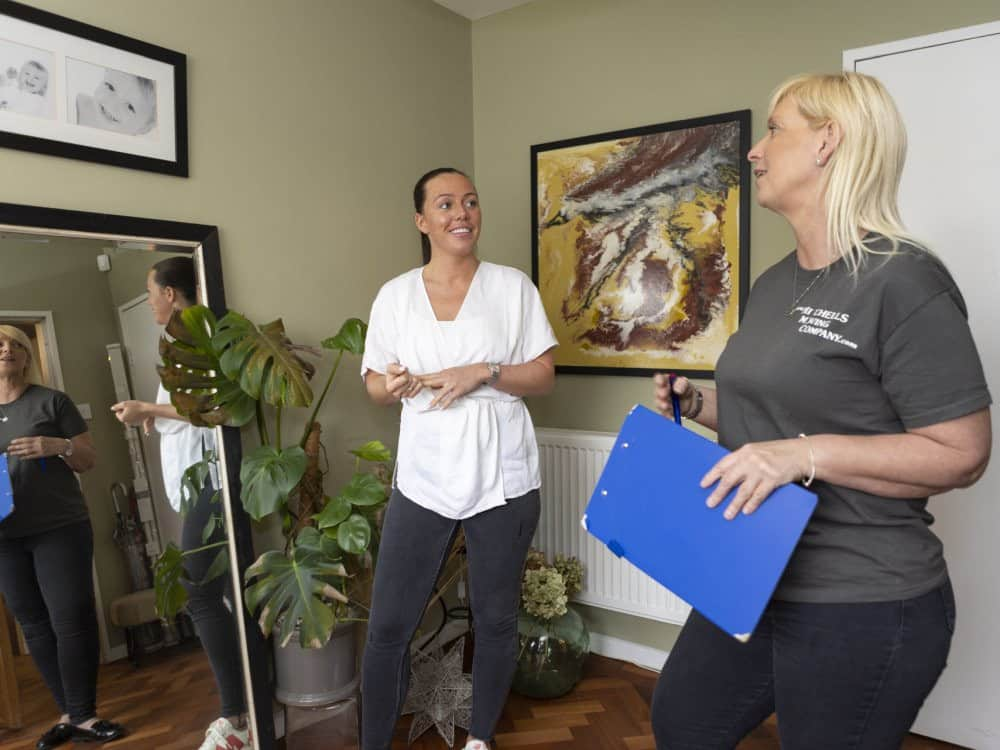 Why choose Forest Hill?
Forest Hill is a residential suburb of South London, home to around 16,000 people and is located in the London Borough of Lewisham. The A205 road runs through the centre of the area and passes Forest Hill Station. It is here that you will find most of the bars and restaurants in the area, with different offerings from all over the world for you to choose from. The Signal Pub located opposite the station is a great place for a pint and some live music or stand-up comedy. The area also has multiple green spaces for you and the family to get some exercise, including the Devonshire Road and Garthorne Road Nature Reserves, perfect to explore and discover the local wildlife. The nearby Horniman Museum also offers entertainment for all ages, with well-kept gardens to explore and exhibitions running all year round, there is plenty to see and do throughout Forest Hill.
How can we help with
removals in Forest Hill?
Our removals services will ensure the process goes smoothly when you move in Forest Hill. We provide everything you could need, from a full packing service to a clearance service, helping you to rid your home of clutter. The team at Mitchells Moving Company is experienced and caring – we will do everything we can to aid you in your move. Our services are seamless, covering every aspect of the removal process with ease.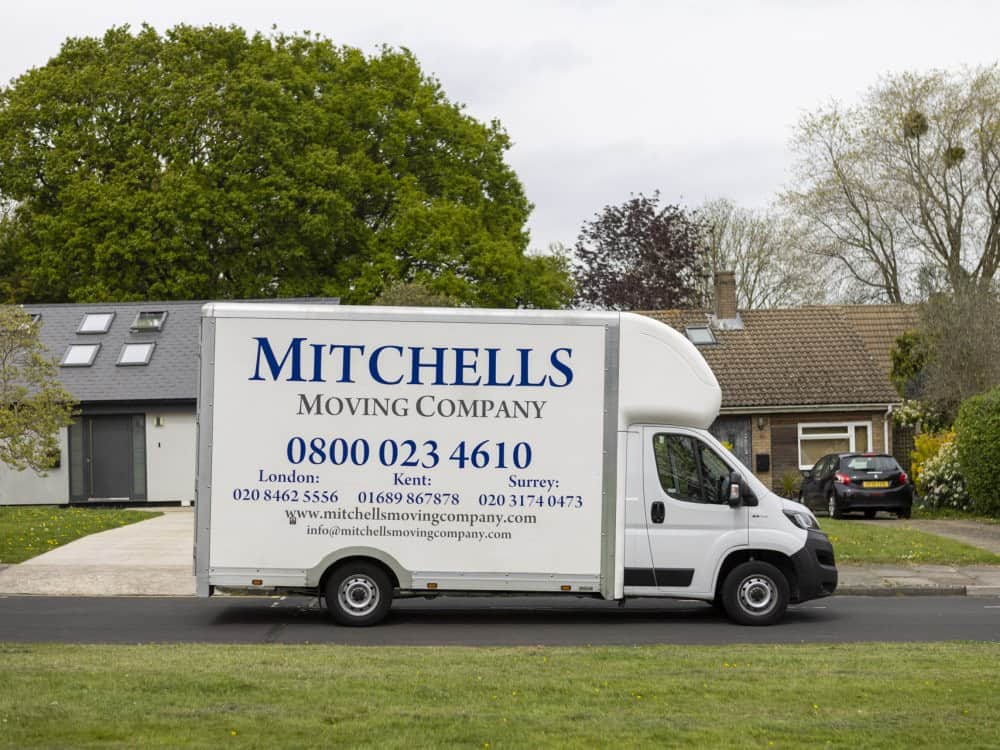 Why choose Mitchells Moving Company
for removals in Forest Hill?
Here at Mitchells Moving Company, we prioritise giving our customers a comprehensive, reliable service. We know how to take the stress off your shoulders when you're undergoing a domestic move in Forest Hill.

Industry experience dating back to 1980
We're a family business, and many members of our team have experience in removals dating back more than 40 years. After this amount of time in the industry, we know the best ways to keep your belongings safe and transport them reliably.

Personal communication with customers
We know that moving can sometimes seem hectic. With our comprehensive service, we'll take the worry out of your hands so that you can focus on the excitement of your move. We provide reassurance and security within your removal process.

Start-to-finish services
For every service you could need pertaining to house removals, come to us. We deal with everything, from end of tenancy house cleaning to disposing of your hot tub. Why not save time and invest in removals services from one company?

Modern, detail-oriented processes
During our house removals, we use modern vans that are specifically designed to handle a domestic move. We have support vehicles on hand should you need them, and the capability to move large items without hassle. We pack methodically to create ease once we reach the destination.
Professional packing
for removals in Forest Hill
Working with Mitchells Moving Company as your house packing experts will take the stress off your hands. If you undertake the packing or clearing process by yourself, you could be packing up your home for weeks. Living out of suitcases isn't pleasant! That's why investing in our professional packing process will allow you to live your daily life right up until your move. Our packers will usually come to your home the day before and will pack your belongings quickly and efficiently. Eliminate your stress by working with us.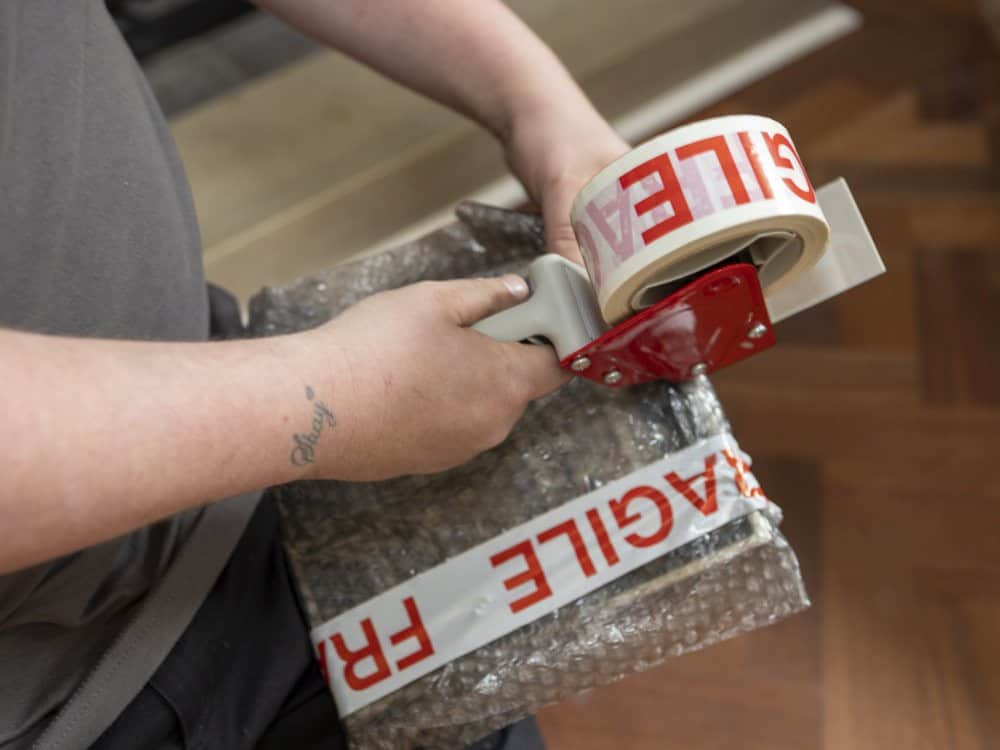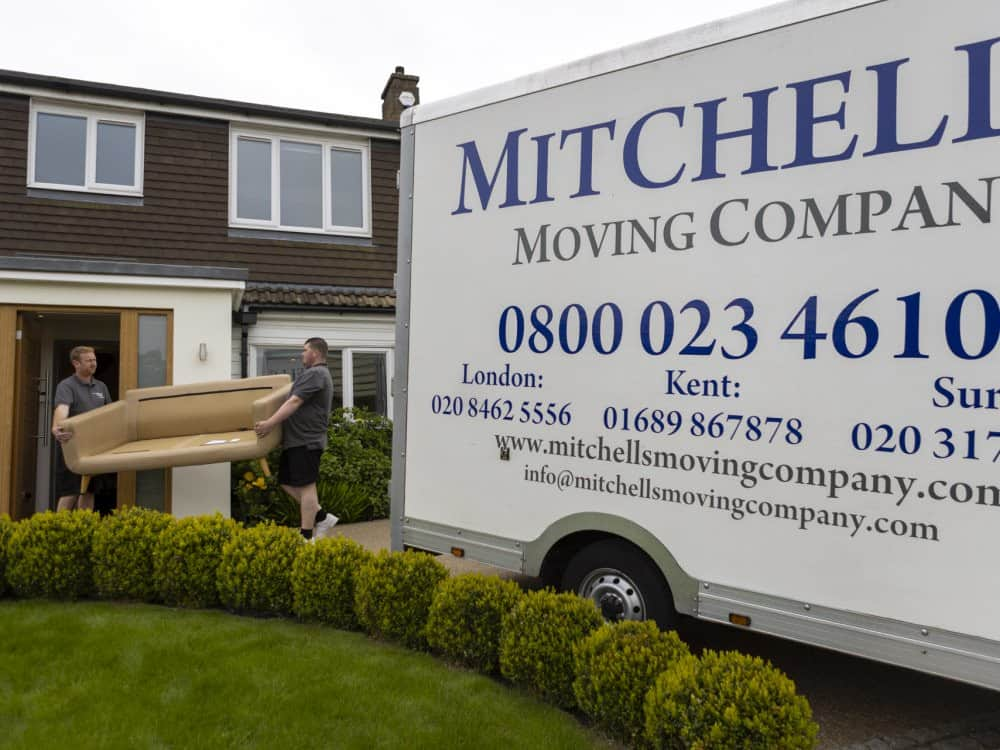 Removal storage
in Forest Hill
Have you found yourself needing somewhere to store your items? Perhaps your new home is having renovations before you can move your furniture into it, or you're downsizing and need some storage space… With Mitchells Moving Company, you can rent a storage space in Forest Hill for any amount of time for the size you require. Protected with CCTV, alarm systems, codes, and padlocks, you can trust that your belongings will be completely secure at all times.
Estate and letting agents
in Forest Hill
Are you hoping to move to Forest Hill? These local estate and lettings agents have the expertise to help you find your ideal property within the area.
Hunters Estate Agents & Letting Agents In Forest Hill
Benjamin Matthews Estate Agents
Multi Lets Properties Ltd
Leaders Letting & Estate Agents Forest Hill
Acorn Estate Agents Ltd
Kinleigh Folkard & Hayward
Winkworth
Robert Stanford Estates Ltd
Hunters
Taaksvale
Hunters Estate Agents & Letting Agents Catford
Roy Brooks Ltd
Acorn Estate Agents Ltd
Property World
Kinleigh Folkard & Hayward
Mann Sales & Letting Agents Sydenham
Home2u
Hunters Estate Agents Sydenham
Robinson Jackson
Mann Sales & Letting Agents Catford
Kinleigh Folkard & Hayward
Hunters Estate Agents & Letting Agents Surrey Quays
Bluefield Care Services
Mann Sales & Letting Agents Lewisham
Agents R Us
Ludlow Thompson Ltd
Remax First
Fish Need Water
Winkworth Estate Agents
Barnard Marcus Estate Agents
Petermans
VALG Property Ltd
Foxtons
haart
Kinleigh Folkard & Hayward
Truepenny's Estate & Letting Agent
Madison Brook
The Address Property Agents
Robinson Jackson Lewisham Estate Agents
Acorn Estate Agents & Letting Agents in London Bridge
Landlord Winner
Robinson Jackson
Hunters Estate Agents & Letting Agents Bromley & Chislehurst
Winkworth Estate Agents
Conveyancing solicitors
in Forest Hill
The local conveyancing solicitors are here to help with your move to Forest Hill. Allow them to minimise the hassle within the buying and selling process so that you can focus on looking forward to your move.
Walter Saunders
Hall & Co Solicitors
Glazer Delmar Solicitors
J.I. Solicitors
Amphlett Lissimore
Beverley Morris & Co
Grant Saw Solicitors
House Conveyancing
Capital Conveyancing
Eden Vale Solicitors
Augustine Clement Solicitors
Kidd Rapinet / Miller Evans & Co Solicitors
Spencer Lockwood Conveyancing
Legal Made Simple
M T A Solicitors
Spencer Lockwood Conveyancing
Bestway Solicitors
Marsons Solicitors
Lawstore Conveyancing
P J H Solicitors
Bestway Solicitors
Amphlett Lissimore a QualitySolicitors Firm
Kidd Rapinet LLP
Khans Solicitors
Gans & Co Solicitors LLP
Pinney Talfourd Solicitors
Mary Monson Solicitors
Taylor Rose MW London Bridge
Curzon Green Solicitors
Taylor Rose MW Brixton
Greater London Solicitors Limited
Greenways Law
Taylor Rose MW South Croydon
Premier Direct Law
Thackray Williams LLP
Bishopsgate Law
Farani Taylor
Cook Taylor Woodhouse
Lifetime Legal
Gibson Young Solicitors LLP
Anthony Gold
Legal Cost Finance
Topstone Solicitors
X-Press Legal Services
Connaught Law Ltd
Solicitors' Inn
Benson Mazure LLP
Lifetime Legal
Anthony Gold
Alexander JLO
Tinklin Springall
James Morgan Solicitors
R O C K Solicitors
Russell-Cooke Solicitors
Taylor Rose MW Wimbeldon
Julia & Rana Solicitors
Hunters Law LLP
Anthony Gold Solicitors
Thamina Solicitors Ltd
Regents & Co. Solicitors
Express Conveyancing
Levi Solicitors LLP
Notary Public London – Stephen Yiu
Thackray Williams LLP
Conveyancing Data Provider Experts
Welbeck Anin Solicitors
A & C Solicitors
LEA Multiservices Ltd
Freemans Solicitors
Gordon & Thompson Ltd
Amphlett Lissimore
Oasis Solicitors
Adam Bernard Solicitors
Mitchell Simmonds Solicitors
Cunningtons LLP Solicitors
Wilford Smith Solicitors
Giambrone Law
Regents Pak Chambers
Ashley Wilson Solicitors LLP
Wellers Law Group LLP
Sabeers Stone Greene Solicitors
Conveyancing Calculator
Adam Bernard Solicitors
Veale Wasborough Vizards
V M D Solicitors
BTMK Solicitors
Daily Move
H.E Thomas & Co
Wimal & Co
Lloyds Clifford Solicitors
Crown Law Solicitors LLP
Cunningtons
Andrew Veitch Solicitor London W1
Lifetime Legal
Freemans Solicitors
SPL Spanish Lawyers
L & A Agency Services Ltd
Amy & Co Solicitors
J H Hart & Co
Taylor Rose MW Westminster
Anthony Gold Solicitors
R S L Law
Specter Partnership
Osmond & Osmond
R & C Property Lawyers LLP
Affinity Legacy Planning LLP
Conveyancing Index
Taylor Rose MW Fulham
Anthony Gold
Safdar Iqbal
Woodgrange Solicitors
B P Collins LLP
Deygoo & Co Solicitors & Commissioners for Oaths
Banks Kelly Solicitors
Mackrell Solicitors
Raymond Saul & Co
RG Law
WATTS Lifestyle & Homes LLP
UK Lawyers
TWM Solicitors
Rivington Solicitors Ltd
Charles Allotey & Co
Lifetime Legal
Norman H Barnett & Co
Primary schools
in Forest Hill
Are your little ones starting school soon? There are a range of primary schools within the Forest Hill area that could be the ideal fit for their needs.
Dalmain Primary School
Fairlawn Primary School
St. George's Primary School
Horniman Primary School
St Francesca Cabrini Catholic Primary School
Kip Mcgrath
Maths Mad
St William Of York Catholic Primary School
Perrymount Primary School
Kilmorie Primary School
Holy Trinity Church Of England Primary School
Eliot Bank Primary School
JG Educate Ltd
Rathfern Primary School
Goodrich Community Primary School
Kelvin Grove Primary School
St Bartholomews's Church Of England Primary School
Barbara Njau English Tuition
John Stainer Primary School
Adamsrill Primary School
Bens Home Tutoring
St Anthony's Catholic Primary School
St Mary Magdalen's Catholic Primary School
Private Russian Tuition & Translation
Genius Tuition
Holbeach Primary School
Ivydale Primary School
Heber Primary School
Our Lady & St Philip Neri Roman Catholic Primary School
Haseltine Primary School
Hollydale Primary School
Gordonbrock Primary School
EIM Tutors
Athelney Primary School
John Donne Primary School
Rushey Green Primary School
Dulwich Wood Primary School
St John's & St Clement's Church Of England Primary School
Elfrida Primary School
St Mary's Lewisham Church Of England Primary School
&art
Bellenden Primary School
St Mary Magdalene Church Of England Primary School
Goose Green Primary & Nursery School
Edmund Waller Primary School
St Francis R C Primary School
St John's Church Of England Primary School
Kingswood Primary School
St Augustine's Catholic Primary School & Nursery
Bessemer Grange Primary School
St Margaret's Lee C Of E Primary School
St John Baptist Southend Church Of England Primary School
St Saviour's Catholic Primary School
Rosendale Primary School
Kingswood Primary School
Ashmead Primary School
Torridon Primary School
St Stephen's Church Of England Primary School
Orchard Way Primary School
Turney Primary & Secondary Special School
Lucas Vale Primary School
Sandhurst Primary School
Worsley Bridge Primary School
Lyndhurst Primary School
Learn Log Tutoring
Kender Primary School
St James's Hatcham Church Of England Primary School
St Anthony's Roman Catholic Primary School
St James The Great Roman Catholic Primary School
St Luke's Church Of England Primary School
Forster Park Primary School
Harris Primary Free School Peckham
Jessop Primary School
St Saviour's Church Of England Primary School
Oliver Goldsmith Primary School
Morden Mount Primary School
Pilgrims' Way Primary School
Downderry Primary School
SquireClub
St Jude's Church Of England Primary School
St Winifred's Catholic Primary School
Rockmount Primary School
All Saints C Of E Primary School
Churchfields Primary School
Camelot Primary School
Cypress Primary School (Upper School)
Monks Orchard Primary School
St George's C Of E Primary School
Ashmole Primary School
Marvels Lane Primary School
Falcon Education
Crawford Primary School
Fenstanton Primary School
Balgowan Primary School
St Joseph's Catholic Primary School
Reay Primary School
Grinling Gibbons Primary School
Good Shepherd Catholic Primary School
Harbinger Primary School
Hitherfield Primary School & Children's Centre
Private Tuition
Ilderton Primary School
Streatham Wells Primary School
Churchfields Primary School
Cherry Orchard Primary School
Invicta Primary School
The Enlighten Academy
T-o-P 10 Tuition
Crown Lane Primary School
St George's Church Of England Primary School
Jubilee Primary School & Children's Centre
Hill Mead Primary School
All Saints' Church Of England Primary School
Phoenix Primary School
John Ball Primary School
Brunswick Park Primary School
Southwark Park Primary School
Charlotte Sharman Primary School
Deptford Park Primary School
Cobourg Primary School
Loughborough Primary School
James Wolfe Primary School with Centre for Deaf Children
Mottingham Primary School
Transport links
in Forest Hill
It's easy to travel to and from Forest Hill. Discover the transport connections you can take advantage of when living in the area.
Rail
Forest Hill Rail Station
Bus stops
Forest Hill Turn
Powell Close
Mickle Way
Forest Hill Pools
Forest Hill Station London Rd
Forest Hill Stn Dartmouth Rd
Forest Hill Stn Devonshire Rd
Church Vale
Ewelme Road
Fairlawn School
Forest Hill Stn Waldram Cres
Honor Oak Road
Horniman Drive
Horniman Museum
Inglemere Road
Windrush Lane
South View Court
Sydenham Rise
Dartmouth Road Thorpewood Ave
Waldram Park Road
Westbourne Drive
Restaurants in Forest Hill
Local restaurants are a huge draw for people living in Forest Hill. Get a taste for the best places to eat within the area.
Five Guys
Pizza Place
Yammy Box
Big Cheeks Thai
Fun Sushi
Gao
Island Fish Bar
Bugis Street Brasserie
Charcoal Grill
M M M Fried Chicken
T S E's Restaurant
D & D Caribbbean Takeaway
The Guava Kitchen
Sfizio Italian Tapas Ltd
Hattush Restaurant
The Honor Oak
Ryath Indian Restaurant
Babur
Le Querce
Matoom
The Capitol – Jd Wetherspoon
The India Gate
Lolak Afrique
Everest Spice
Bona Sourdough
Golden Tiger
Donde
Edyta's Restaurant
F S 2 Mangal
Master Lin
Sushi Garden London
Triple M
The Sylvan Post
Bri's Kitchen Spot
The Grove
NS1970 Ltd
Omrith Real Indian Cuisine
The Nile
Barcelona Tapas Bar & Restaurant
E E House
The Herne Tavern
Ee House
Royal Fish Bar
The Perry Hill
Kirkdale Fish & Chips
Gurkhas Restaurant
Home Taste
Places of worship
in Forest Hill
There are a range of places to worship in Forest Hill, allowing you to maintain your faith when living in the area.
International Zen Association UK
Christ Apostolic Church Balm of Gilead
Unity London
Church of the Living God
Rock – I Ministries
Quakers Religious Society of Friends
Sacred Heart Convent
Eleos Charitable Trust
Living Springs International Church
St William Of York Church
Deutsche Ev Kirche
St. Georges Christ Church St. Pauls
Perry Rise Baptist Church
Deeper Life Bible Church
Holy Trinity Church
Churches & Other Places of Worship
Grove Centre Church
The New Testament Church of God (Rehoboth)
Church Of The Resurrection
Christchurch United Reformed & Methodist Church Centre
St Thomas More Roman Catholic Church
New Life Assembly
R C C G Living Faith House
Antony With St. Silas Nunhead
International Zen Association UK
Christ Apostolic Church Balm of Gilead
Unity London
Church of the Living God
St. Mary Magdalen R.C Church
Our Lady & St Philip Neri Catholic Church
International Christ Community Centre
Peckham Seventh Day
The Salvation Army Church
Catford Synagogue
The Salvation Army Church
St Laurence Catford
Freedom House for All Nations
All Saints C of E Church
Ransom Church of God Universal Fellowship
Lewisham Seven Day Adventist
Elim Pentecostal Church Brockley
The Salvation Army Church
Unique Salvation Ministries
The Lighthouse Chapel International
Elim Pentecostal Church
St. Dunstan's Parish Church Bellingham
Church of God Seventh Day Sabbath Keeping
Lewisham Islamic Centre
St Stephens Church
R C C G Faith Chapel
New Creation Evangelistic Ministry
St Barnabas Parish Hall
London Sivan Kovil
The Salvation Army Church
The Latter-Rain Outpouring Revival Church
Hither Green Baptist Church
Greek Orthodox Church
West Norwood Spiritualist Church
Freedom Centre International
St. Anthony of Padua
St Saviour's R C Church Lewisham
Rock of Redemption Church
The Annunciation & St Augustine Catholic Church
The New Congregation Of Cherubim Church
The Salvation Army Church
Herne Hill United Church Methodist Reformed
The Parochial Church Council for All Saints Church
All Saints West Dulwich
Rye Lane Baptist Chapel
The Temple of Truth Church
Christ Embassy Catford
Peckham Methodist Church
Lewisham Methodist Church
St Pauls C Of E Church
Lewisham Church of Christ
Kingdom Hall of Jehovah's Witnesses
New Testament Church of God
RCCG Overcomers Assembly
Devonshire Drive Baptist Church
St Pauls Church
St. Stephens & St. Marks Church Lewisham
Herne Hill Baptist Church
Olivet Baptist Church
Chatsworth Baptist Church
Christ Faith Tabernacle
Celestial Church of Christ
Linh Son Buddist Association
St John's Church
Grove Chapel
Virgo Fidelis RC Church
New Cross Road Baptist Church
Trinity Vineyard Church
St Matthew's Roman Catholic Church
Gracious Ministries International
St Philip & James R C Church
The Ministry
Restoration Ministries International
Christ Church
Cathedral International
Lansdowne Evangelical Free Church
St. Saviour's Church
The Gospel Faith Mission
South Street Baptist Church
New Testament Church of God
Liberty Christian Fellowship
Prayer Temple International Ministry
St. Michael & All Angels
Crystal Palace Community Church
St Luke's Church
Crystal Palace Community Church
Avenue Baptist Church
St. Margaret's Lee
Brook Lane Community Church
Divinely Called Ministries
Beckenham Baptist Church
God's Solution Centre
Trinity Baptist Church
Living Flames
Our Lady Of Assumption R C Church
World Harvest Christian Centre
Churchdown Christian Centre
Shaftesbury Christian Centre
Greenwich Sda
Ambassadors of Grace Ministries
All Nations Christian Centre Church
The Salvation Army
Salvation Army
St. Giles Church
St George's Parish Church
Sureway International Christian Ministries
Mountain of Fire & Miracles Ministries
Christ Church Peckham
St. Augustine's Church
Reality of Grace Ministries International
Beckenham Methodist Church
Beckenham Methodist Church
Christchurch Church of England
New Testament Assembly
Rosary Catholic Church
The Well Community Church
Trinity Congregational Church
St. Matthew's Church
Christ Apostolic Church Revival Centre
St Mark's United Reform
Emmanuel Pentecostal Church
St Edmund Of Canterbury Catholic Church
St. Wilfrid's Catholic Church
Brixton Hill Islamic Centre
New Covenant Gospel Church
Lee Green United Reformed Church
Jesus Sanctuary Ministries
Cast Your Burden Upon Jesus