Is a house move on the horizon for you? With this process can sometimes come some stress. That's why you need an expert, professional removals company to take the worry off your shoulders. Mitchells Moving Company is the removal firm for you! Our decades of industry experience allow us to offer seamless removal services in Lambeth, providing everything our customers could need. Every service is tailored to our customers – every quote is individual, and we treat your home with utmost care and respect.
If you're looking for the best removals company to help you on moving day in Lambeth, call us on 0800 023 4610.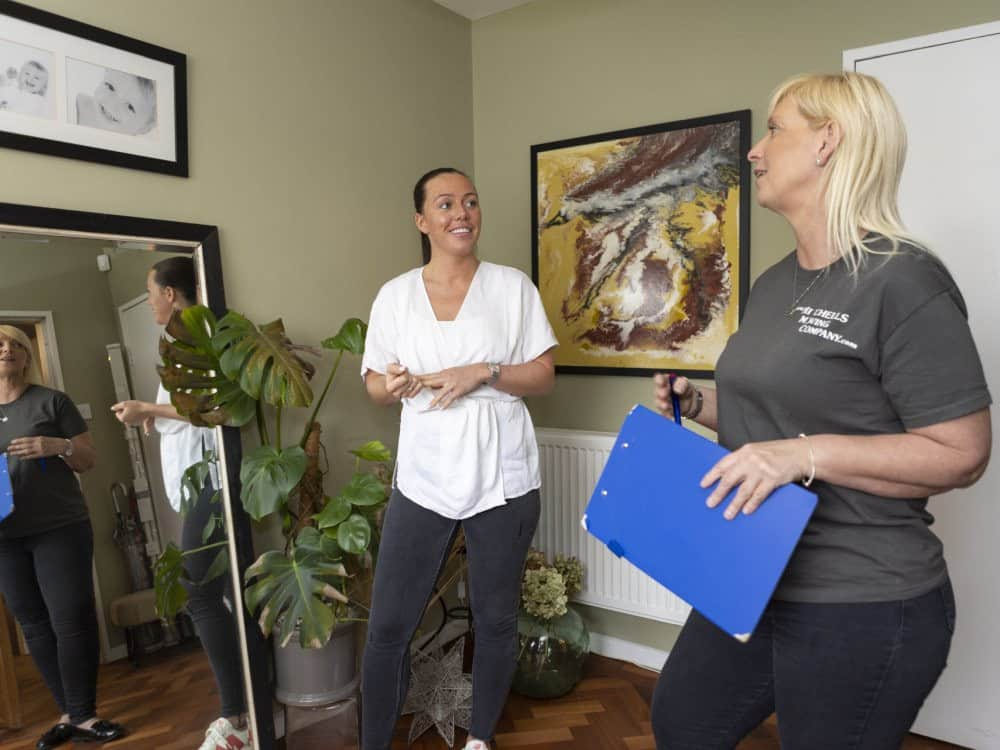 Why choose Lambeth?
Found within the London Borough of Lambeth, the district of Lambeth is home to around 10,000 people and is popular for its close proximity to Central London. The area is located on the banks of the river Thames, and has plenty to offer in terms of activities and sights to see. There are a number of pubs and bars throughout the area to keep residents and commuters entertained, including The Pineapple pub, which has a large selection of beers and shows live sport. There is also a large selection of restaurants, serving everything from Greek to Japanese cuisine. In terms of things to do, the nearby Imperial War Museum offers you the chance to step back in time, as well as Lambeth Palace and the Garden Museum located by the river with more history to immerse yourself in. There is no shortage of ways to entertain yourself and your family in Lambeth.
How can we help with
removals in Lambeth?
Our removals services will ensure the process goes smoothly when you move in Lambeth. We provide everything you could need, from a full packing service to a clearance service, helping you to rid your home of clutter. The team at Mitchells Moving Company is experienced and caring – we will do everything we can to aid you in your move. Our services are seamless, covering every aspect of the removal process with ease.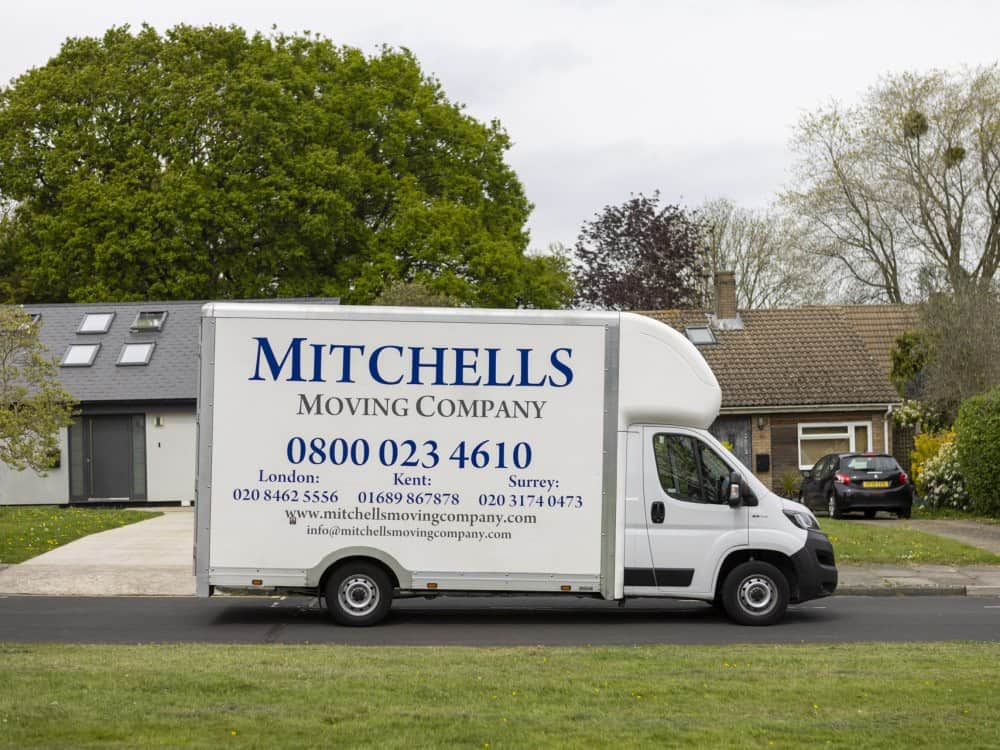 Why choose Mitchells Moving Company
for removals in Lambeth?
Here at Mitchells Moving Company, we prioritise giving our customers a comprehensive, reliable service. We know how to take the stress off your shoulders when you're undergoing a domestic move in Lambeth.

Industry experience dating back to 1980
We're a family business, and many members of our team have experience in removals dating back more than 40 years. After this amount of time in the industry, we know the best ways to keep your belongings safe and transport them reliably.

Personal communication with customers
We know that moving can sometimes seem hectic. With our comprehensive service, we'll take the worry out of your hands so that you can focus on the excitement of your move. We provide reassurance and security within your removal process.

Start-to-finish services
For every service you could need pertaining to house removals, come to us. We deal with everything, from end of tenancy house cleaning to disposing of your hot tub. Why not save time and invest in removals services from one company?

Modern, detail-oriented processes
During our house removals, we use modern vans that are specifically designed to handle a domestic move. We have support vehicles on hand should you need them, and the capability to move large items without hassle. We pack methodically to create ease once we reach the destination.
Professional packing
for removals in Lambeth
Working with Mitchells Moving Company as your house packing experts will take the stress off your hands. If you undertake the packing or clearing process by yourself, you could be packing up your home for weeks. Living out of suitcases isn't pleasant! That's why investing in our professional packing process will allow you to live your daily life right up until your move. Our packers will usually come to your home the day before and will pack your belongings quickly and efficiently. Eliminate your stress by working with us.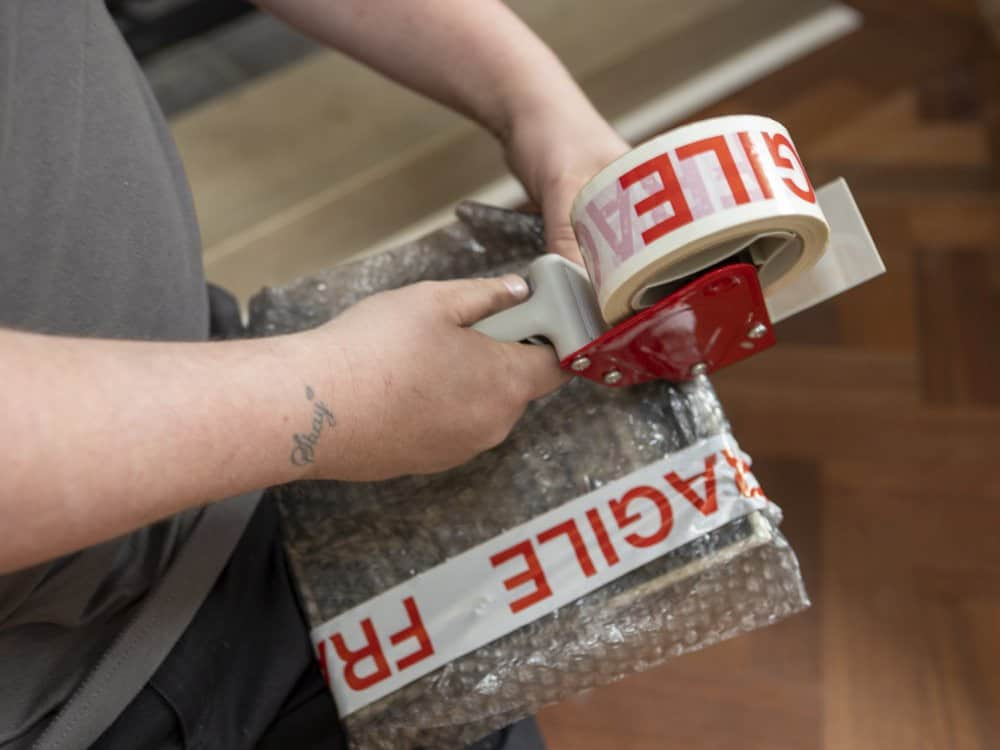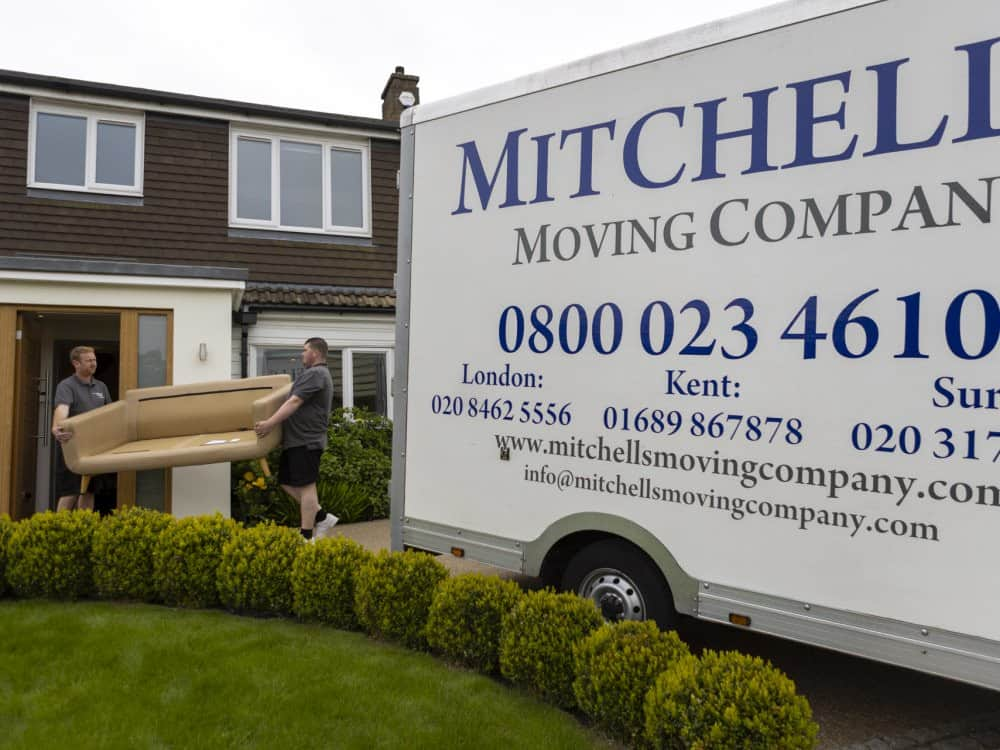 Removal storage
in Lambeth
Have you found yourself needing somewhere to store your items? Perhaps your new home is having renovations before you can move your furniture into it, or you're downsizing and need some storage space… With Mitchells Moving Company, you can rent a storage space for any amount of time for the size you require. Protected with CCTV, alarm systems, codes, and padlocks, you can trust that your belongings will be completely secure at all times.
Estate and letting agents
in Lambeth
Are you hoping to move to Lambeth? These local estate and lettings agents have the expertise to help you find your ideal property within the area.
Henry Wiltshire International – Nine Elms
Kinleigh Folkard & Hayward
Dexters Pimlico Estate Agents
Acorn Estate Agents Ltd
Winkworth
Barnard Marcus Estate Agents
DenLease
Johns & Co
Foxtons
Avrasons Ltd
Douglas & Gordon Ltd
Ovingtons
Dexters Westminster Estate Agents
Baganton Property Services
Winkworth
Strawberry Star Lettings & Sales Ltd
Lynn Greenfield Property Services
Estate Agents In Belgravia
Residential Realtors
Charles Boyce & Woodhams
Bond Estates Ltd
Malverns
Dexters Chelsea Estate Agents
Black Sea International Ltd
Baituon Estate Agent Ltd
Residential London
Right Estate Agents Brixton
Chesterton's Knightsbridge & Belgravia
Next Property
Coppermills Estate Agents
Dexters
Tavistock Bow
John D Wood & Co
Berkeley Square Mediation
Charles Sinclair & Co
Beauchamp Estates
Foxtons
Orlando Reid Ltd
Haart Estate Agents
Rochford Stokes Ltd
Henry & James
Conveyancing solicitors
in Lambeth
The local conveyancing solicitors are here to help with your move to Lambeth. Allow them to minimise the hassle within the buying and selling process so that you can focus on looking forward to your move.
Lifetime Legal
Taylor Rose MW Brixton
Capital Conveyancing
Sabeers Stone Greene Solicitors
Pothecary Witham Weld Solicitors
Bestway Solicitors
HBC Conveyancing
House Conveyancing
Bestway Solicitors
LEA Multiservices Ltd
Mary Monson Solicitors
Taylor Rose MW London Bridge
Express Conveyancing
Lisa's Law Solicitors
Charles Hill & Co Solicitors
James Morgan Solicitors
Charles Guthrie Solicitor & Notary Public
Connaught Law Ltd
Banks Kelly Solicitors
Benson Mazure LLP
Osmond & Osmond
Giambrone Law
Ashley Wilson Solicitors LLP
Forest & Co
Lifetime Legal
Taylor Rose MW
Phew Conveyancing
Conveyancing Data Provider Experts
Maunsell Bower
Tremont Midwest Solicitors
Will You Will You Not
Raymond Saul & Co
Conveyancing Calculator
Progeny Corporate Law
Freemans Solicitors
Newmans
Taylor Rose MW Westminster
Legal Cost Finance
Andrew Veitch Solicitor London W1
Moneywise Conveyancing
Ellis Jones Solicitors
Wainwright & Cummins LLP
Adam Bernard Solicitors
Bishopsgate Law
RIAA Barker Gilette (UK) LLP
Anthony Gold
C V S Law
Anthony Gold Solicitors
Berkeley Legal
Housing & Property Law Partnership
Russell-Cooke Solicitors
Curry Popeck
Levi Solicitors LLP
Buckles Solicitors LLP
Oratto Ltd
Veale Wasborough Vizards
Waterstone Solicitors
I. Solicitors
Specter Partnership
MyLegalAdviser
B P Collins LLP
Fridaysmove
Russell Cooke Solicitors
J E Baring & Co
Scornik Gerstein LLP
Kidd Rapinet / Miller Evans & Co Solicitors
Broadlegal
BTMK Solicitors
Fridaysmove
Spencer Lockwood Conveyancing
Professional Negligence Solicitors
Brion & Co
Amy & Co Solicitors
Legal ABC
Crown Legal Solutions LLP
Harpers Solicitors Advocates
Simply Conveyancing Property Lawyers Ltd
Johns & Saggar
Black Antelope Law
Gibson Young Solicitors LLP
Legal Case Management
KaurMaxwell
Lloyd Rehman Solicitors & Co
Spencer Lockwood Conveyancing
Gregory Abrams Davidson LLP
Broadway Solicitors
W H Matthews & Co
Streathers Solicitors
Thrings Solicitors
Stone King
Grant Saw Solicitors
JFahrenthold Solicitors Ltd
Legal Agreement
Notary Public Office
T K D Solicitors
Fletcher Day
Harold Benjamin
Russell-Cooke solicitors
SA Legal (Non Profit)
Bivonas Law LLP
Solve, the Business Lawyers
Attwaters Jameson Hill Solicitors
Muscatt Walker & Hayim
R O C K Solicitors
Attwells Solicitors
Premier Conveyance
W G S Solicitors
Thamina Solicitors Ltd
Conveyancingred
Lester Aldridge LLP
Lloyds Clifford Solicitors
Hanne & Co
Lovell Son & Pitfield
Movin Me Ltd
Citizenship Partners
Taylor Rose MW Fulham
Glazer Delmar Solicitors
Grace & Co
Conveymoving
Wellers Law Group
X-Press Legal Services
David Tagg & Co
Pinney Talfourd Solicitors
Spencer West
Home Legals
Eden Vale Solicitors
Legal London Law
Stoke & White Ltd
Kidd Rapinet LLP
Khans Solicitors
Syed Shaheen Solicitors
Thornton & Co
Andrew Tobias & Co Solicitors
Primary schools
in Lambeth
Are your little ones starting school soon? There are a range of primary schools within the Lambeth area that could be the ideal fit for their needs.
Ashmole Primary School
Great Maths Tuition
St Anne's Catholic Primary School
Westminster Cathedral Primary School
Wyvil Primary School & Speech & Language Centre
St Mark's Church Of England Primary School
Vauxhall Primary School
St Stephen's Church Of England Primary School
Herbert Morrison Primary School
St George's C Of E Primary School
Reay Primary School
Burdett-Coutts & Townshend Foundation C Of E Primary School
Archbishop Sumner Church Of England Primary School
Charlotte Sharman Primary School
St Gabriel's C Of E Primary School
Keyworth Primary School
St Vincent De Paul Rc Primary School
St George's Cathedral Catholic Primary School
St Jude's Church Of England Primary School
Allen Edwards Primary School
Griffin Primary School
St John The Divine Church Of England Primary School
St Paul's Church Of England Primary School
John Ruskin Primary School & Language Classes
St Mary's R C Voluntary Aided Primary School
Dora Copeland Educational Services
Learn Quran Reading
Saint Barnabas Church of England Primary School
Perform Within St Barnabas' Ce Primary School
Robert Browning Primary School
St John's Walworth Church Of England Primary School
Heathbrook Primary School
St Andrew's Church Of England Primary School
Charles Dickens Primary School
Charles Dickens Primary School
Stockwell Primary School
Victory Primary School
Clapham Manor Primary School
Holy Trinity C Of E Primary School
Loughborough Primary School
St John's Angell Town Church Of England Primary School
Greg Cooper Primary Tutoring
St Joseph's Catholic Primary School
Chelsea Quavers Ltd
Michael Faraday Primary School
Soho Parish C Of E Primary School
English Martyrs Roman Catholic Primary School
Beormund Primary School
Private Tuition
Richer Education
Transport links
in Lambeth
It's easy to travel to and from Lambeth. Discover the transport connections you can take advantage of when living in the area.
Bus stops
Fitzalan Street
Kennington Road Imperial War Museum
St Georges Rd Imperial War Museum
Imperial War Museum
Lambeth Road Kennington Road
Lambeth Bridge (SE1)
Lambeth Palace
Lambeth Road
Pratt Walk
St George's Circus
Mary Lee Way
Tyers Street
Lambeth Pier
China Walk Estate
Lambeth Road Imperial War Museum
Jonathan Street
Vauxhall Street Black Prince Road
Juxon Street Sail Street H&R
Walnut Tree Walk
Restaurants in Lambeth
Local restaurants are a huge draw for people living in Lambeth. Get a taste for the best places to eat within the area.
Nando's Vauxhall Arches
Counter Vauxhall
Waterfront Brasserie Ltd
The Riverside
Nando's
Casa Madeira
Chino Latino
Brunswick House Cafe
Pico Bar & Grill
The Coriander
Rex Whistler Restaurant
The Rose
Cottons
Tea House Theatre Ltd
Atami
Chokhi Dhani
Daebak
Central Station Bar & Grill
Mumbai Delight
TDQ Steaks
City Cafe
Tennessee Fried Chicken
Vauxhall Griffin
Lebanese Garden
Pizza Express
Burrito-Kitchen
Tastey House
Millbank Spice
Mannels Ltd
Tia Maria Bar & Kitchen
Rare Burger Co
Lee's Fish & Chips
Polish Tavern
Caminetto
Darby's
Chutney Tandoori Restaurant
Chutney Tandoori
Wedding House Patisserie
Taste of The Mediterranean
The Black Prince Pub
Tinto
Chilli Griddle
Gandhi's
Manuel Do Talho
Estrela Bar
Elements
The Cinnamon Club
The Garden Brasserie
Machico
Pharmacy 2
Grelha D'Ouro
Duchy Arms
Windmill Fish Bar
Burgers & Dogs
Goya Pimlico
Big Ben Pizza
The Three Lions
Xquisite
Strutton Fried Chicken
Pizza Express
Linnaean
Kazan Restaurant
Loco Mexicano
Twice as Nice
Chilli Griddle
About Thyme Bar & Bistro
Fire Cracker
Little Lisbon
Places of worship
in Lambeth
There are a range of places to worship in Lambeth, allowing you to maintain your faith when living in the area.
Churches & Other Places of Worship
St Anne's R C Church
Apostolic Church
Church of God-in-Christ Calvary
London Diamond Way Buddhist Meditation Centre
St Saviour's Pimlico
St Stephen With St John Westminster
St James The Less
Lambeth Mission
Care Christian Action Research & Education
Springfield Methodist Church
Lambeth Palace
Scalabrini London
Agnes Church
Marks Church
Church Commissioners
Diocese of Westminster
Stockwell Baptist Church
St Matthews Church
Westminster Abbey
The Church of England
St Francis De Sales
North Lambeth Parish
St Anne's R C Church
St Gabriel's
The Church Of The Holy Apostles
Christ Church C Of E Church
Wilfrid's Catholic Church
Only Believe Christian Assembly
Calvary Chapel Westminster
Jamyang Buddhist Centre
St Margarets Church
Westminster Cathedral
Metropolitan Tabernacle (Spurgeon'S)
St Pauls Parish Office
The Parish of Christchurch & St. John the Evangelist
Westminster Chapel
Crossway United Reformed Church
The Guard's Chapel
St Michael's Church
St Johns Church
Our Lady Church Battersea
ROK Chapel
St John the Divine Church
The Brook Place
Waterloo Parochial Church Council
International Life Gate Chapel
Rosary Catholic Church
Calvary Temple United Pentecostal Church
St John's C Of E Church
All Saints Church Battersea Fields
Churches & Other Places of Worship
Peter's Church
Life Tabernacle Church
Mary the Virgin Church
Andrews Church Parish Office
Walworth Methodist Church
Ridley Hall Evangelical Church
St Peters C Of E Church
Mary-Le-Strand Church
New Christianity Michael Church
St Martin-in-the-Fields Church
Clapham Baptist Church
Amen Church of Christ
Church Court Chambers
Battersea Seventh Day Adventist Church
Glory & Power Pentecostal Church
The Light & Life Full Gospel Fellowship
Love of Christ Generation Church the Glory of God Shines
The Salvation Army
Holy Trinity Church
House of Praise
St Paul's Church
The Kingdom Church
The St George Martyr
Nectarious (Greek) Church
Liberty Christian Fellowship
Universal Church of the Kingdom of God
United Pentecostal Faith Church of God
St John's Church
International Christ Community Centre
Precious Blood RC Church
Chelsea Methodist Church
Shaftesbury Christian Centre
St James's Church Piccadilly
St Paul's Church Knightsbridge
Immaculate Conception
Mount Street Jesuit Centre
Jesuit Residence
Mary's R.C Church
St Pauls Church
Christ Church Mayfair
The Well Community Church
Celestial Church of Christ
Corpus Christi R C Church
St Michael's Eritrean Orthodox Church
Third Church of Christian Science
Notre Dame de France
Haddon Hall Baptist Church
Matthew's Church
Chelsea Synagogue
St Peters Church
Paul's Brixton
Romanian Orthodox Church
Church Of The First Born
St Christophers C of E Church
St Pauls Society
St Simon Zelotes
Our Lady Of The Assumption Catholic Church
Bermondsey Methodist Church
St Saviour's C Of E Church
Trinity Congregational Church
Greek Orthodox Church of St Nektarios
St Columba's Church Of Scotland
Crown Court Church Of Scotland
R C C G Victory House
St Anne's Church Soho
Harvest Mission Outreach
Salvation Army
Universal Pentecostal Church
Sureway International Christian Ministries
Brixton Unitarian Christian Church
Petra Church UK
St Clement Danes R A F Church
The Bridge
Giles Church
St George's Church Camberwell
Holy Trinity Clapham
The Chinese Church
The Grosvenor Chapel
I C I M A Generations
Impact Evangelical Ministry
St Martin Within Ludgate Church
The Salvation Army Church
St George's Hanover Square
St Lukes & Christ Church
The Brompton Oratory
The Church Of Our Most Holy Redeemer & St Thomas More
St Dunstan-in-the-West Church
Alban's C of E Church
St Giles In The Fields
French Protestant Church
The Temple of Truth Church
Brixton Hill Islamic Centre
Assemblies Of The First Born
St Andrew By The Wardrobe
St. Saviour's Church
Chelsea Old Church – Petyt Hall