Moving house is a huge task, and it can be stressful. You have so much to think about when you're moving – the packing, the logistics, getting your new home ready. It's easy to forget about one of the most important things – who's going to help you move all your belongings? Mitchells Moving Company can take care of everything for you. We're experts in removals in Kenley, so we know how to get your belongings from A to B safely and efficiently. We'll work with you every step of the way to make sure your move goes as smoothly as possible.
If you're looking for the best removals company to help you on moving day in Kenley, call us on 0800 023 4610.
How can we help with
removals in Kenley?
Moving house is a notoriously stressful experience. From the packing to the unpacking, there are so many things that can go wrong during a move. Plus, there's always the added stress of having to deal with removals companies. Mitchells Moving Company offers a comprehensive range of removals services that will take care of everything for you. We have years of experience in the industry, and our team is dedicated to making your move as smooth and stress-free as possible. We provide a full packing service, a clearance service, and much more – so you can relax and enjoy your new home in Kenley!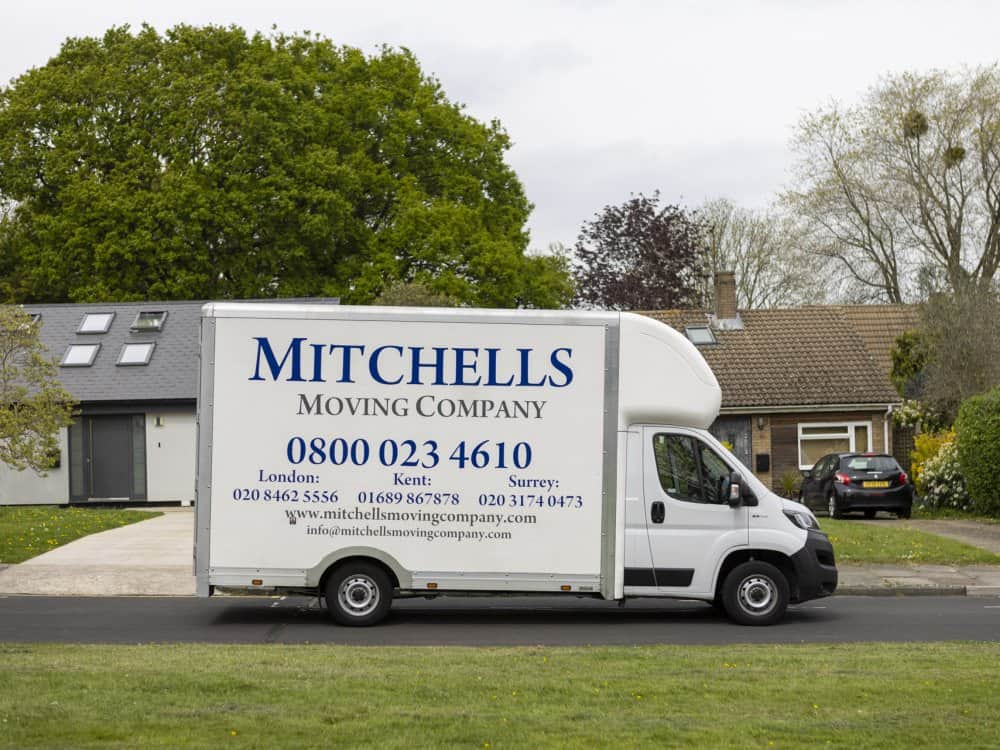 Why choose Mitchells Moving Company
for removals in Kenley?
Mitchells Moving Company has been providing removals services in Kenley for years and we have a reputation for being reliable and trustworthy. We understand that every move is different, so we offer a range of services to suit your needs. From full packing and unpacking to furniture assembly and de-cluttering, we can take care of everything for you.

Industry experience dating back to 1980
It's hard enough moving, but it can be even harder when you must worry about your belongings being damaged or lost in transit. We understand how important your belongings are to you, which is why we offer a wide range of removal services that are both safe and reliable. With some team members who have over 40 years of experience in the industry, we know how to get the job done right – no matter what it takes.

Personal communication with customers
It's hard enough to move, so who wants to spend their time dealing with customer service? We take the hassle out of communication with customers. With our removal process, you can relax and focus on your move. We'll handle all the communication for you so that you can have a smooth transition.

Start-to-finish services
Start-to-finish services from our company are the perfect solution for busy people who want a stress-free move. We offer competitive rates, and our team is experienced and reliable. We'll take care of everything, from packing your belongings to cleaning up after we're done. Contact us today to get started!

Modern, detail-oriented processes
Moving house is one of the most stressful things you can do. We're experts in domestic removals, so we'll take care of everything for you – from packing your belongings securely, to driving them safely to your new home. Plus, our modern vans are specifically designed for moving house, so you know they'll be handled with care.
Professional packing
for removals in Kenley
Moving is stressful. Trying to pack up your home by yourself can add weeks of stress to an already difficult process. Packing up your home can be incredibly time-consuming and frustrating. You have to worry about packing everything safely, making sure you have enough boxes and packing materials, and then trying not to damage anything in the process. Mitchells Moving Company can take care of all your packing needs for you. Our professional packers will come to your home the day before your move and will quickly and efficiently pack your belongings for you. This will take the stress off your hands and allow you to live your life normally until the move is complete.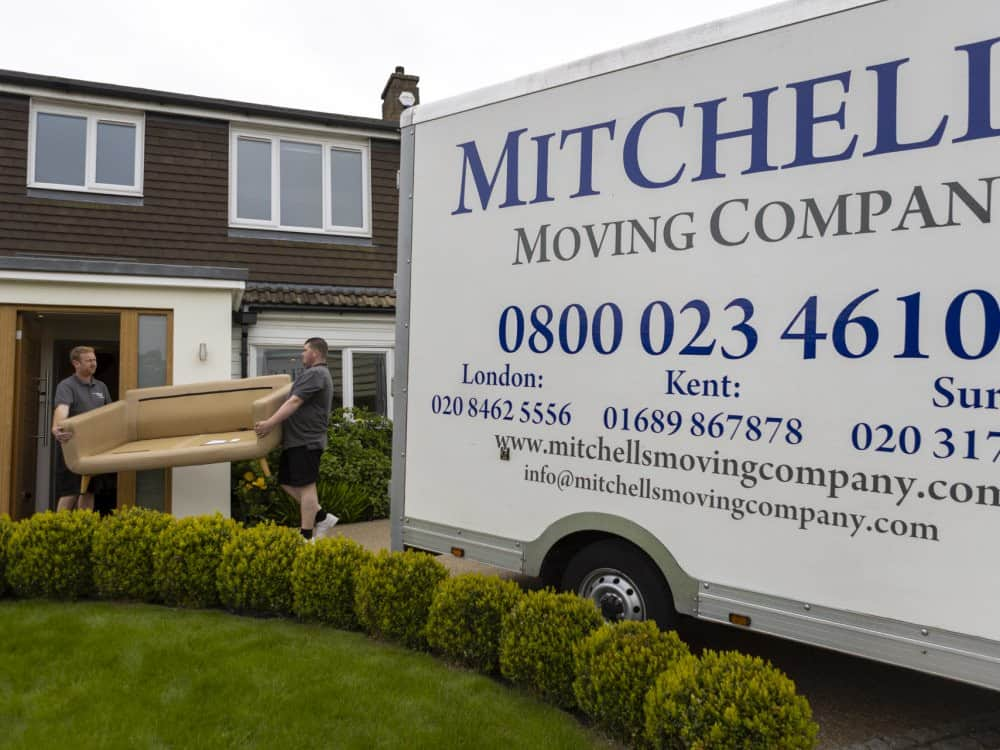 Removal storage
in Kenley
You've just moved out of your home and into a new place, but you can't move your furniture in until the renovations are finished. It's frustrating when you must wait to move into your new home because of the renovations. Not only is it an inconvenience, but it also means that you must find somewhere else to store all your belongings in the meantime. Mitchells Moving Company offers removal storage in Kenley so that you can store your items for as long as you need. With CCTV, alarm systems, codes, and padlocks, you can trust that your belongings will be completely secure at all times.
Primary schools
in Kenley
Are your little ones starting school soon? There are a range of primary schools within the Kenley area that could be the ideal fit for their needs.
St John's C Of E Aided Primary School
Monks Orchard Primary School
Warlingham Park School
Woodlea Primary School
All Saints Carshalton Church Of England Primary School
Reliance Academy
Oval Primary School
Tuition Sutton
Devonshire Primary School
Barrow Hedges Primary School
St John's Cofe Primary School
St Anne's Catholic Primary School
The Woodside Primary School
Fairchildes Primary School
Sumeyra Tastan Tutoring
Tutoring With A Khan
Good Shepherd Catholic Primary & Nursery School
Sacred Heart Catholic Primary School
St Thomas Becket Catholic Primary School
Muschamp Primary School & Language Opportunity Base
Juunipa Tutors
Manor Oak Primary School
Mosaic Jewish Primary School
Gorringe Park Primary School
West Thornton Primary School
Heavers Farm Primary School
Hackbridge Primary School
Culvers House Primary School
Epsom Downs Primary School & Children's Centre
AtoZ Educational Services
Merstham Primary School
St George's C Of E Primary School
Tutors Near Me
All Saints Benhilton C Of E Primary School
South Norwood Primary School
Cypress Primary School (Upper School)
Ecclesbourne Primary School
Sutton Tutors
Barbara Njau English Tuition
Cuddington Croft Primary School
Tweeddale Primary School
Lime Tree Primary School
Westbourne Primary School
Green Wrythe Primary School
Dalmain Primary School
John Stainer Primary School
Wickham Common Primary School
Marian Vian Primary School
William Morris Primary School
Marvels Lane Primary School
Key2success
Steph's Tutoring
Mottingham Primary School
Shawley Community Primary School
Tadworth Primary School
St Mary's C Of E Primary School
All Saints C Of E Primary School
Ashmole Primary School
Tatsfield Primary School
Unicorn Primary School
Cranmer Primary School
John Donne Primary School
Hawes Down Primary School
Hawes Down Primary School
St Anthony's Roman Catholic Primary School
St Matthew's Church Of England Primary School
St John's Church Of England Primary School
Churchfields Primary School
Cheam Park Farm Primary School
Langley Park Primary School
Bletchingley Village Primary School
Kingswood Primary School
Beecholme Primary School
Balgowan Primary School
St Mark's Primary School
Kingswood Primary School
Lonesome Primary School
Kensington Avenue Primary School
Abbey Primary School
Kingswood Primary School
Blenheim Primary School
Hollydale Primary School
St Francis R C Primary School
St Joseph's Catholic Primary School
Nutfield Church C Of E Primary School
Bond Primary School
Keston C Of E Primary School
Abbotsbury Primary School
Granton Primary School
Nonsuch Primary School
St Margaret's Lee C Of E Primary School
Meadow Primary School
Wray Common Primary School
Hayes Primary School
Biggin Hill Primary School
All Saints C Of E Primary School
Learn Log Tutoring
Gordon Primary School
The Hayes Primary School
Harris Primary Academy Kenley
Transport links
in Kenley
It's easy to travel to and from Kenley. Discover the transport connections you can take advantage of when living in the area.
Rail
Bus stops
Junction
Burcott Road
Canons Hill
Devon Close
Downs Court Road Selcroft Rd
Garston Lane
Kenley Treatment Works
Legion House
Legion House
Lodge Hill (CR8)
Lower Barn Road
Riddlesdown Mitchley Avenue
Riddlesdown Road
Riddlesdown School Riddlesdown Stn
St James Road Kenley
The Kenley Hotel Kenley Station
Whitefield Avenue
Beverley Road
Northwood Avenue
Oaks Road
Oaks Way
Bader Close
Hazeldene Court
Hawkhirst Road
New Barn Lane
Hillcrest Road Kenley
Waverley Avenue Valley Road
Ashurst Close
Oaks Road Kenley
Beverley Road Hill Crest Road
Kenley – Kenley Hotel
Restaurants
in Kenley
Local restaurants are a huge draw for people living in Kenley. Get a taste for the best places to eat within the area.
Santini's Restaurant
Deep Sea Fish Bar
Saffron
Hot Wok
Perfect Kebab & Pizza
Rice 'N Spice
Taya
Purley Dragon
Yokoya
Subway
Mekan
El Shams
Dexter Burger
China City
YO! Purley Tesco Kiosk
K F C
Firebellys Restaurant
Nanton
Pizza Express
Royal Tandoori
Indian Ocean
The Foxley Hatch – Jd Wetherspoon
Buenos Aires Restaurant
La Scarpetta
Places of worship in Kenley
There are a range of places to worship in Kenley, allowing you to maintain your faith when living in the area.
St. Barnabas Church
St John The Baptist R C Church
Purley Masjid
Sanderstead All Saints PCC
Purley United Reformed Church
Christ Church
Whyteleafe Free Church
Purley Baptist Church
St. John's Church
Sanderstead Evangelical Church
Holy Family R C Church
Old Coulsdon Congregational Church
Sanderstead United Reform Church
All Saints C Of E Church
The Salvation Army Church
Sanderstead Methodist Church
St Mary's Anglican Church
Jehovah's Witnesses
Churches & Other Places of Worship
Church of England
St. Andrews Church of England
Coulsdon Christian Fellowship
St Gertrude's R C Church
Daystar Ministries
Paga
Kingdom Life City Church
St Francis C Of E Church
Restore Truth Outreach Ministry
Caterham Baptist Church
South Croydon United Church
Wallington Christian Centre
Jehovah's Witnesses
First Church of Christ Scientist
St Patrick's Church
Oakhall Church
Bandon Hill Methodist Church
St Elphege's R C Church
Woodmansterne Baptist Church
St. Mary The Virgin Church
Croydon Minster
Wallington Gospel Hall
Wallington United Reformed Church
Christian Science Church
St. Peter's Church
Stanley Park Evangelical Free Church
Redeemer Croydon
St. Matthews Church
St Margarets Catholic Church
Redemption Faith Worship Centre Ltd
St Margarets Church
The Church of the Good Shepherd
East Croydon United Reform Church
Buddhist Centre Croydon
Wood World Missions & Power Centre Church
New Life Croydon
Wallington Baptist Church
Croydon & District Synagogue
Redeemed Christian Church of God, Higher Ground Assembly
The Vicarage the Good Shepherd
Potter's House Within The Landsdowne Hotel
Kingdom Heritage Christian Fellowship
Potters House Christian Church Croydon
The British Conference Of The Church Of God Seventh Day
Friends Meeting House Quakers
St. Michaels Church
Carshalton Methodist Church
St. Paul C of E Church
Croydon Tabernacle
Horley Baptist Church
St Mary's Catholic Church
Carshalton Beeches Baptist Free Church
Church of the Nazarene
Liberty Chapel (Church for All Nations)
St. Mary the Blessed Virgin
St John The Evangelist Church
Chiltern Church
St Edward King & Confessor C Of E Church
Christ Church
Croydon Methodist
St Mildred's C Of E Church
Sutton Islamic Centre
Shahjalal Mosque & Islamic Centre
New Testament Church of God
World Harvest
Ahmadiyya Muslim Association
West Croydon Baptist Church
Christ Church
Emmanuel Inspirational Church of God
West Street Evangelical Church
All Saints C of E Church
The Salvation Army
Prophetic Resurrection Ministry
New Addington Baptist Church
Carshalton Baptist Church
Junction Community Church N T A
Mount Zion Seventh Day Church Of God UK International Conference
Our Lady of the Annunciation R C Church
House Of Judah
St. Helier Methodist Church
St. Ann's Catholic Church
International Christ Community Centre
West Wickham & Shirley Baptist Church
Restoration World Revival Church
St Andrew's United Reformed Church
Hayes Free Church
Pollards Hill Baptist Church
St. Anthony of Padua
I S K C O N South London
Royalhouse Chapel IMC
Shiloh Worship Centre
The Elim Pentecostal Church
London Spanish Speaking Charismatic Baptist Church
Sutton Christian Centre
Emmanuel United Reformed Church
St Pauls Church
Gloria Gold Ministry
Penge Baptist Church
Linh Son Buddist Association
Holy Family R C Church
St Andrews Church
PCC All Saints Benhilton
Born Again Revival Tabernacle Croydon
St Chad's Church
Croydon Community Church
St Pauls C Of E Church
St Johns Church Of England (Continuing)
Gloryland Pentecostal Ministries
Greek Orthodox Church
South Norwood Baptist Church
St Christopher's Catholic Church
St Michael R C Church
St Francis Church
Church Of Ascension
The United Church of St. Mark
Calvary Christians' Chapel (The Hammer of God Ministry)
St Matthias R C Church
Croydon Seventh Day Adventist Church
True Vine Centre
West Wickham Methodist Church
Sutton Family Church
Pistis International Church
St. George's Battle of Britain Memorial Chapel
St Teresa R C Church
West Norwood Spiritualist Church
Faith Church of God
Cheam Baptist Pre School
St. Peter's Church
The Eagle City Church
Mersham Road Fellowship
We regularly work in these areas of Surrey