Moving house is a hassle. You must pack up all your stuff, find a new place to live, and deal with the stress of it all. It's hard enough moving house without having to worry about the logistics of it all. And if you're doing a long-distance move, it can feel downright impossible. Leave the hard work to the professionals at Mitchells Moving Company. We'll take care of everything involved in the process for removals in Coulsdon for you – from packing your belongings to getting them safely to your new home. We even offer storage solutions if you need them!
If you're looking for the best removals company to help you on moving day in Coulsdon, call us on 0800 023 4610.
How can we help with
removals in Coulsdon?
The thought of moving all your worldly possessions from one place to another can be overwhelming. Not only do you have to worry about packing everything correctly, but you also must make sure that it arrives in one piece at the other end. Mitchells Moving Company is here to help. We are a professional removals company with years of experience in the industry. We provide a full range of services, from packing and unpacking to furniture assembly and de-cluttering, so that you can relax and focus on settling into your new home. Our team is experienced and caring, and we will do everything we can to make your move as stress-free as possible.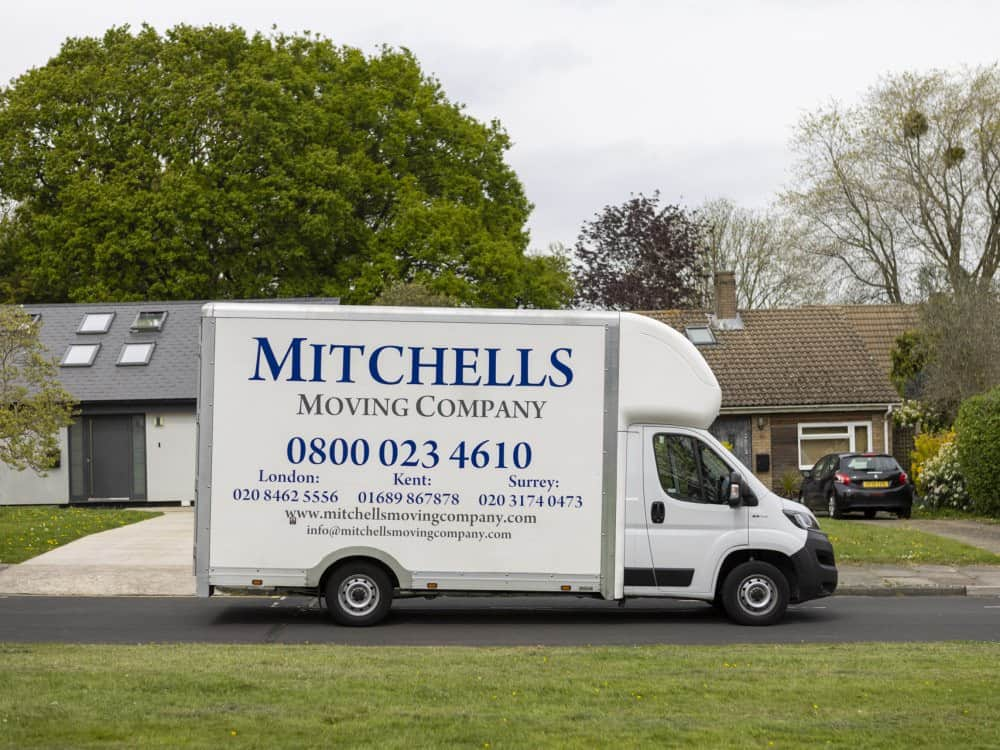 Why choose Mitchells Moving Company
for removals in Coulsdon?
Mitchells Moving Company can take care of your move in Coulsdon for you. We're experts in removals, so you can relax and know that your belongings are in safe hands. We'll handle the packing, loading, driving, and unloading – so you can focus on settling into your new home.

Industry experience dating back to 1980
It's hard to know which company to trust when it comes to removals. Many companies make big promises but can't deliver on them. We have members of staff that have been in the business for more than 40 years, so we know what we're doing. Our team has a lot of experience in the industry, and we're dedicated to providing reliable and safe transport for your belongings.

Personal communication with customers
Moving is a huge task. It can be hard to know where to start or who to trust. We're here to help. Our team of experts will take care of every detail of your move, so you can relax and focus on what's important – your new home. We provide a comprehensive service that will make your move worry-free.

Start-to-finish services
Start-to-finish services from Mitchells Moving Company means that you can relax and know that everything is being taken care of for you. We'll handle the removals, the cleaning, and even getting rid of any large items you don't want to take with you. All you need to do is sit back and relax knowing that your move is in safe hands.

Modern, detail-oriented processes
We take care of the details so that you can relax and focus on your move. Our team is experienced in domestic moves, so you can trust us to handle everything for you. We use modern vans and equipment that are specifically designed for house removals, ensuring your items arrive safe and sound at the destination. Plus, we pack methodically to create easy unpacking.
Professional packing
for removals in Coulsdon
Moving is stressful. Packing up your home and all of your belongings can be a daunting task. Not only is it stressful, but it can also be very time consuming. You may feel like you have to pack everything up yourself in order to save money, but that could take weeks. Mitchells Moving Company offers professional packing services in Coulsdon that will take the stress off your hands. Our packers are experienced and will work quickly and efficiently to get your belongings packed up and ready for transport. We understand that you want to live your life right up until the move, so let us take care of the packing for you!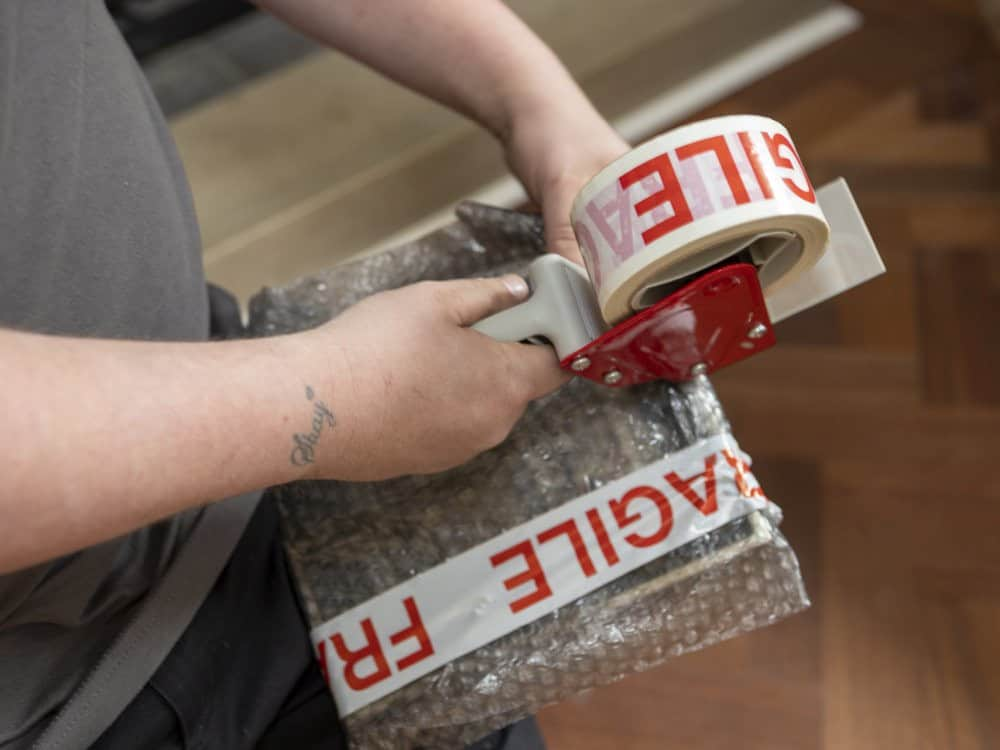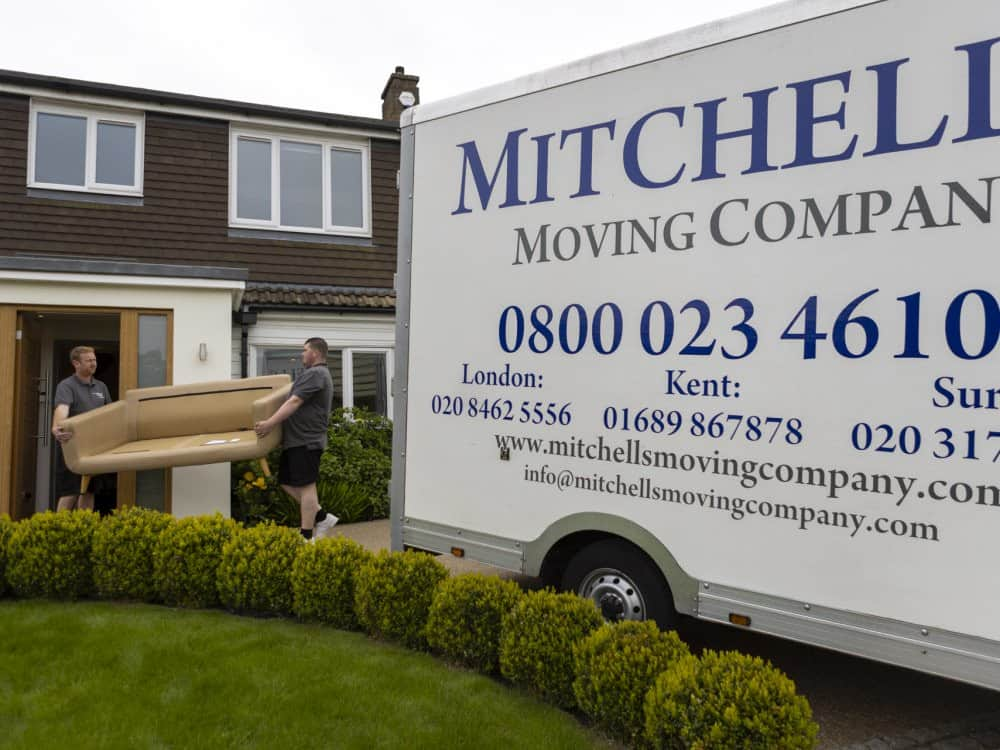 Removal storage
in Coulsdon
You've just moved out of your home and into a new place, but you can't move your furniture in until the renovations are done. It's frustrating when you must wait to move into your new home because of renovations. Not only do you have to live out of boxes, but you also must find a place for all your belongings in the meantime. Removal storage in Coulsdon is the perfect solution for this problem. With Mitchells Moving Company, you can rent a storage space for any amount of time that fits your needs. Our storage spaces are protected by CCTV, alarm systems, codes, and padlocks so you can trust that your belongings will be always completely safe.
Primary schools
in Coulsdon
Are your little ones starting school soon? There are a range of primary schools within the Coulsdon area that could be the ideal fit for their needs.
Woodcote Primary School
Smitham Primary School & Nursery
St Aidan's Catholic Primary School
Chipstead Valley Primary School
Coulsdon C Of E Primary School
Beaumont Primary School
The Education Hub
New Valley Primary School
Alfa Tuition Ltd
Keston Primary School
The Hayes Primary School
Woodmansterne Primary School
Roke Primary School
Bandon Hill Primary School
Kip McGrath
Margaret Roper Catholic Primary School
MichaelTutors247
Marden Lodge Primary School & Nursery
Christ Church C Of E Primary School Purley
St Francis Catholic Primary School
Harris Academy Purley
Selsdon Primary & Nursery School
Kenley Primary School
Whyteleafe Primary School
Thomas J O'Regan
St Anne's Catholic Primary School
Ridgeway Primary School & Nursery
Foresters Primary School
The Link Day Primary School
Regina Coeli Catholic Primary School
Audley Primary School
Kamran Ahmed One to One Tuition
Barrow Hedges Primary School
Furzefield Primary School
Gresham Primary School
Primary Tutor
Devonshire Primary School
Hillcroft Primary School
St Peter & Paul Catholic Primary School
High View Primary School
Morden Primary School
Orchard Way Primary School
Ecclesbourne Primary School
Juunipa Tutors
Courtwood Primary School
All Saints Carshalton Church Of England Primary School
St Peter's Primary School
Sumeyra Tastan Tutoring
Epsom Downs Primary School & Children's Centre
Smitham Primary School
Oasis Academy Byron
Chipstead Valley Primary School
St Aidan's Catholic Primary School
Keston Primary School
Woodcote Primary School
Secondary schools
in Coulsdon
Coulsdon has a range of secondary schools that will provide your children with all the support they need. Explore the local education opportunities within the area.
Transport links
in Coulsdon
It's easy to travel to and from Coulsdon. Discover the transport connections you can take advantage of when living in the area.
Rail
Coulsdon South Rail Station
Coulsdon Town Rail Station
Smitham (Coulsdon Town) Rail Station
Woodmansterne Rail Station
Bus stops
Woodmansterne Road
The Avenue Coulsdon
Coulsdon Town
Woodmansterne Station
Lime Tree Avenue
Tullick Way
Salter Close
Shaftesbury Lane
Crawford Crescent
Farthing Way
Bramley Avenue
Byron Avenue (CR5)
Chipstead Valley School
Coniston Road
Coulsdon Library
Chipstead Valley Rd Brighton Rd
Harwoods Garage
Lion Green Road
Lyndhurst Road Nutfield Road
Portnalls Road
Chipstead Valley Rd Rickman Hill
Stoats Nest Village
Willow Court
Woodfield Hill
Woodplace Lane
Warwick Road
The Avenue Coulsdon
Ridgemount Avenue
Woodlands Grove
Westleigh Avenue
Rickman Hill
Winifred Road Alexander Road
Woodmansterne Road St. Andrews Road
Southwood Avenue
The Avenue South Drive
Prospect Plantation
Clifton Road Bramley Avenue
Woodlands Grove
Parkside Gardens Rickman Hill
Westleigh Avenue
Portnalls Rise Rickman Hill
Things to do
in Coulsdon
There's lots to love about Coulsdon. Here are the top attractions within the area that you can explore – you better start planning!
Cullens Of Surrey
Marlpit Lane Bowling Green
Little Lambs Softplay
Woodcote Park Golf Club
Banstead Woods
Skyline Models
Zera Avraham Messianic Synagogue
Restaurants in Coulsdon
Local restaurants are a huge draw for people living in Coulsdon. Get a taste for the best places to eat within the area.
Mirch Masala
Singapore Orchid
Pulcinella Caffe Bistro
Thai Venue
Los Arcos
Toriton Izakaya
Coulsdon Grill
Indian Brasserie
The Quintessential Restaurant,
La Scarpetta
Bombaylicious
Las Delicias
Pizza Express
Galaxy Burgers
Sichuan Garden
Fusion One Nineteen
Galaxy Burgers
Food Stop
Hillcrest Fish Bar
Rice 'N Spice
Chipstead Tandoori
Glade Fisheries
Danny's
Curry Leas
Parks
in Coulsdon
Coulsdon has plenty of parks and open spaces to enjoy. Here are your options if you're looking for some fresh air.
Places of worship in Coulsdon
There are a range of places to worship in Coulsdon, allowing you to maintain your faith when living in the area.
Jehovah's Witnesses
Coulsdon Christian Fellowship
Church of England
St. Andrews Church of England
St Aidans Catholic Church
GCI Coulsdon Community Church
Daystar Ministries
St. John's Church
St. Barnabas Church
Old Coulsdon Congregational Church
Woodmansterne Baptist Church
St John The Baptist R C Church
St. Peter's Church
Purley Baptist Church
Purley Masjid
The Salvation Army Church
Purley United Reformed Church
St Margarets Church
Christ Church
Redeemed Christian Church of God Glorious
The Salvation Army Church
The Salvation Army Church
Whyteleafe Free Church
Wallington Seventh-Day Adventist Church
Victory City
Stanley Park Evangelical Free Church
St Patrick's Church
Christ Church
St Margarets Catholic Church
The Church of the Good Shepherd
All Saints C of E Church
Wallington United Reformed Church
St Mary's Anglican Church
Sanderstead All Saints PCC
Paga
Banstead Community Church
Chiltern Church
Christ Embassy Croydon
St Dominic Catholic Church
Sacred Heart of Jesus R C Church
St Elphege's R C Church
The Vicarage the Good Shepherd
Sanderstead United Reform Church
Wallington Gospel Hall
St Gertrude's R C Church
Bandon Hill Methodist Church
Caterham Community Church
Friends Meeting House Quakers
Praise Baptist Church
St Augustines Centre
St Pauls Church
St Andrew's United Reformed Church
First Church of Christ Scientist
St. Katharine's Church Merstham
Caterham Baptist Church
St Peters C Of E Church
Croham Road Baptist Church
Horley Baptist Church
Croydon Minster
South Croydon United Church
Wood World Missions & Power Centre Church
The United Church of St. Mark
West Street Evangelical Church
Trinity United Reformed & Methodist Church
St Columba's R C Church
Croydon Jubilee Church
United Reformed Church
St Nicholas Church Hall
Carshalton Baptist Church
Redemption Faith Worship Centre Ltd
Christian Science Church
St. Helier Methodist Church
Church of the Epiphany Merstham
Jehovah's Witnesses
Sutton Christian Centre
St Mark's Church
New Life Croydon
St. Paul's Church
Redeemed Christian Church of God, Higher Ground Assembly
St Christopher's Catholic Church
Redeemer Croydon
St Francis C Of E Church
Liberty Chapel (Church for All Nations)
Redeemed Christian Church of God Carshalton
St. Matthews Church
Cheam Baptist Pre School
East Croydon United Reform Church
Selsdon Baptist Church
The British Conference Of The Church Of God Seventh Day
Buddhist Centre Croydon
St. Michaels Church
Holy Family R C Church
Potter's House Within The Landsdowne Hotel
Croydon Tabernacle
PCC All Saints Benhilton
Kingdom Heritage Christian Fellowship
Potters House Christian Church Croydon
All Saints Church
Pneuma Christian Centre
Christ Church
Jehovah's Witnesses
Croydon & District Synagogue
Catholic Parish Of St John The Evangelist
Sutton Family Church
St Mary's Catholic Church
Lower Kingswood Evangelical Free Church
Church Of The Good Shepherd
New Testament Church of God
St Matthias R C Church
Cheam Methodist Church
Shahjalal Mosque & Islamic Centre
The Salvation Army Church
Ahmadiyya Muslim Association
Mitcham Baptist Church
Church of the Nazarene
House Of Judah
World Harvest
The Elim Pentecostal Church
St. Paul C of E Church
West Croydon Baptist Church
Elim Pentecostal Church
Emmanuel Inspirational Church of God
Quakers Religious Society of Friends
Muththumari Amman Temple
Prophetic Resurrection Ministry
North Cheam Baptist Church
Junction Community Church N T A
Mount Zion Seventh Day Church Of God UK International Conference
St Johns Church Of England (Continuing)
Gloryland Pentecostal Ministries
International Christ Community Centre
Christ Church Ewell
St Mildred's C Of E Church
Redhill Christian Fellowship
St Teresa R C Church
The Salvation Army Church
Pollards Hill Baptist Church
Faith Church of God
St. Peter's Church
Christ Church With St Philip
United Reformed Church
St Michaels Church The Sanctuary
St Peter C Of E Church
St Martin's Church Of England
St John The Evangelist Church
Croydon Methodist
The Eagle City Church
Stoneleigh Baptist Church
We regularly work in these areas of Surrey