Moving house is a huge task, and it's easy to feel overwhelmed. You have so much to think about when you're moving – the packing, the planning, getting everything done on time. It's no wonder that so many people find the process stressful. Let Mitchells Moving Company take care of everything for you. We're experts in removals in Bromley, with decades of experience in the industry. We'll take care of all the details, from packing your belongings to transporting them safely to your new home. We'll even help you unpack and get settled in!
If you're looking for the best removals company to help you on moving day in Bromley, call us on 0800 023 4610.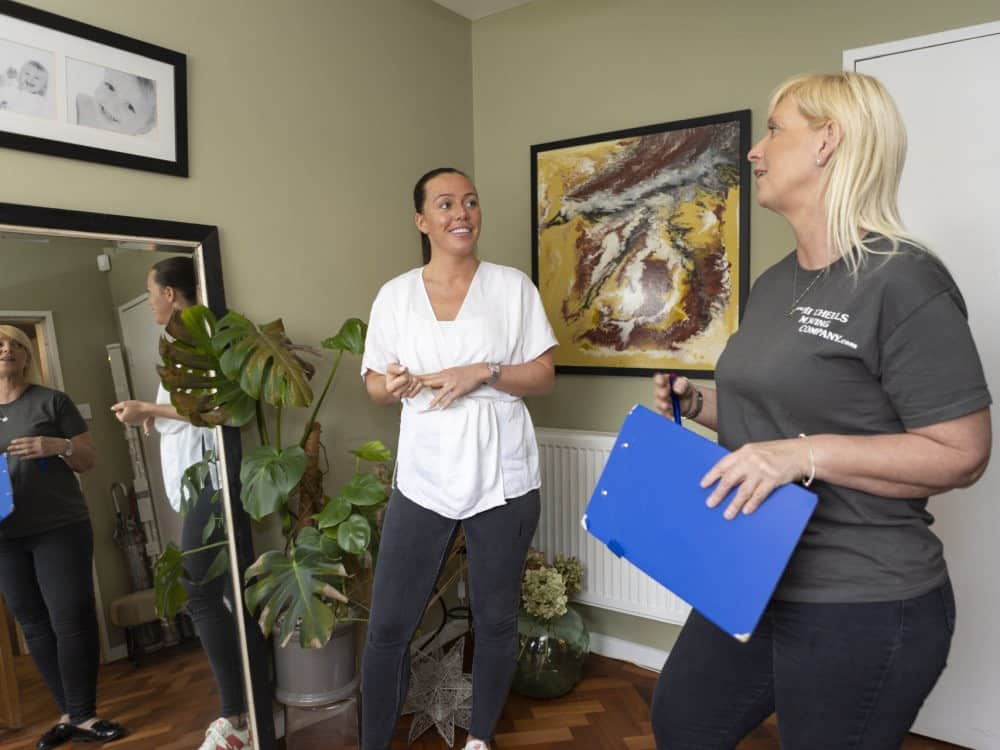 Why choose Bromley?
Bromley is one of the most highly sought-after locations in London. As a London borough of 330,000 people, it has great transport links to the capital and surrounding areas through regional rail services, buses, and stops on Tramlink. If you're looking to commute to the capital you can get from Bromley South to London Victoria in just 18 minutes. However, Bromley is also one of the most rural boroughs with plenty of green space including farms, parks, commons, and greens and one of the least densely populated. This means that there is always plenty to do and see without the claustrophobic feeling of some of the denser inner boroughs. Bromley town centre has exploded in popularity with the Glades Shopping Centre, two modern cinemas, the Churchill Theatre, and a huge selection of bars, cafés, pubs, and restaurants of both familiar chains and local entrepreneurs. Bromley is the perfect choice for families and young professionals, with a wide variety of properties, excellent transport links, outstanding schools, safe streets, great local services, and plenty of local amenities.
How can we help with
removals in Bromley?
You don't need to worry about a thing when you use our removals service in Bromley. We take care of everything for you, from packing your belongings securely to ensuring they arrive at your new home in the same condition as when we picked them up. Mitchells Moving Company is here to help make your move as stress-free as possible. We provide a full range of removal services that will take care of every aspect of the process, so all you must do is sit back and relax. With our years of experience, we know how to get the job done quickly and efficiently – so you can focus on settling into your new home.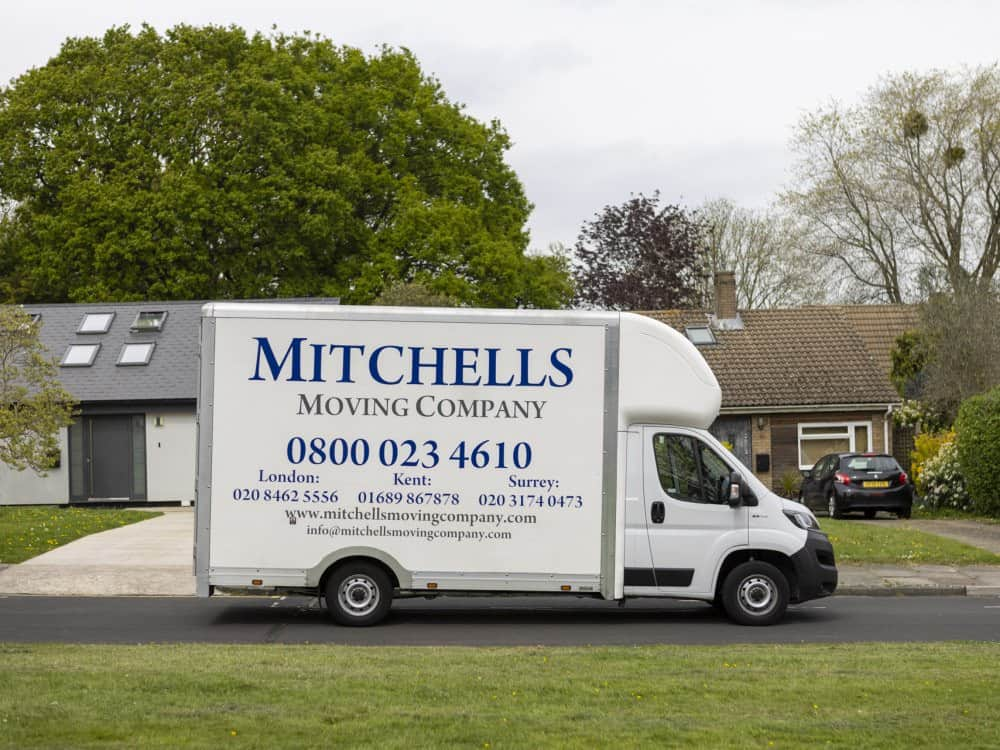 Why choose Mitchells Moving Company
for removals in Bromley?
You don't want to add the stress of moving to your already hectic list of things to do. Mitchells Moving Company is the answer for you. We're a reliable, experienced company that knows how to take the stress out of moving. We'll handle every step of the process so that you can focus on what's important – settling into your new home.

Industry experience dating back to 1980
We understand your concerns, which is why we offer comprehensive insurance for all of our services. In addition, we have a team of experienced professionals who know how to handle your belongings with care. We also utilize the latest equipment and technology to ensure that your move goes as smoothly as possible.

Personal communication with customers
Our comprehensive removal service includes personal communication with our customers throughout the entire process. You can relax knowing that we are keeping track of your belongings and that you will be notified if anything changes or goes wrong. We pride ourselves on our exceptional customer service and our commitment to providing a smooth transition for our clients.

Start-to-finish services
Moving house is stressful enough as it is, without having to worry about all the little tasks that need to be done for it to go smoothly. Start-to-finish services from our company means that you can relax and know that everything will be taken care of. We'll clean your old place, get rid of any unwanted items, and make sure your new home is ready for you when you move in.

Modern, detail-oriented processes
From hiring the wrong company to not having enough help on move day, it's no wonder people get stressed out at the very thought of moving. Our team of experienced professionals have been helping families relocate for years. We use modern methods and equipment to make your move as smooth as possible- from start to finish. You can relax and enjoy your new home knowing that we have everything under control.
Professional packing
for removals in Bromley
Moving is stressful. There's so much to do, and it feels like there's never enough time. You have a lot on your plate with moving – finding a new home, packing up all your belongings, changing your address, saying goodbye to friends and family. It's no wonder that so many people dread moving! Mitchells Moving Company can take the stress off your hands for removals in Bromley. We are professional house packers who will come to your home and pack your belongings quickly and efficiently. This will free up your time so that you can focus on the other aspects of your move. Contact us today for more information about our packing services.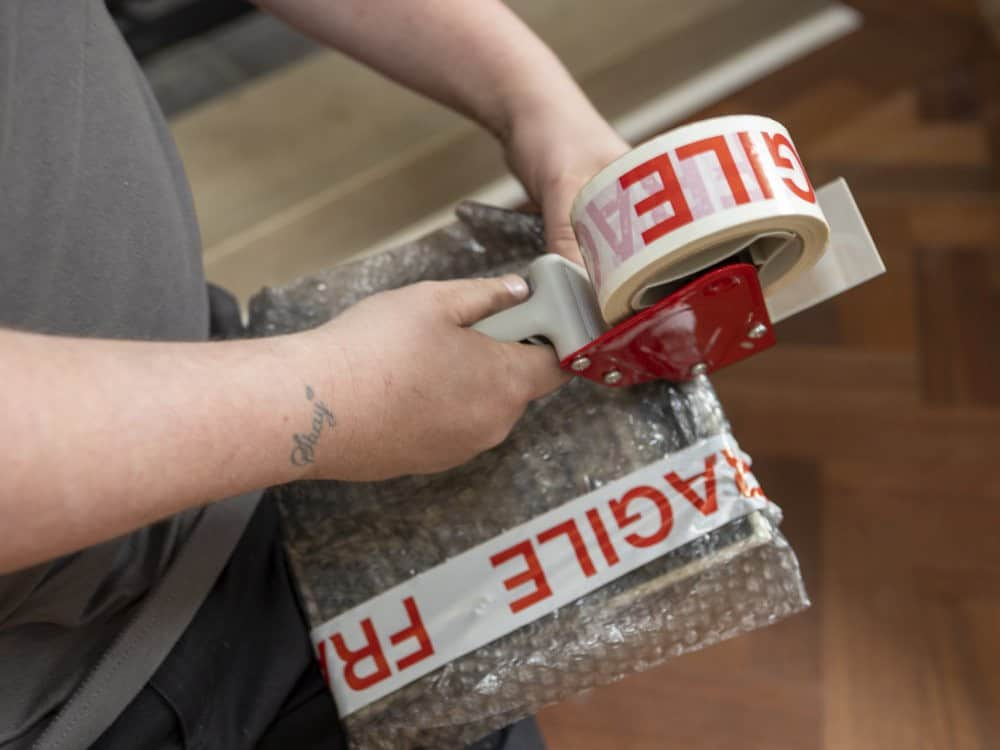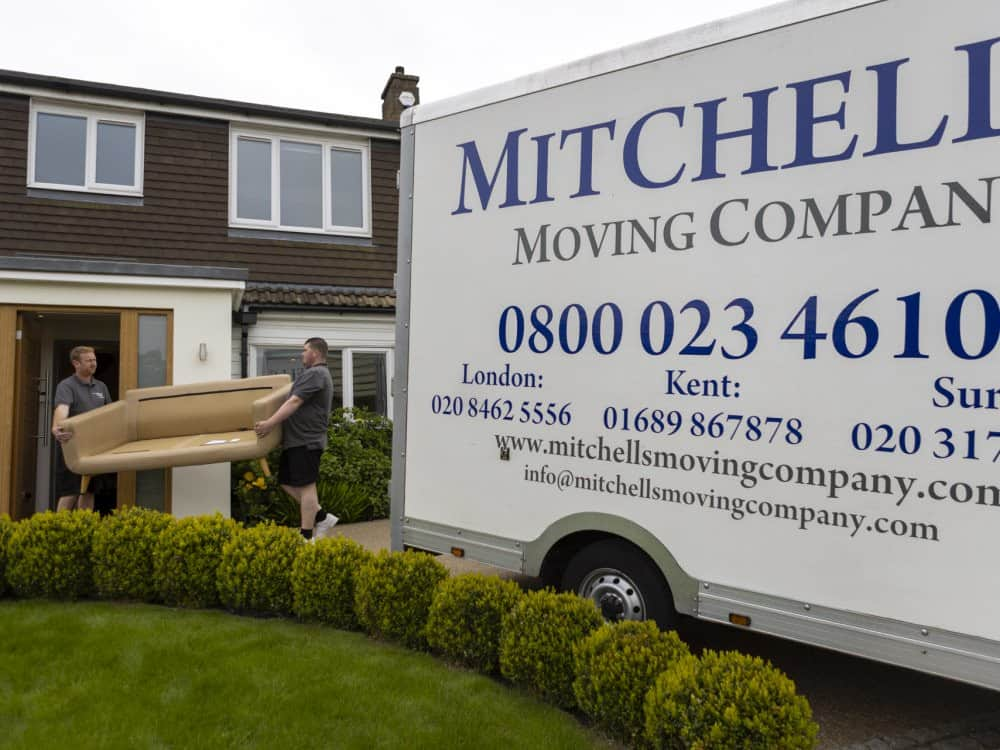 Removal storage
in Bromley
You need to store your belongings, but don't want to trust just anyone with them. It can be hard to find a storage space that is both affordable and secure. Most people will end up paying too much for a subpar experience or compromising their security by using an unsecure facility. Mitchells Moving Company offers removal storage in Bromley that is both secure and affordable. Our storage spaces are protected by CCTV, alarm systems, codes, and padlocks so you can rest assured that your belongings are always safe. We also offer a variety of sizes so you can find the perfect fit for your needs.
Estate and letting agents
in Bromley
Are you hoping to move to Bromley? These local estate and lettings agents have the expertise to help you find your ideal property within the area.
Hunters Estate Agents & Letting Agents Bromley & Chislehurst
The Buy2let Shop Ltd
Alan de Maid
Edward Ashdale Ltd
Acorn Estate Agents
Andrew Reeves Lettings
Homezone
Mooving You Ltd
123onlineagent
Kinleigh Folkard & Hayward
Jollye & Wood
Kinleigh Folkard & Hayward
Langford Russell
Proctor's
George Proctor & Partners Ltd
Louise Black Real Estate
Mann Sales & Letting Agents Beckenham
George Proctor & Partners
The Address Property Agents
Langford Russell Beckenham Estate Agents
Winkworth
Andrew Reeves Letting Agents Beckenham
George Proctor & Partners
Leaders Estate Agents Beckenham
Alan De Maid Sales and Letting Agents Beckenham
Hunters Estate Agents & Letting Agents Catford
Kinleigh Folkard & Hayward
Belvoir Bromley
Langley Estate Agents
Alex Neil Estate Agents
Agents R Us
Allen Heritage
La Casa Property Services
Hunters Estate Agents & Letting Agents In Forest Hill
Waymour & Parr Ltd
Truepenny's Estate & Letting Agent
Hunters Estate Agents & Letting Agents Sidcup
Alan De Maid Sales and Letting Agents West Wickham
Humphriss & Ryde
Langford Russell
Property World
Langford Russell
Alan De Maid Sales and Letting Agents Chislehurst
Kinleigh Folkard & Hayward
Home2u
Hunters Estate Agents & Letting Agents Sidcup
Mann Sales & Letting Agents Sydenham
Winkworth Estate Agents
Mann Sales & Letting Agents Catford
The Rightmove Inn Ltd
Leaders Letting & Estate Agents Forest Hill
Hunters Estate Agents Lee
Target Location
VALG Property Ltd
Townends
Crown Lets 4 U Estate Agents
Hunters Estate Agents & Letting Agents Surrey Quays
Robinson Jackson Catford Estate Agents
Hunters Estate Agents & Letting Agents Greenwich
Langford Russell Estate Agents
Proctors
Venndor Property
Outlook Letting & Estate Agents Royal Docks
Bairstow Eves Estate Agent Shirley
J D M Estate Agents
Acorn Catford Estate Agents
Hunters Estate Agents & Letting Agents Camberwell
Estate Plus
Taaksvale
Robinson Jackson
Robinson Jackson Eltham Estate Agents
Acorn Estate Agents & Letting Agents in London Bridge
Strickland & Co Estate Agents
Barnard Marcus Estate Agents
Mann Sales & Letting Agents Lewisham
Acorn Estate Agents
Ellis & Co Bethnal Green Estate and Letting Agents
Robinson Jackson Orpington Estate Agents
Multi Lets Properties Ltd
Bluefield Care Services
Haart Estate Agents
Hunters Estate Agents Sydenham
Landlord Winner
Hunters Estate Agents & Letting Agents Abbey Wood
Martin & Co Croydon Letting & Estate Agents
Allen Heritage
Robinson Jackson
Homesforte
Benjamin Matthews Estate Agents
Robert Stanford Estates Ltd
Remax First
FGI Energy Services
Acorn Welling Estate Agents & Letting Agents
Kinleigh Folkard & Hayward
Hunters Estate Agents & Letting Agents Plaistow
Hunters Estate Agents & Letting Agents Carshalton
Ludlow Thompson Ltd
London Lettings
Acorn Estate Agents
Hyde & Rowe
Westmount Lettings Ltd
Robinson Jackson Lewisham Estate Agents
Acorn Estate Agents Ltd
Winkworth
Martin & Co Streatham Letting & Estate Agents
Goodwin Ellis Property Services Ltd
Martin & Co London Bridge Letting & Estate Agents
Alex Neil Estate Agents
Foxtons
Gill Estate Agency – Lettings & Property Management
Kings Property Consultancy Ltd
Alan De Maid Sales & Letting Agents Locksbottom
Roy Brooks Ltd
Lets Move Estate Agents
haart
Townends
Drewery Properties Consultant
Reeds Rains Estate Agents Dartford
Westmount Lettings Ltd
Bennett Mason
Acorn Estate Agents Ltd
Ami Estate & Letting Agents
Winkworth Estate Agents
Conveyancing solicitors
in Bromley
The local conveyancing solicitors are here to help with your move to Bromley. Allow them to minimise the hassle within the buying and selling process so that you can focus on looking forward to your move.
Lawstore Conveyancing
M T A Solicitors
Marsons Solicitors
Batchelors Solicitors
Wellers Law Group LLP
Thackray Williams LLP
Thackray Williams LLP
C N C Searches Ltd
Amphlett Lissimore a QualitySolicitors Firm
Wellers Law Group LLP
Tinklin Springall
L & A Agency Services Ltd
P J H Solicitors
Amphlett Lissimore
House Conveyancing
Beverley Morris & Co
Capital Conveyancing
Aletta Shaw Solicitors
Cook Taylor Woodhouse
Kidd Rapinet / Miller Evans & Co Solicitors
Wykeham Hurford Sheppard & Son Ltd
Grant Saw Solicitors
Manak Solicitors LLP
Pishon Gold Solicitors
Manak Solicitors
Wellers Law Group LLP
Amphlett Lissimore
Clarkson Wright & Jakes – Solicitors & Notaries
RG Law
Spencer Lockwood Conveyancing
Legend Solicitors
Amphlett Lissimore
Taylor Rose MW South Croydon
Manak Solicitors
Spencer Lockwood Conveyancing
Mitaly Dey
Woolsey Morris & Kennedy Solicitors
K L R Solicitors
Augustine Clement Solicitors
Premier Direct Law
MetroLaw Solicitors
Kidd Rapinet LLP
Khans Solicitors
Manak Solicitors
Greater London Solicitors Limited
J.I. Solicitors
Broadway Solicitors
Mary Monson Solicitors
Pinney Talfourd Solicitors
Walter Saunders
UK Law Advisor
Law Lane Solicitors
Gordon & Thompson Ltd
Cunningtons LLP Solicitors
Taylor Rose MW Bexleyheath
A & C Solicitors
Hall & Co Solicitors
Taylor Rose MW New Addington
Bestway Solicitors
Curzon Green Solicitors
Eden Vale Solicitors
Moneywise Conveyancing
Cunningtons
Peter W Stevens
Peter W Stevens
Ducat Law
Charles Whiting Solicitors
Waterstone Solicitors
Taylor Rose MW London Bridge
Welbeck Anin Solicitors
Julia & Rana Solicitors
Bestway Solicitors
Solicitors' Inn
Law & Lawyers Solicitors
H.E Thomas & Co
Gibson Young Solicitors LLP
Blacks Legal
SPL Spanish Lawyers
Baker Law
Oasis Solicitors
Cunningtons LLP
Greenways Law
Topstone Solicitors
Glazer Delmar Solicitors
Adam Bernard Solicitors
Taylor Rose MW Wimbeldon
Manak Solicitors
Taylor Rose MW
Phew Conveyancing
HBC Conveyancing
Regents & Co. Solicitors
Premium Law Solicitors
Gough Clinton & Broom
Docklands Solicitors LLP
Wellsprings Solicitors
Rivington Solicitors Ltd
Taylor Rose MW Brixton
Gans & Co Solicitors LLP
Benson Mazure LLP
Alfred James & Co Solicitors LLP
Baynards Solicitors
Legal Made Simple
Access Conveyancing
Bishopsgate Law
J H Hart & Co
Safdar Iqbal
Hartwig Solicitors
Legal Cost Finance
Farani Taylor
Primary schools
in Bromley
Are your little ones starting school soon? There are a range of primary schools within the Bromley area that could be the ideal fit for their needs.
I L S Languages
Education Plus
First Class Learning – Beckenham Learning Centre
Bromley High School
SquireClub
Genius Tuition
Barbara Njau English Tuition
Piano Teacher for Beginners
JG Educate Ltd
Tutors Near Me
Mottingham Primary School
Bens Home Tutoring
Farringtons School
Busy Bees Pre School
Tutor Doctor Bexley Borough
RR Tutoring Services Ltd
London Parkour Project Ltd
First Class Learning, Tooting
EIM Tutors
Falcon Education
Harris Academy Purley
Kamran Ahmed One to One Tuition
Blackheath Preparatory School
Manor Oak Primary School
Arise & Shine Childcare Services
Shamma Education & Training Services Ltd
Private Russian Tuition & Translation
Dr P R Nettell- Stock Hill Dental Care
First Class Learning Finchley
Assignment Bliss
Selsdon Primary & Nursery School
Tutoring With A Khan
David Livingstone Academy
Immersive Experiences
The Enlighten Academy
Study Buddies Tuition Centre
Centre for Literacy in Primary Education
MakeBelieve Arts
Top Marks Tuition Centre
Invest Academy
Tiger Tuition Ltd
Tiger Tuition Ltd
TutorCare Services
East London Community Support
London Prime Tuition
Tutoriage
Cribs Charitable Trust Within St Columbas School
First Class Learning Sevenoaks
Paivalearning
Valiant Technology Ltd
Learn Quran Reading
Great Maths Tuition
Bestgrade Education – Tuition Centre
Tuitional
Meet Your Tutor
Bertrum House Nursery
Top Class Tuition
Blackstone Tutors
MD Tutors
Ideal Centre for Tuition
Plagiarisma Ltd
Child First Education
Richer Education
Thomas J O'Regan
Sacred Heart Catholic School
Dyslexic Tutor
Private Tuition Services UK
Essay Yard
International Student Guardianship & Education Services Ltd
Online 1-1 Tuition
The Little Jungle
Blessed Ltd
Key2success
AL-Rushd
My Education Matter
Forest Gate Tuition Centre
The Education Hub
Scholars Tuition
Creative Education Academies Trust
Gascoigne Primary School
Elevate Tutors
Dora Copeland Educational Services
Rosemary Works School
Boost Education Charged up Ltd
Shining Star Extra Tuition
Three R's Teacher Recruitment
Frankphil Child Care Ltd
Cambridge Academic Tuition
Tutor Bubble Ltd
Downderry Primary School
Launcelot Primary School
Rangefield Primary School
Good Shepherd RC School
St John Baptist Southend Church of England Primary School
Bonus Pastor Catholic College
Southborough Primary School
Hayes Primary School
Valley Primary School
Parish Church of England Primary School
Highfield Infants' School
Raglan Primary School
Highfield Junior School
Scotts Park Primary School
Harris Primary Academy Shortlands
La Fontaine Academy
Trinity Church of England Primary School
St Joseph's Catholic Primary School
St Mark's Church of England Primary School
Burnt Ash Primary School
St George's, Bickley, Church of England Primary School
Bickley Primary School
Bullers Wood School for Boys
Haberdashers' Aske's Knights Temple Grove
Secondary schools
in Bromley
Bromley has a range of secondary schools that will provide your children with all the support they need. Explore the local education opportunities within the area.
Bonus Pastor Catholic College
Haberdashers' Aske's Knights Academy
Bishop Justus CofE School
Ravens Wood School
The Ravensbourne School
Hayes School
Bullers Wood School for Boys
Transport links
in Bromley
It's easy to travel to and from Bromley. Discover the transport connections you can take advantage of when living in the area.
Rail
Bromley North Rail Station
Bromley South Rail Station
Bus stops
Austrey Rd
Commonside
Bromley Hill Schools
Randall Close
Albermarle Rd
Conway Close
Bryce Rd
Dell Rd
Pensnett School
Rookery Park
Ringers Road
Bromley Town Hall
Elmfield Road The Mall
High Street Market Square
Bromley Magistrates Court
West Street Bromley
Widmore Road Kentish Way
Bromley High Street The Mall
St Mark's Church
Hancock Road
St Leonards Street
Cromwell Avenue (BR2)
West Street Bromley
Hayes Road Cameron Road
Coventry Cross Estate
Bromley High Street The Mall
Freelands Road
Hayes Road Hayes Lane
Bromley Civic Centre
Lochnagar Street
Poplar Baptist Church
Queen Anne Avenue
St Leonard's Wharf
Grace Street
St Leonards Wharf Gillender St
Beadon Road
Teviot Estate
Poplar Baptist Church
Twelvetrees Crescent
Cranwell Close
Hammelton Road
Hancock Road
Bromley The Greyhound
Elmfield Road The Glades
Queen Anne Avenue
Westmoreland Road Sandford Rd
Bromley Town Centre
Things to do
in Bromley
There's lots to love about Bromley. Here are the top attractions within the area that you can explore – you better start planning!
Walnuts Leisure Centre
Bromley Little Theatre
Nugent
Elmstead Woods
Skills Academy
Queens Gardens
The Walnuts Shopping Centre
Home of Charles Darwin Down House
Operation Escape
Odeon Cinema
The Cricketers Knoll
Bannatyne Health Club & Spa – Orpington
The Daylight Inn
The Crown and Anchor
Thai Derm Massage
The Real Ale Way
Swan Thai Massage
Restaurants in Bromley
Local restaurants are a huge draw for people living in Bromley. Get a taste for the best places to eat within the area.
Havet Restaurant
Havet
Bowl O' Pho
Kekik Kitchen
Sanxia Renjia
The Greyhound – Jd Wetherspoon
Papillon Brasserie
Mount Everest Nepalese & Indian Cuisine
Chimichanga
Aqua
Five Guys
Zizzi
Miso Noodle Bar
Cafe Rouge
Nando's
Gourmet Burger Kitchen (GBK)
Sultan Restaurant
Pizza Express
Blend Bar & Grill
Nam Thai Restaurant
Bird & Bun
Cow & Pig Bromley
Kokoro
Places of worship
in Bromley
There are a range of places to worship in Bromley, allowing you to maintain your faith when living in the area.
Bromley United Reformed Church
Cornerstone Christian Centre
The Salvation Army Church
Bromley Town Church
Bromley Methodist Church
Bromley & District Reform Synagogue
Bromley Baptist Church
Christ Church Bromley
St Marys
St. Mark's Church
St John's Church
Trinity Bromley United Reformed Church
B C C The Church
Bromley Christian Centre
St. Joseph's R.C Church
Brook Lane Community Church
The Salvation Army Employment Service
Christ Embassy Catford
Bromley Common Methodist Church
St. Barnabas C of E Church
The Good Shepherd R C Church
Hayes Free Church
Churches & Other Places of Worship
Churchdown Christian Centre
Jubilee International Church
Ambassadors of Grace Ministries
Beckenham Methodist Church
Beckenham Methodist Church
St. Augustine's Church
St George's Parish Church
St Edward The Confessor C Of E Church
Sweet Savour Assembly
Crossroads Baptist Church
St. Mary the Virgin C of E Church
Christchurch Church of England
The Annunciation & St Augustine Catholic Church
St Augustine With St Luke's Church
Holmcroft Church
St Edmund Of Canterbury Catholic Church
St Mary Of Nazareth Church
Our Lady Of The Rosary R C Church
Christ Church Chistlehurst
St Pauls C Of E Church
St. Johns Church
Court Farm Evangelical Church
Elmstead Baptist Church
Catford Synagogue
Jubilee Harvest Church
Catford Assemblies of God Pentecostal Church
St James The Great R C Church
Our Lady & St Philip Neri Catholic Church
Petts Wood Methodist Church
Avenue Baptist Church
St. Michael & All Angels
The New Congregation Of Cherubim Church
The New Testament Church of God (Rehoboth)
The Salvation Army Church
Rev B Abayomi-Cole
St Laurence Catford
St. Michael & All Angels
All Saints C of E Church
Deutsche Ev Kirche
The Salvation Army Church & Community Centre
Croydon & District Synagogue
St. Johns C of E Church
Lewisham Islamic Centre
Chislehurst Y F C Ltd
World Harvest
Grove Centre Church
St Barnabas C Of E Church
Unique Salvation Ministries
Perry Rise Baptist Church
Unity London
Lewisham Seven Day Adventist
St. Georges Christ Church St. Pauls
Lee Green United Reformed Church
Elim Pentecostal Church
Christ Church
Christ Church United Reformed
Quakers Religious Society of Friends
Sacred Heart Convent
New Creation Evangelistic Ministry
St John The Evangelist Church Hall
London Sivan Kovil
International Christ Community Centre
Hither Green Baptist Church
Redeemed Christian Church Of God – Winners Sanctuary
The Christ Rock Ministries
St William Of York Church
Ransom Church of God Universal Fellowship
Greater Evangelism World Crusade Church
Lee Bible Study Centre
Church Of The Resurrection
Eleos Charitable Trust
St. Johns Sidcup
Greek Orthodox Church
Holy Trinity Church